Agriturismo Genna 'e Corte, Laconi - Sardinia
One of our showpieces in central Sardinia is agriturismo Genna 'e Corte, surrounded by rugged nature in an area filled with archaeological sites. We guarantee a unique stay at this welcoming farm with pool!
Agriturismo Genna 'e Corte is a farm with pool, situated in the rugged and unspoiled landscape of central Sardinia on a quiet location 9 kilometres from Laconi in the province of Oristano. In prehistoric times, around 1600 b.C., the locals chose this area to build their homes ("nuraghe"). The impressive nuraghe Genna 'e Corte, surrounded by the ruins of what used to be a village, is located on top of a hill overlooking the eponymous farm.
At the farm you can get to know the typical and authentic Sardinian dishes made from local biological products. Since you'll be staying at a real agriturismo, Genna 'e Corte's meat (both pork and beef) is coming from their own farm. *In 2022 the restaurant will remain closed during lunch and dinner and you will have to divert to the village at approx. 9 km.

The rooms have been decorated by an interior decorator who kept in mind the agriturismo's natural surroundings. The farm features 8 double rooms and 1 suite with a double bedroom.
A perfect stay for those...
If you're looking for an authentic stay in the middle of untouched nature in central Sardinia where you can enjoy culture, rest and relaxation, Agriturismo Genna' e Corte is the perfect match! We recommend a night or two at this farm also to travellers making a round trip across the island.
Accommodation & facilities:
• Air-conditioning
• Playground
• Restaur...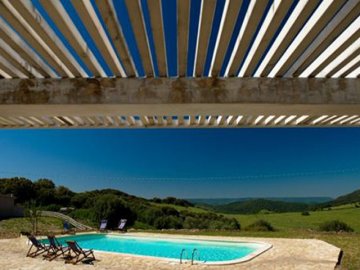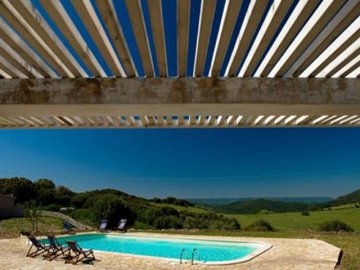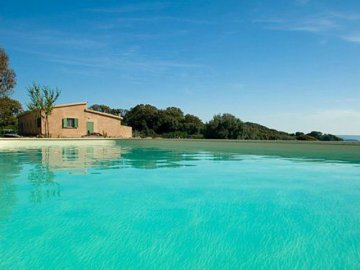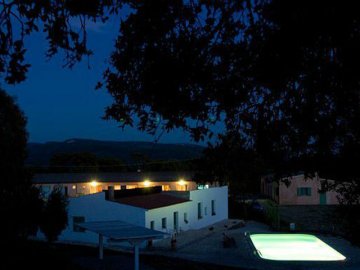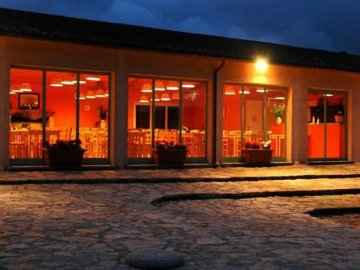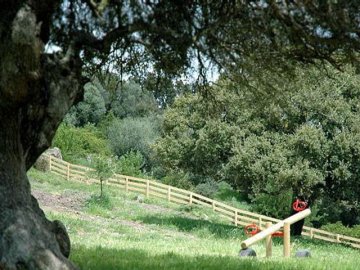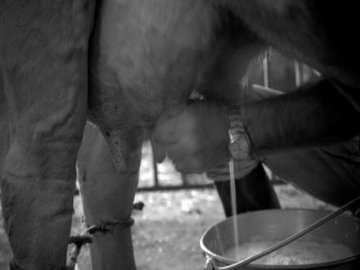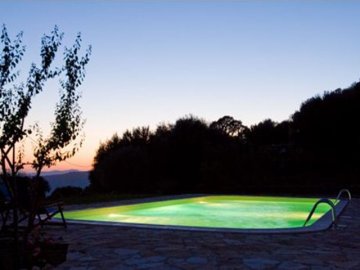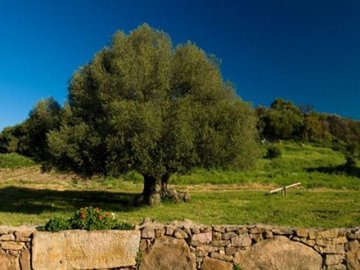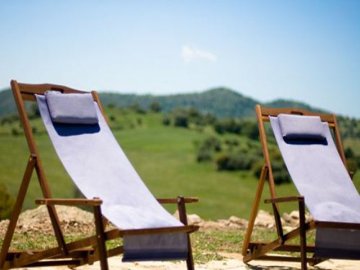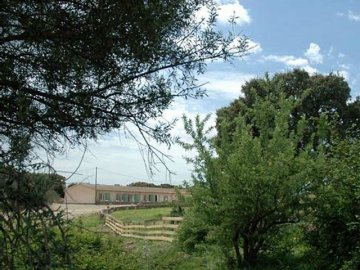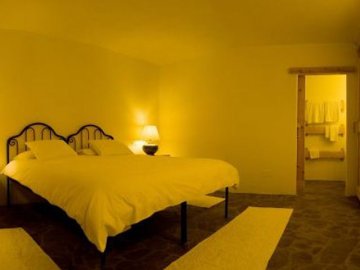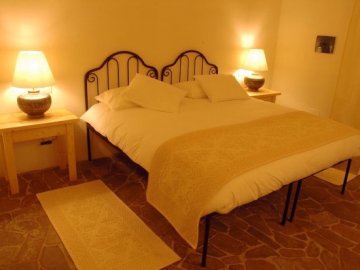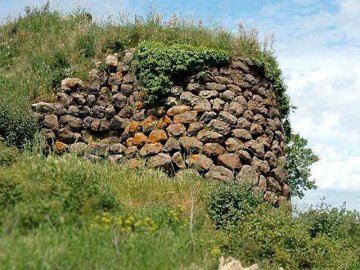 Agriturismo Genna 'e Corte
Laconi
Laconi lies on the Sarcidano plateau in central Sardinia. The village offers a spectacular view across its surroundings.
Near Laconi in Barumini, at the foot of the high land Giara di Gesturi, you can visit the nuragic village Su Nuraxi, listed as one of the UNESCO World Heritage Sites. The excavations were carried out by the famous archaeologist, Giovanni Lilliu from 1951 onwards. The village consists of a pentagonal complex built in basalt, surrounded by towers and houses of approximately 3500 years old. The central tower, dating back to the Bronze Age, dominates the area. It's possible to visit the fascinating Su Nuraxi under supervision of a (English speaking) guide.
We also recommend visiting the Giara di Gesturi, a high and steep-sided basaltic plateau. This nature reserve is home to 500 wild, small horses.
The ruins of the Castello Amerigo, a fort dating back to 1053, are worth a visit as well. Later on several parts have been added, such as a 15th-century hall and a 17th-century portico. The botanic garden with waterfall situated around the castle is the perfect place for a stroll followed by a picnic.
There are many more sights in the area. We recommend booking a local guide to make sure you see everything there is to see.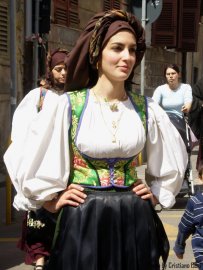 Discover the province of Oristano in west Sardinia
In the west of Sardinia is the province of Oristano with the capital of the same name. This region is quite flat and has relatively little tourism, the reason for this special region is dominated by olive cultivation, fishing, agriculture and livestock farming! In this region you will find extensive vineyards with the typical Oristan Vernaccia grapes.The extensive tasting of this delicious wine is a must! Taste this
wine
here! Discover for example the small authentic town
Bosa
, but also one of the numerous archaeological remains dating back to before our era are certainly worth a visit. Also visit the Sinis peninsula, of which the entire coastal area is a protected area. Capo San Marco is the northern tip of the Gulf of Oristano and is a wonderful place for a small excursion by bike or hike. Take a refreshing dip from one of the beautiful beaches of San Giovanni di Sinis. At the lake of Santa Giusta you can see pink flamingos and other birds that live here in a paradise of their own! Around the fishing village of
Cabras
is produced the delicious bottarga (roe), which is used in many Sardinian dishes. In the town of Oristano, an equestrian tournament is still held every year during Carnival: "Sa Sartiglia", masked horsemen galloping on steeds at breath-taking speed aim their swords at a tin star.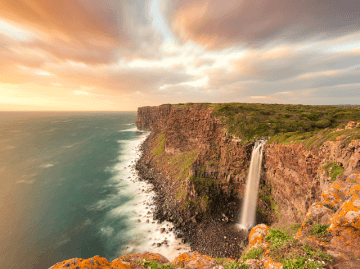 Lees meer
Prices
Rates are per person per night, breakfast included
Arrival: daily
Minimum stay: 1 night

Supplements:
• Half board: € 25 per person
Agriturismo Genna 'e Corte
A real getaway
8.0
Mw. van Daal (NL)
In de middle of nowhere, but very beautiful
8.0
Familie van der Venne (NL)
A real agriturism
10.0
Mw. Huijg (NL)
Beautiful and varied
9.0
Familie Noordam
Enjoyable and modern, nice rooms
8.0
Rogier
Very special agriturismo
7.0
K. Bloem