Casa Delfino, Torre delle Stelle - Sardinia
During your holiday in Sardinia you can enjoy a beautiful view of the sea from Casa Delfino. This 4-person holiday home located in an outbuilding is located on the southeast coast of the island, in Torre delle Stelle to be precise. You have a bedroom, living room with sofa bed and of course a beautiful sea view terrace!
At the seaside in South East Sardinia
From Cagliari you reach Torre delle Stelle in 40 minutes by car. This locality consists of two high hills with numerous holiday homes and on the left and right side of the hills the white sandy beaches of Genn'e Mari and Cann'e Sisa. In Torre delle Stelle there is a supermarket as well as some restaurants and on the beach there are kiosks and sun beds and umbrellas can be rented.
Our holiday home Casa Delfino is beautifully situated, in the first row in Via Ercole. Thanks to this location you can enjoy an unobstructed view of the sea. Do you find a sandy beach less important? At about 150 meters from the house is the rocky beach Cala Delfino Beach where you can also snorkel fantastic!
Dependance for four people
Casa Delfino is beautifully situated on the cliff of Cala Delfino and offers a breathtaking view over an azure blue sea from the furnished terrace. The holiday home is surrounded by greenery and all you hear is the murmur of the waves. Inside you have a double room, bathroom with shower and a living room with kitchen and sofa bed. Air conditioning, wi-fi and a washing machine are also available. Next to the underlying rocky beach about 150 meters away, the sandy beach Genn'e Mari is 1.5 km away. and Cann'e Sisa at 2.5 km. distance. If you want to discover even more dream beaches, a visit to Villasimius is definitely worth it!
A perfect stay for those...
Great location for those looking for a small holiday home by the sea with breathtaking views and not too far away from beautiful sandy beaches.
The holiday home in detail:
• Living area: 40 m2
• Sleeping places: 2...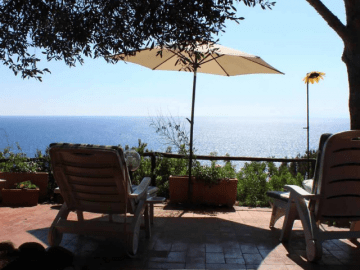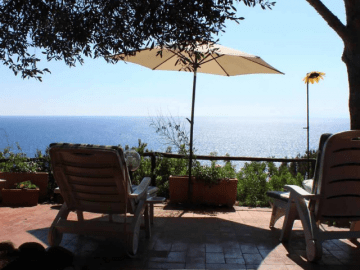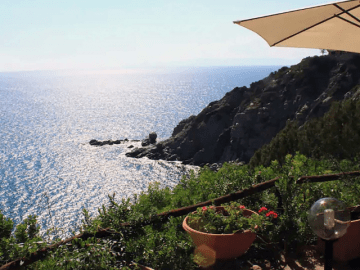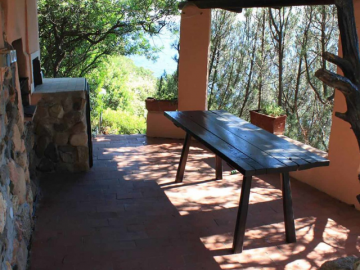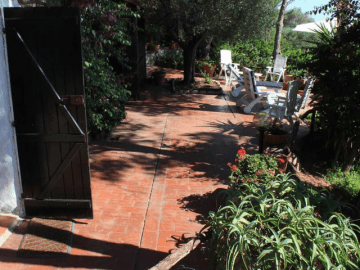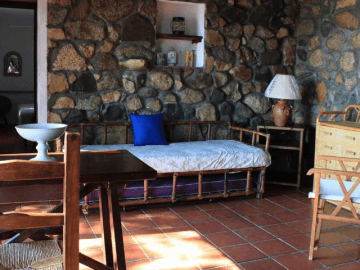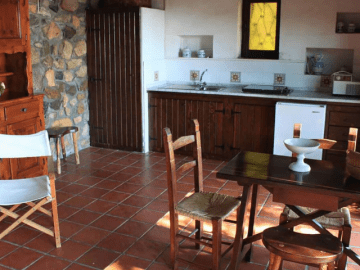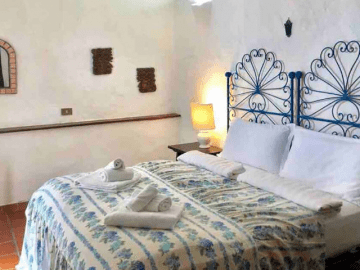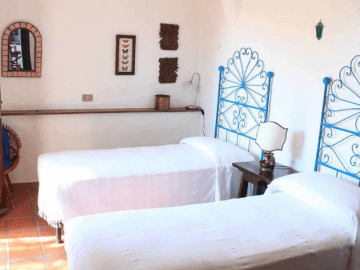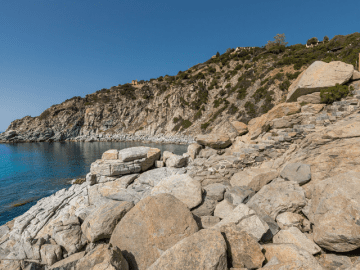 Casa Delfino (4 pers.)
Torre delle Stelle
Torre delle Stelle - a residential area on a high cliff that stretches far into the Golfo degli Angeli, or the "Gulf of the Angels" as the Gulf of
Cagliari
is called. Anyone who has looked at the horizon at night on the beach of Cagliari knows why the holiday complex is called "Tower of the Stars": the lights of the houses and villas shine on the horizon like a sea of ​​hundreds of stars.
Torre delle Stelle is cozy. Many properties belong to wealthy Cagliari families (as the island's capital is only 40 minutes away by car), as well as show business stars who enjoy discreet holidays hidden behind the high hedges of villas and holiday homes. Dirt roads, somewhat dusty in summer, wind through the winding terrain to the top of the cliff, where an old watchtower dominates the wide bay in front of Cagliari.
Torre delle Stelle is blessed with two beautiful sandy beaches: "Cann'e Sisa" and "Genna e Mari". Both are beautiful with fine sand and clear water. In the summer months, from mid-June to mid-September, umbrellas and beach chairs can be rented on the beach.
In summer it is quite cozy in Torre delle Stelle. There are small beach bars and a restaurant by the sea, as well as a supermarket, a pizzeria and a boat dock. For some more nightlifewe recommend you divert to nearby
Villasimius
. In addition to shops and supermarkets, you will find a range of restaurants and party locations here.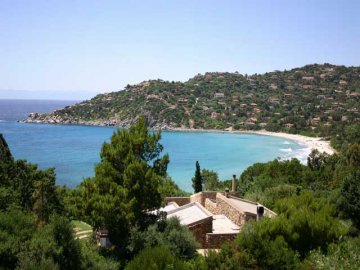 Discover the southern province of Cagliari
The province of Cagliari and its eponymous capital are located in south-west Sardinia. The daily ferries from Napels and Civitavecchia and large cruise liners sailing the Mediterranean moor in Cagliari's marina, which is situated right in front of the city centre, along the Via Roma. The city's own sandy beach Poetto (pronunciation: po-etto), stretching out for 8 kilometres, is very popular among the locals from April/May through the beginning of October. Located a few kilometres from the centre of Sardinia's capital, Cagliari-Elmas International Airport connects the capital to the main land.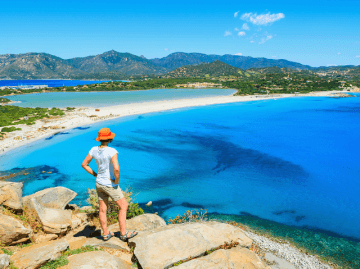 Lees meer
Prices
The prices for this holiday home are available on request.