Villa Le Rocce Sarde, San Pantaleo - Sardinia
A lovely furnished holiday villa, hidden between the rocks of San Pantaleo, perfect for a dream holiday with friends and family. Nearby beaches and enjoy authentic Sardinia.
Your own home in the granite mountains of San Pantaleo
The villa of Le Rocce Sarde is a cosy cottage. You can relax on the panoramic terrace or in the living room with XL-sofas and cushions, TV and fireplace. Beside the large dining table there is also a kitchen area with dishwasher. In the garden is a large barbecue area where you can prepare lovely dinners.
The bedrooms can be reached by stairs from the living room. The most beautiful bedroom is the Camera Padronale with its own small decorative terrace, dressing room and large ensuite bathroom with tub. All the other bedrooms are also on the first floor with exception of the room with the single bed that can be turned in to a double bed. This room is situated in the basement. This room doesn't have airconditioning.
This villa with beautiful granite stone façade is wonderfully located on a private road. We recommend to go for a drink at one of the terraces in the little Sardinian village of San Pantaleo, only a few kilometres away from the villa. Here you can find narrow streets, charming houses and artists. Just 10 minutes by car there is the beach of Spiaggia Bianca.
A perfect stay for those...
This beautiful situated villa is ideal for families and friends. At a short distance you will find the beaches of the Costa Smeralda.
Accommodation & facilities:
• Living area 130 sqm
• Sleeps: 6
• Living...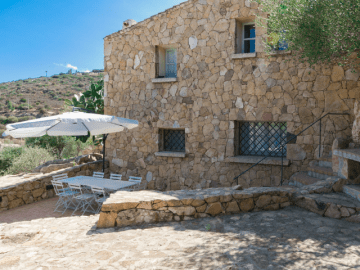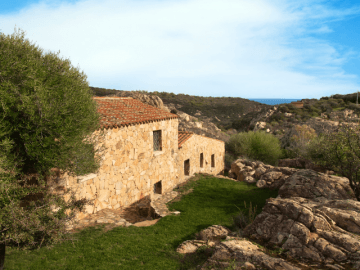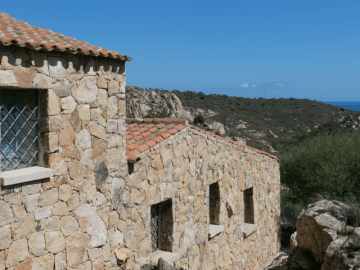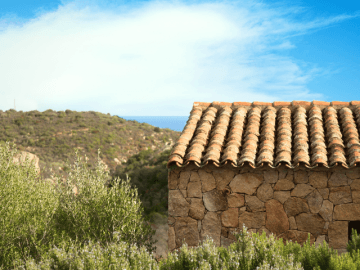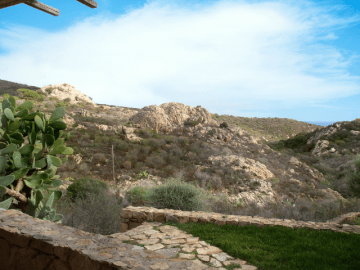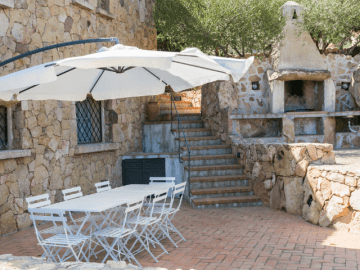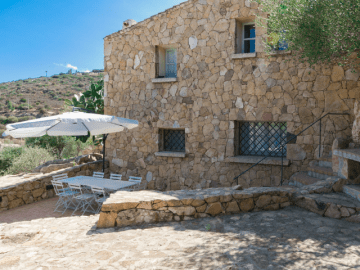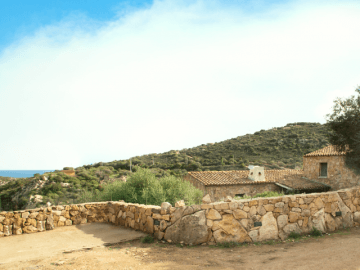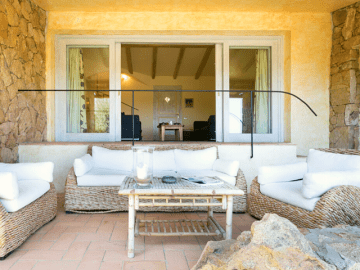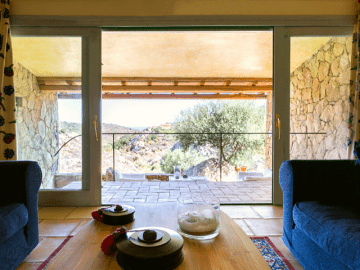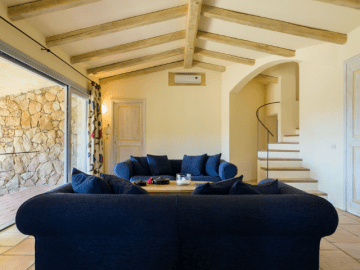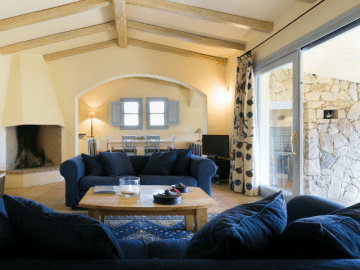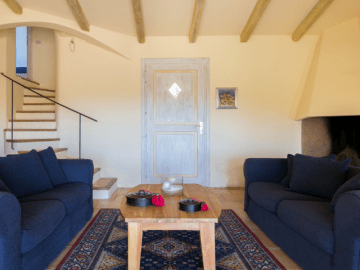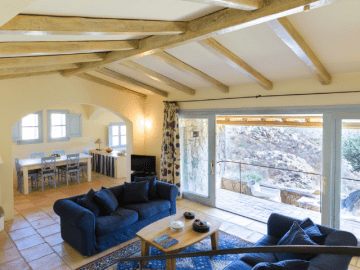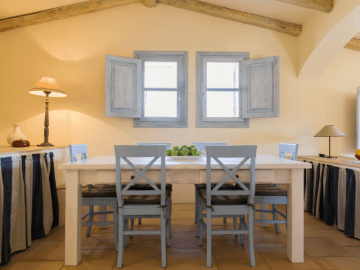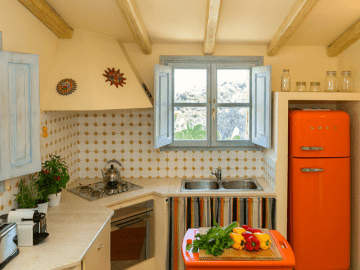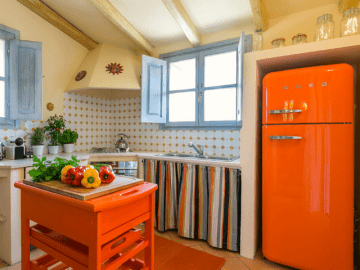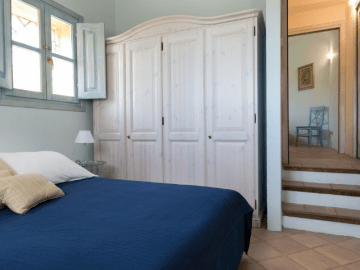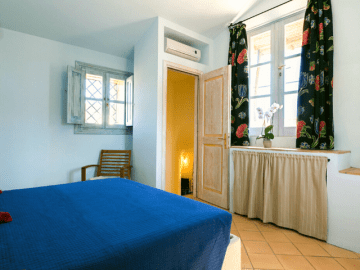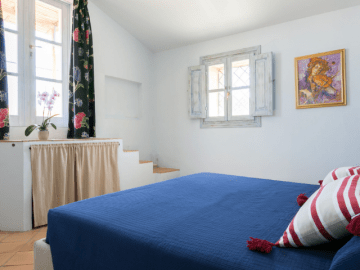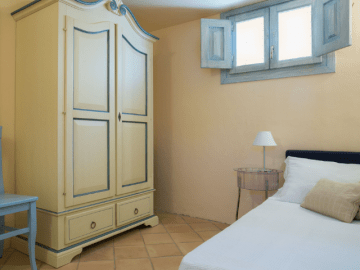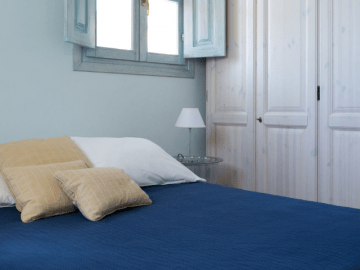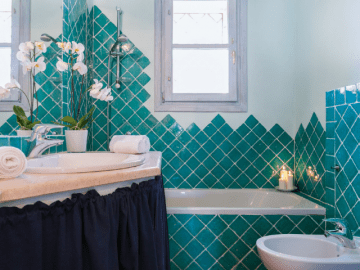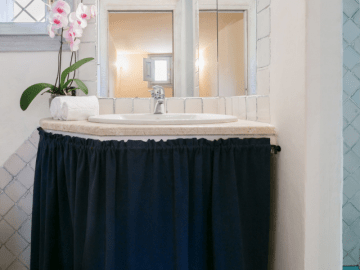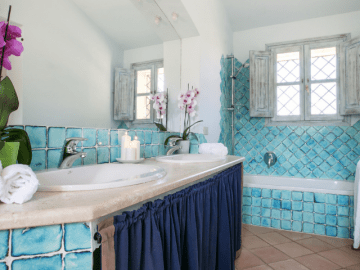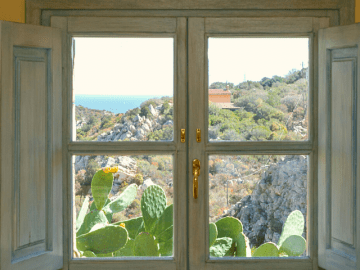 Villa Le Rocce di San Pantaleo (6 pers.)
San Pantaleo
Up until the 70s San Pantaleo was an unknown mountain village. It transformed into a holiday destination because of the development of the flourishing Costa Smeralda and the foundation of the luxurious resorts and villas in the area and because of the paradise-like beaches and spectacular rock formations in the area, shaped by the wind.
The small village houses so-called "stazzi", traditional Sardinian houses built in granite, used by local shepherds as a stopover or shelter during their journeys. The cosy village has various restaurants and bars.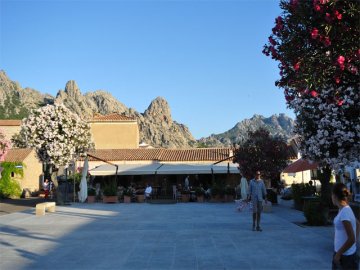 Discover the province of Olbia-Tempio in north Sardinia
Olbia-Tempio is one of the most popular holiday destinations in Sardinia. It's the perfect province for a relaxing beach holiday because of the countless bays and broad sandy beaches here. Its landscape is furthermore characterized by a lush Mediterranean vegetation and impressive rocks. The province is an international crossroads for numerous visitors, thanks to the international Olbia-Costa Smeralda Airport and Olbia's marina, where ferries from Genoa, Livorno, Piombino and Civitavecchia arrive daily.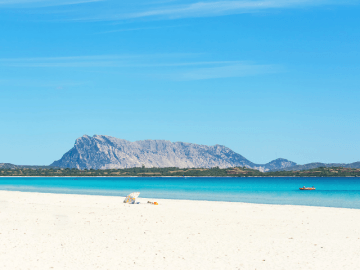 Lees meer
Prices
The prices for this holiday home are available on request.
Villa Le Rocce di San Pantaleo (6 pers.)

You might like this as well