Round trip Sardinia: a journey of discovery
Discover Sardinia with this 12-day tour of Sardinia4all! This carefully planned trip will show you the spectaculair northern and rugged western coast of the island. The chosen accommodations near the sea combined with a few nights in the enchanting inland make for a beautiful contrast.
This 12-day tour by (rental) car includes 11 nights' bed & breakfast in 4 charming accommodations.

Your itinerary:
• 3 nights in Hotel Valdiola in Porto Cervo (north-east Sardinia)
• 3 nights in Hotel Su Lithu in Bitti (inland)
• 2 nights in Capo Nieddu Resort in Cuglieri (west Sardinia)
• 3 nights in Agriturismo Vessus in Alghero (north-west Sardinia)

This tour is intended to provide an illustrative example of a possible itinerary. The round trip can be customized on request, taking into account your flight details and travel period.

Distances:
• Olbia – Porto Cervo: 32 km
• Porto Cervo – Bitti: 116 km
• Bitti – Cuglieri: 123 km
• Cuglieri – Alghero: 78 km
• Alghero – Porto Cervo: 164 km

A perfect tour for those...
The 12-day round trip Discover Sardinia is perfectly suited for all travellers looking for a combination of stunning beaches, turquoise waters and rugged mountains alternated with various authentic villages and Sardinian highlights.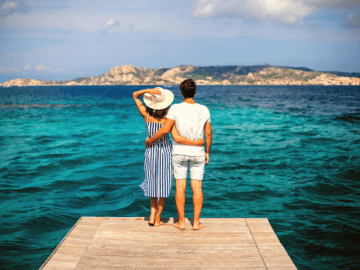 Prices
Rates are per person per night
Arrival: daily
Starting point: Olbia or Alghero

Book your round trip with discount!
• Book before 31.01.2018 and get a € 75 - € 125 discount !

The tour includes:
• Stay: 11 nights
• Type of room: Standard room
• Board: bed & breakfast

Touring with an all-inclusive rental car
We're happy to book you a rental car. The Sunny Car's all-in formula includes all insurances and an unlimited mileage. During the online booking process you can easily add a GPS package as well. The shown prices are an indication of the rental price for the entire tour. Should the current price differ, we will inform you before confirming the booking of your rental car.
We offer various car categories:
• Small: 3-door Fiat Panda or similar, manual transmission with air-conditioning
• Comfort: 5-door VW Polo or similar, manual transmission with air-conditioning
• Station: 5-door Opel Astra STW or similar, manual transmission with air-conditioning

We're happy to tailor the tour to your preferences!
• You can easily extend or change the tour's itinerary
• Do you prefer a more luxurious stay? It's possible to upgrade to a superior room
• Do you prefer half board in all accommodations? Please ask us about the possibilities
• We're happy to help you find the best flights and ferry crossings
• Travelling with kids? We're happy to send you a travel plan adjusted to your specific travel party
• Tip: extend your round trip with one of our unique excursions!
12-day tour Discover Sardinia
Beautiful: nature, landscape, people, atmosphere, food
9.0
Cees
We have seen many beautiful things on this beautiful island
8.0
Dhr. Zwartbol (NL)
During this tour we found in Alghero the authentic Italy
9.0
Mevrouw Dassen (NL)
The perfect way to discover the variety of Sardinia!
10.0
Mevrouw Teunissen (NL)
Sardinia is a wonderful destination and we definitely recommend this tour!
8.0
Anoniem (NL)
Hotels fine, villages less
7.0
Anoniem (NL)
Very nice and varied self-drive tour perfectly arranged by Sardinia4all
8.0
I. Kleinendorst (NL)
Fantastic way to discover Sardinia
9.0
Frans & Mady (BE)
Organization was perfect, an extremly nice roundtrip!
8.0
Mw. Sweeck (BE)
Good combination of different destinations
8.0
Dhr. Baks (NL)