Sardinia4all offers the most unique accommodations for your holiday in Sardinia
Are you looking for the perfect accommodation for your holiday in Sardinia? We have already selected our favourite destinations to make sure you'll enjoy a unique holiday in Sardinia. To travellers wanting to explore more than one destination in Sardinia we recommend taking a look at our round trips or creating your own. We love to help you discover the most beautiful spots in Sardinia and we're happy to tailor the trip to your specific preferences.

If you have any difficulty finding a suitable destination, don't hesitate to ask Sardinia4all for advice. Because of our years-long experience as travel experts in Sardinia, we know the island like no other! We would like to introduce ourselves to you: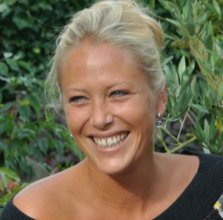 Sardinia, my home port
Before she decided to move Sardinia to build her life with her Sardinian partner in 1998, Marieke Geurts had already often visited the island.
Marieke envisioned an improved customer service for travellers looking for a Sardinian holiday and wanted to turn her passion for the island into a job. After a tourist education and over 10 years of experience in the Sardinian travel industry, she decided to start her own business in 2009 by founding Sardinia4all.com.

Marieke runs Sardinia4all from the southern part of Sardinia, perfect for maintaining our network with the accommodations' hosts and exploring the island in order to discover even more unique locations and sights there.

Marieke says: "Sardinia, I still love it! In the beginning I really had to get used to the relaxed "domani, domani", but you get so many beautiful things in return. The endless crystal clear waters; pristine nature; space and tranquillity; hospitality; sun… just to name a few of them. For work (and for fun!) I often travel to different parts of Sardinia, alone or with my family, to visit or try accommodations, take a course, enjoy an extensive shepherds' lunch, harvest grapes and discover surprising locations. Let me tell you this: Sardinia is filled with them! Each region has its own charms, traditions, dialect and delicacies. Even though I've been here for years, I've seen a lot but certainly not all yet! For example, I only recently discovered the spectacular Su Goroppu gorge and several unique natural swimming pools. Joining a procession in a Sardinian traditional costume myself during a village fair is one of the things that's still on my bucket list!"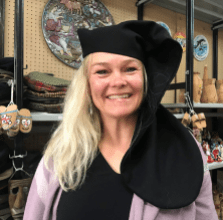 Sardinia, my new challenge
On the first of March 2017 Bianca Aardenburg started working at Sardinia4all. Having completed a tourist education she has been working in the travel industry for years. She's frequently travelled to Italy and Sardinia. Apart from Dutch and English Bianca speaks German fluently and she's currently enrolled in both French and Spanish language classes as well.

Travelling is one of Bianca's biggest passions and she adores Italy, mainly because of its culture, its hospitality and its cuisine. After a holiday in Sardinia with her family she fell in love with "l'isolla bella"!

Bianca says: "Sardinia is such a beautiful and versatile island. I love the hidden bays with crystal clear waters alternated with the island's rugged nature. The Sardinians are such a friendly and hospitable people. It's like time has stood still in some of the villages, I love that authenticity. Sardinia is pure and it has a fascinating culture. It's so much more than a beautiful destination for a beach holiday! Cycling, hiking, horse riding, snorkelling, diving… There's just so much to do! My recommendation? A 4-day trek with donkeys!
In short, Sardinia is a unique destination and I can't wait to help plan a never-to-be-forgotten holiday!"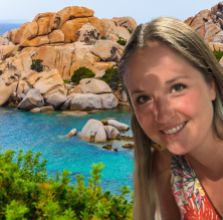 Our new colleague from Sardinia
Giorgia is part of our team in Voorschoten since January 2019. Giorgia moved to the Netherlands for her family and for the desire of a professional challenge. As an Italian and true Sardinian she loves food, tradition, hospitality and knows the most beautiful beaches of the island. Giorgia believes everyone should visit her beloved island at least once to see how special it is. We wish "our" Sardin a lot of success at Sardinia4all!



Our man on the island
Since 2019 Timo Lutz is part of Sardinia4all. He is from Southern Germany and has been living on his beloved Island for almost 20 years and knows every bay and every mountain of Sardinia.
Above all, Timo takes good care of our German-speaking customers, writes texts and descriptions of our accommodations, maintains contacts with our partners and looks after our German-speaking social media channels. Our local can give you a lot of tips for excursions and excursions and has a lot of secret hints for you. By the way, you can also read some of his travel books!

Timo says: "Sardinia is always different, and every season turns the island into a different world. Want to smell the spicy scent of the straw flower Elicrisio in the snow? Going to Aritzo in January, you can! Run against the wind and take a glance of the white cliffs of Corsica on the horizon? Go to Capo Testa in November! In summer time I prefer to take a rest to the Ogliastra region, where you can always find a lonely place, because I prefer to leave the famous places and beaches of the island to our guests during the high season. In spring and autumn the hills of the island are an unique experience! In the rolling hills near Cagliari hide almost unknown gorges to discover and I love to climb ever new mountain ranges.
But the seashores of the island are amazing as well! Coastal hiking is uniquely beautiful at Tinnari and Costa Paradiso. In the far west of the Island there is a waterfall that plunges vertically over 70 meters into the deep sea of Capo Mannu. Amazing! The Costa Smeralda can be lonely in december: How about a winter coastal walk across the Grande Pevero bay to Romazzino? Christmas in Sardinia? I love the Poetto beach in Cagliari, with 20 degrees and sunshine. Want more? I can help you to turn my Sardinia into your unique Sardinia expercience!"
Contact required?
All accommodations on our website can be booked 24 hours a day, 7 days a week. However, if you have any questions you can call or
mail us
or use our
chat
for an extra quick response. You can contact us during our opening hours (Mon - Fri 09:00 am to 05:00 pm).
Our office:
Sardinia4all
Van Beethovenlaan 69B
2253 BE Voorschoten - The Netherlands
Phone: +31 (0)71 3020171
Our postal address:
4allvakanties
Postbus 17
2250 AA Voorschoten - The Netherlands
VAT: NL 850522286B01
C of C: 52615324
SGR participant number: 3637

Wij maken jouw vakantie op Sardinië graag op maat!