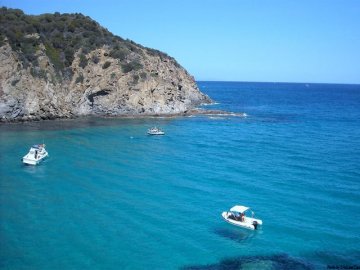 Chia
Chia is a small village of the municipality of Domus de Maria, renowned for its broad sandy beaches, dunes, crystal clear waters and rocky bays. The beach of Su Giudeu is very popular among kite surfers because of the constant presence of wind. The lagoon just in front of the beach houses many pink flamingos, herons, grebes and other migratory birds.
The locals sell homemade products in the many small market stands along the road. We recommend trying the sweet white or dark red "fichi" (figs)!
There are numerous restaurants, bars and shops in the area. The lively Pula is just 15 kilometres away.
The tower of Chia is definitely worth a visit, as well as the ruins of the Phoenician Bithia, a large part of which has been under water for centuries. Ptolemaeus and Plinius the Old already wrote about this city in the 1st century A.D. Still observable are the remains of a Punic temple and various artefacts that seem to indicate the presence of a "Tophet". However, the majority hasn't been excavated yet.