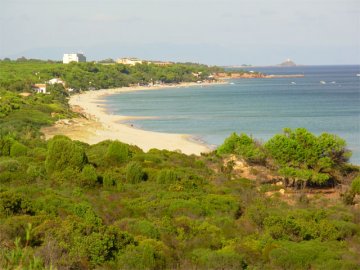 Pula
Pula is located on the south coast, ca. 25 kilometres south-west of Cagliari. This lively village is a popular holiday resort during the summer months. It houses numerous restaurants, bars and ice cream parlours and the shops are often opened until midnight. Various activities are organised regularly at the central "piazza".
The beautiful coastline, stretching from Nora beyond Pula, is known as Santa Margherita di Pula. The broad sandy beaches are alternated with hotels, holiday homes and resorts.
Golf aficionados can visit the 27-holes Is Molas golf course, one of the oldest in Italy.
We highly recommend visiting the ruins of the ancient city of Nora, dating back to the 8th or 9th century B.C. The Phoenicians, Carthaginians and Romans have left imposing traces in this archaeological zone. In Roman Ages (ca. 238 AD) it used to be the capital of the "province" of Sardinia.

A procession is held each year from the 1st to the 4th of May from Cagliari's Sant'Efisio Church to Pula's eponymous 11th-century Romanesque Church of Sant'Efisio of Nora. This procession, showing an enormous variety of local costumes, is definitely worth a visit.