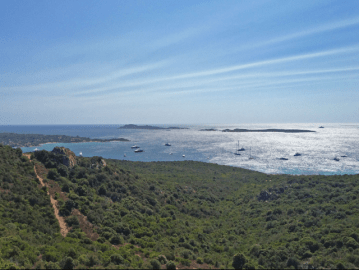 Abbiadori in the Costa Smeralda
Abbiadori is a chic, panoramic vacation spot on the a Costa Smeralda, between Porto Cervo and Cala di Volpe. Behind the hedges and wooden parts are beautifully occupied villas with swimming pool and almost all of them have a beautiful panoramic position, because from here you can see the bay of Cala di Volpe, the turquoise blue sea of ​​Pevero and the golf course with the same name. The nearest beaches are the long, indeless sandy beach of Liscia Ruia, the granite sandy coves of Capriccioli, Grande Pevero and Porto Paglia.
Abbiadori is also something like the Costa Smeralda supply center. Countless shops and supermarkets of all price ranges and sizes, even as the island's best cruiser market. In Piazzale di Sopravento you can see the best Italian cashmere and fine beach dresses.
The best accommodations around {plaats} & excursions