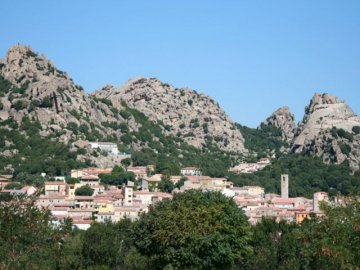 Aggius
Aggius is located in the province of Olbia-Tempio, ca. 55 kilometres west of Olbia, bordering the larger villages Aglientu, Tempio Pausania and Trinito d'Agultu. This authentic village is situated at the foot of the granite mountain Monte di Aggius, at an altitude of 514 metres above sea level. Aggius is renowned for its traditionally woven tapestries.
The area is known for the presence of "stazzi", rectangular houses in Sardinian granite, consisting of 1 or 2 rooms, originally used by shepherds as a stopover or shelter on their journeys. Through the years most of them have been turned into houses or agriturismi.
We recommend visiting the Valle della Luna, a labyrinth of wind shaped granite rocks.
On the first Sunday in October the Festa di li Aggiani (i.e. festival for unmarried men) is held, where "suppa cuata" is served; bread with cheese soup.
The best accommodations around {plaats} & excursions