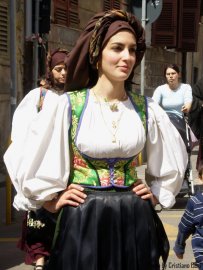 Laconi
Laconi lies on the Sarcidano plateau in central Sardinia. The village offers a spectacular view across its surroundings.
Near Laconi in Barumini, at the foot of the high land Giara di Gesturi, you can visit the nuragic village Su Nuraxi, listed as one of the UNESCO World Heritage Sites. The excavations were carried out by the famous archaeologist, Giovanni Lilliu from 1951 onwards. The village consists of a pentagonal complex built in basalt, surrounded by towers and houses of approximately 3500 years old. The central tower, dating back to the Bronze Age, dominates the area. It's possible to visit the fascinating Su Nuraxi under supervision of a (English speaking) guide.
We also recommend visiting the Giara di Gesturi, a high and steep-sided basaltic plateau. This nature reserve is home to 500 wild, small horses.
The ruins of the Castello Amerigo, a fort dating back to 1053, are worth a visit as well. Later on several parts have been added, such as a 15th-century hall and a 17th-century portico. The botanic garden with waterfall situated around the castle is the perfect place for a stroll followed by a picnic.
There are many more sights in the area. We recommend booking a local guide to make sure you see everything there is to see.
The best accommodations around {plaats} & excursions