Discover Cagliari by bike
Explore Sardinia's capital by e-bike! With a guided tour, you will discover Cagliari's unique characteristics cycling along its paths and via hidden corners around the city. Your tour guide's expertise and historic knowledge will provide an interesting and fascinating experience when visiting ancient churches, monuments and nature, often unknown yet full of beauty, charm and history. Book the tour which suits you best and let's go!
Easy Green

Parks & gardens

Duration: 2 hours

Distance: 11 km

Start: 10.00 & 16.00h
This tour will introduce you to the most beautiful "green" corners of Cagliari along its boulevards, gardens and natural monuments. Historic and botanic gardens provide a history of the city, its centuries-old plants and vegetation. You will visit the shaded Moreton Bay fig trees in the "Giardini Pubblici" and the Buoncammino pine trees, and learn about the history of the Villanova street gardens. The tour will conclude at the beautiful Monte Urpinu park.
Easy Red

History

Duration: 3 hours

Distance: 8 km

Start: 10.00 & 16.00h
This tour will introduce you to the rich historic history of Cagliari by touring its ancient buildings, churches and fortifications. Starting from the Centre of Cagliari, the tour will take you through its medieval areas, the quarters of Castello, Stampace and Marina, and includes Cagliari's symbols of the Elephant Tower, S. Efisio and S. Saturnino.
Easy White

Panoramic

Duration: 3 hours

Distance: 9 km

Start: 10.00 & 16.00h
This tour offers spectacular views of both the city centre and the sea via the white calcareous hills of the city. Starting from the Bonaria hill, which dominates Su Siccu sea and overlooks the medieval citadel of Castello, you will cycle to the the nineteenth-century boulevard of Buoncammino, view the port and Santa Gilla lagoon, and head towards the walled quarter up the Saint Remy and Santa Croce bastions.
Easy Blue

Naturalistic

Duration: 5 uur

Distance: 23 km

Start: 9.00h (lunch included)
Starting from the port you will cycle along the coast up to the Terramaini canal to the Natural Park, passing through the "City of Salt". From here, you will continue along the Poetto beach area and cross the Cape which separates it from Calamosca, the final destination, previously viewed from the higher ground of the eponymous lighthouse.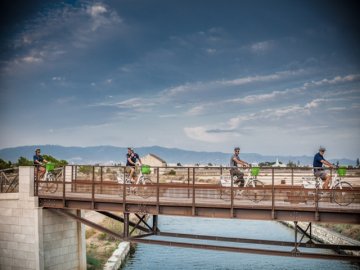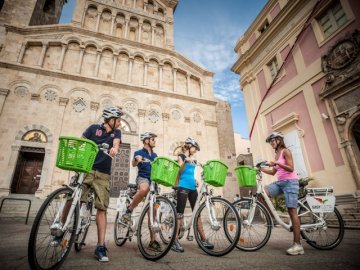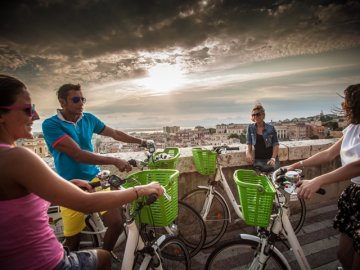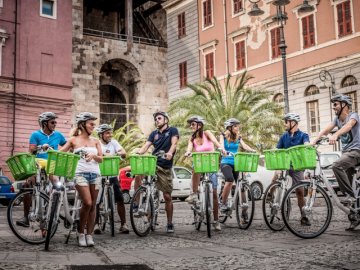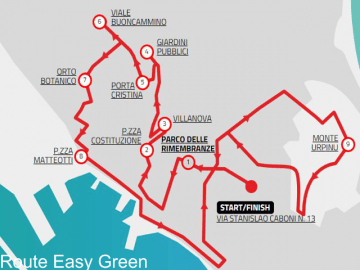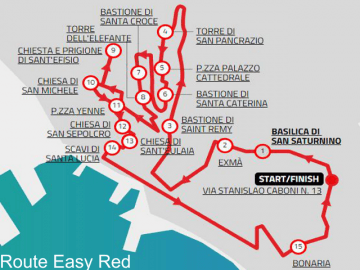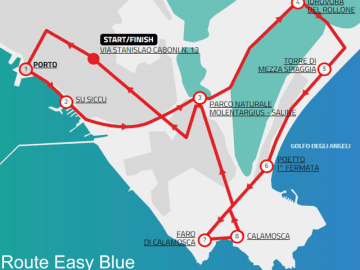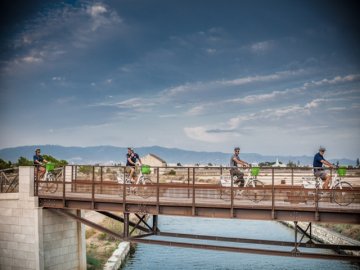 Prices
Rates are per person per tour and include an (electric) bicycle and helmet.

Supplements (optional):
• Bike seat for children*: € 10
• Pick-up service from your accommodation in Cagliari: € 10 (one way)

*Cycling with young children? Please enter the number of the (adult) participants and add a bike seat afterwards.
Met de elektrische fiets kom je snel op diverse plekken. Goede manier om de stad te verkennen.
8,0
Max, Noord-Holland
Goede gids, wist veel te vertellen over de gebouwen en gebeurtenissen (verleden)
8,0
Jos en Marianne de Hond
A very entertaining tour!
-,-
Ton en Willie
Fantastic bike ride, a must for everyone!
10.0
Nore
A lovely day
10.0
Dhr. van Geert (BE)