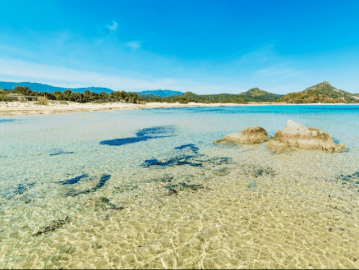 Castiadas & Cala Sinzias
are mainly known as a beach destination - after all, there are many beautiful beaches and sandy bays in the vicinity of the 1,500 strong municipality. They are located on the south side of the
Costa Rei
and are often part of it.
A dream beach in Sardinia is the beautiful sandy bay of Cala Sinzias with golden sand and turquoise blue water - a real Caribbean dream in the southeast of Sardinia. The northern part of the bay is also called Marina di San Pietro, referring to the small town of San Pietro which is located about 2 kilometers inland. Just a few kilometers further to the south you will reach the beautiful bay of Cala Pira, next to an old Saracen tower that watches over the crystal clear waters year after year. In Castiadas, the bay of Monte Turnu is also surrounded by beautiful nature, between picturesque cliffs. Sant'Elmo is located between Cala Sinzias and Costa Rei. Most drivers pass here alone. Completely wrong because on the coast of Sant'Elmo there are many small dream beaches lined up with granite and lava rocks, framed by gorse and juniper.
As you drive into the vast hinterland of Castiadas, you can drive for miles on straight roads past orchards, vineyards and olive groves. The citrus fruits are mainly grown in the hinterland of the southeast coast. You can still buy cheap agricultural products from the farmers of Castiadas and from the winegrowers' cooperative Cantina Sociale Castiadas you can buy liters of wine at bargain prices.