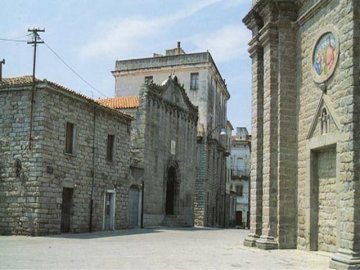 Tempio Pausania
Tempio Pausania, the capital of the Gallura region, is located in the mountainous area at the foot of the Monte Limbara, at ca. 30 kilometres from the sea.
The city dates back to the Roman age (238 B.C.), although the area has been inhabited for far longer considering the presence of numerous "nuraghe"; ancient megalithic edifices developed during the Nuragic Age (ca. 3000 – 800 B.C.), of which Nuraghe Maiori is the most important.
The old city centre is characterised by a typical granite-stone architecture. The Piazza Gallura and the San Pietro Cathedral there constitute the heart of the city. Nearby you'll find the Oratorio del Rosario and the intimate Santa Croce Church, both dating back to the 15th century.
It's said that the water of the Rinaggiu spring near the city has excellent curative properties.
A few kilometres south of Tempio Pausania, beyond Monte Limbara, there are several mountain lakes connected by numerous creeks. The water has sculpted the rocks here considerably. We recommend visiting this area during the winter months.