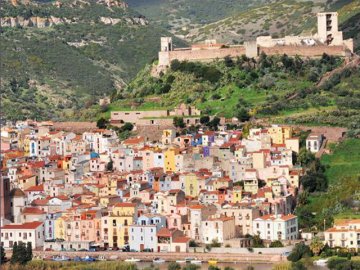 Bosa
Bosa is located on the west coast of the island on the north bank of the Temo River; the only navigable river in Sardinia. The city was founded by the Phoenicians, but under the rule of the Spanish in the 14th century it became a royal city, part of the independent Kingdom of Arborea.
The village is built around the Malaspina Castle, dating back to 1112 A.C., on the Serravalle hill. We highly recommend visiting the picturesque and colourful Sas Conzas quarter and the medieval Sa Costa quarter and its labyrinth of narrow alleys and stairways. Bosa is filled with restaurants, bars and cafés.
The beach of Bosa Marina is ca. 3 kilometres from Bosa. Furthermore, in the area there are numerous bays only accessible by boat. The medieval town of Alghero is ca. 45 kilometres from Bosa.