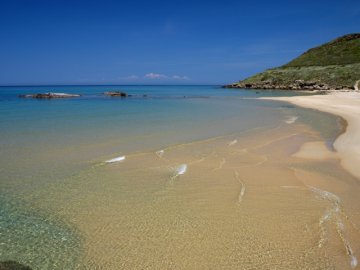 Castelsardo
The village, originally with an economy of arable farming and fishery, has transformed into a popular holiday destination because of its strategic position on a hill overlooking the Gulf of Asinara. The city has preserved its medieval fortress structure and ancient walls, which served to protect the city from attacks over sea. The castle, set on top of a hill, was built by the Doria family in the 12th century (the same Genovese family responsible for the foundation of Alghero). The city was called "Castelgenovese" or "Castel Doria", until it was conquered by the Aragonese in the 15th century, who renamed the city "Castel Aragonese". It obtained its current name by will of King Charles Emmanuel III.
Despite the fact that Castelsardo is a popular destination for tourists, the authentic ambiance of the historic city centre has been kept intact. Castelsardo is known for its narrow streets and piazzas; the Castelsardo Cathedral dedicated to Saint Anthony the Great; the Church of St. Mary, where the people of Castelsardo celebrate a series of Masses and processions during Lunissanti, a festival on the Monday after Palm Sunday.
In Castelsardo there are numerous restaurants, bars and shops where you can watch the weaving of the traditional Sardinian reed baskets. The city is located on the "Riviera del Corallo", the coral coast. Most shops sell coral ornaments, jewellery or decorations.
We recommend visiting the Roccia dell'Elefante, the Elephant Rock, a striking dark trachyte rock sculpted by the wind resembling an elephant.