Our travelers about their holiday in Sardinia
Share your Sardinia holiday travel experience! This includes holiday reviews and trip reports with your personal experience as well as tips and holiday photos. If you also wish to add your Sardinia travel experience, feel free to send a
mail to Sardinia4all
. We are curious about your Sardinia holiday review!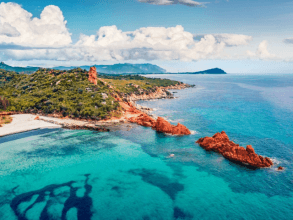 Round trip well built
Unfortunately many restaurants are indeed closed everywhere. Great weather, 24 to 32 degrees. Lovely walk at the beach at Lido Orri and beach with red rocks at La Spaggia di Cea. Due to cloud cover on Oct. drove from Fonni to beach Cea and had sun. Too bad that the Autunno Barbagia in Sorgono on 19 Oct. nothing folkloric happend. Busy by bus companies. Then on to Belvi, a nice market with crafts. But unfortunately 20 Oct. is only the big party, 10 folkloric dance groups and client Koning enjoyed that. On the way visit to the church of one of the first Christian martyrs, San Lussorio, located outside Fordongianus. (closed between 1 and 3 pm!) Then drove to Arbus, it was a long driving day. Ride behind sheep who were in no hurry ...... on the beautiful path to the sea, luckily they took a different path! Scivu some rough sea, but nice for a beach walk. Drive to and visit to Temple of Antas in Fluminimaggiore was worth it. On the way to Cagliari visited the Nuraghe Su Nuraxi in Barumini. Beautiful complex and enough time now to take it all in and view and climb. Also in the afternoon visited Nora, an old Punic-Roman town with beautiful mosaics. Morning walk through Cagliari old town. In the afternoon bike ride through Parco di Molentargius - Le Saline with wind force 7/8 fortunately on an electric bike. We did see flamingos looking for shelter.
Travelogue 30.10.2019 - A.v.d.G.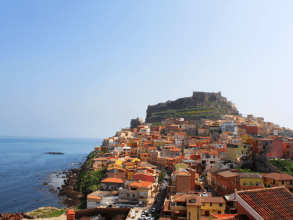 Very beautiful destination. Seen a lot
Very beautiful destination. Seen a lot. We followed Anne van Kesteren's tips and then undertook some nice things ourselves. Really beautiful cave of Neptune, Castelsardo, Capo Testa, Bosa and Orgosolo with the paintings was highly recommended !!!
Travelogue 17.10.2018 - Eef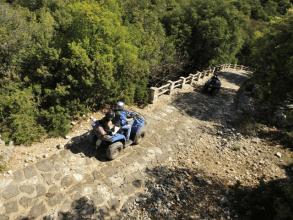 It was the best vacation in recent years
We had a fantastic holiday! I would do it again in the same way. I can't help but shine when I tell about our journey. At the 1st location, the elderly owner said that Sardinia was incredibly diverse and every bit different and she was right! The vegetation changed per location and went from deciduous tree, via cactus and conifer thus from green to dry and vice versa. You cannot cover enormous distances in 1 day through the small roads, but that has its charm and enormous relaxation. So you really have to visit multiple locations and make small trips from there. Only then can you do justice to the island and its beautiful nature. Tip: Go; book multiple locations and go on short trips. Find locations that are in slightly quieter places and rent a car to be mobile! The snorkeling and quad tours we booked from the Netherlands are also a wonderful way to explore the island and the sea in a slightly less crowded tourist way.
Travelogue 18.08.2018 - Suzan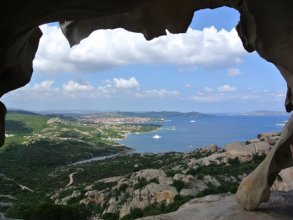 A very nice and relaxing holiday. Wonderful bays. Beautiful nature. Nice people. Nice villages/towns. Delicious food. Distances are further than previously thought.
Sardinia is a beautiful island to visit. It's green and rocky. The rocks have impressive shapes. There are many beautiful bays along the coast where you can swim and snorkel. In the south-east we especially enjoyed those beautiful bays. In the north-east we have visited ancient excavations, hiked between impressive rocks; seen nice old towns; surfed and visited the Maddelena archipelago. We know that there is much more to see and do in Sardinia, such as mountain biking, kayaking and visiting caves. We will save that for next time. Tips: Visiting the Bear Rock is great. The view is superb! And the rocks are very impressive in shape. A visit to the Maddalena archipelago is very beautiful. The next time we would only rent a boat in advance to sail between the islands. You can enjoy snorkeling in all those beautiful bays in Sardinia. Diving at Villasimius was fun. In the town itself you have delicious gelaterias. In the neighborhood of Arzachena you have many beautiful old excavations. To visit them you can take beautiful walks of about half an hour there. Surfing at Porto Pollo is fun. You can fly a kite very well in the dunes that lie there. In the small and beautiful town of San Pantaleo there are many nice bars and eateries. Unfortunately we didn't get around to it because of the long travel time, but the middle part of the east coast seems beautiful and fun because there is a lot to do.
Travel report 14-08-2018 - Family with 2 teenagers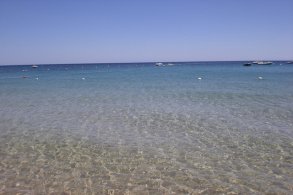 The sea water is the bluest water I have ever seen
Sardinia ???? What an island! What a landscape; a combination of Tolkien's Enchanted Ring, Arizona and Southern France. The sea water is the bluest water I have ever seen with shades of azure and turquoise in it. So bright. The food is pure. The chilled red wine. Delicious. The Mirtho or Limoncello, both nice. The sleepy towns that have not yet been discovered by mass tourism. The rest. What a wonderful vacation. Dolce far niente #sardinia #ladolcevita #wearecomingback @Sardinia, Italy Tip: drive the route from Alghero to Bosa. This scenic road can compete with highway 1 USA. Go snorkeling Bosa yourself.
Travel report 09-08-2018 - Marike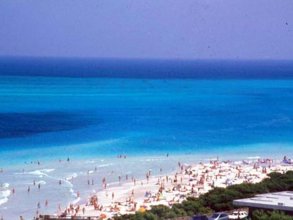 Very warm but so many nice beaches
Warm, very warm. But so many nice beaches, beach bars, restaurants. Fantastic country, and we have only seen a small part. - Beach Ezzi Manu, beach peloza was much too busy - Eating half a meter of pizza (for 2pers) is highly recommended - take a sailing trip, we were able to sail with Andrea (Alghero) for 2 hours, watched the sunset, swim in open water, some snorkeling, had a drink. Perfect.
Travel report 05-08-2018 - Nienke Zwakman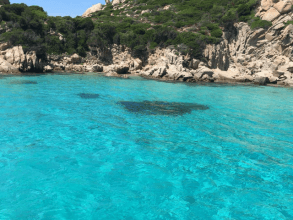 We love Sardinia! People are friendly and the land (beaches / sea) are beautiful
Sardinia .. in one word Wonderful! Really enjoyed it again. Palau area was very beautiful and a day by boat to the Maddalena islands is highly recommended. What beautiful beaches with clear blue water. Don't forget to bring your snorkel when you go to Sardinia, plenty to see. Tip: Take a trip to the Maddalena Islands, highly recommended!
Travelogue 01.08.2018 - Nelleke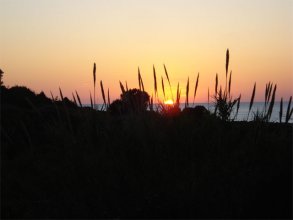 Lovely island, lovely people. Still relatively quiet in the month of July
We took a boat trip in isola rossa and saw dolphins! You can arrange boat trips at the reception, but these are really very expensive. Walk to the harbor and arrange something yourself, saved more than half. There it was also possible to rent a boat just for our family.
Travel report 29-07-2018 - Hester van Noordennen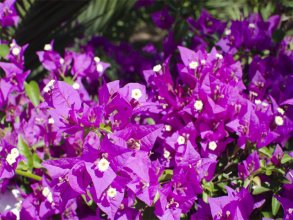 Beautiful island, especially nature. Culture not spectacular but was known in advance.
Sardinia is a beautiful and varied island. Even in summer there are still many fascinating plants along the side of the road. Some nice pictures. You do not cover many kilometers per hour, so it is wise to book accommodation in a number of places. Tip: rent a boat yourself.
Travelogue 27-07-2018 - Myriam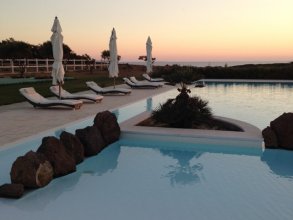 Sardinia is a fantastic island to enjoy peace and delicacies. Lots of variation in the landscape and top beaches.
With the support of the Team Sardinia4All made a great round trip and visited 4 agriturismo. Prime locations. The west coast has surprised us. Beautiful with all the capricious bays and charming villages.

The agriturismo are phenomenal and very hospitable. Sardinia is a great island to enjoy a holiday. Not busy with tourists and very diverse. The additional information from Sardinia4All is very welcome and certainly valuable to do during your holiday. The service is worth 10 points !! We can only recommend it if you want to make new discoveries carefree and enjoy !!!! Nice to hear that Sardinia4All has visited and viewed the locations itself.

Tip: make sure you rent a car to explore. Travel report 08-07-2018 - Agnes and Piet Janssen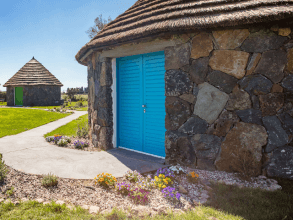 10 days in Sardinia with your own transport and 3 different locations at a maximum of 2 hours' drive from each other
Balanced offer that met our wishes: 10 days in Sardinia with your own transport (night boat Genoa) and 3 different locations at a maximum of 2 hours' drive from each other. Alghero and a stay in a special agriturismo were also important wishes. Is Cheas is an experience in itself. Driving on sandy roads where you think: "Where are we going now?" The surprise is complete when you suddenly arrive at the entrance and see a beautiful white house with 4 beautiful, detached Pinettas (shepherd's huts with thatched roof) near a beautifully landscaped swimming pool . Very spacious, scented lavender around the Pinetta, nice outdoor seating at a sufficient distance from the neighbors. Tastefully decorated, well-kept bedroom with a very spacious shower / bathroom. Shower also suitable for disabled people. Minibar in bedroom. It feels very special when you walk to the restaurant in the morning and in the evening that is attached to the house and is therefore only for Is Cheas guests. Delicious food, 4 courses where choices can also be made. Wine from our own vineyard. Breakfast excellent too. Correct operation, everything aimed at making you relax and enjoy. This is also the vision of the owners who make them come true. Beautifully colored cushions under the olive trees and lanterns are lit in the evening. In short; a class of its own that makes it worthwhile to drive to this inland region. The area itself, especially the villages, are pretty dilapidated and there is nothing to do there. Recommended: Is Arutas, a lovely beach that massages your feet because of the small quartz stones. We were amazed at the tranquility of this place and the unspoilt nature. Tharros, archaeological also worthwhile. Travelogue 03-07-2018 - Peter and Saskia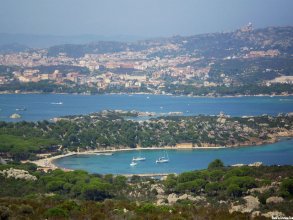 A visit to the Maddalena Islands
Last week I ended up with some Googling on the site of Sardinia4All. They offer excursions, among other things. A day trip sailing with a ship called Lady Luna in the Maddalena Archipelago. A group of islands to the north of Sardinia. The boat leaves from Palau. The program looks nice and we are going to do it, together with daughter Irene and son-in-law Stefan who are also staying with us in the resort this week. Today is the day.

The boat departs at 10:30 AM. From our resort it is an hour's drive according to Google Maps. We leave at 09:00. It is not busy and a little after ten we reach Palau. It is busy there. Very busy. We crawl through the only shopping street to the harbor where it is quite chaos. Because there are a lot of boats and the street plan is rather unclear. We are looking for a parking space but we do not find it very quickly. Moreover, we drive wrong so that we can do a new round of Palau. Nowhere a parking space. We are allowed to go through the shopping street again and then decide to ask an agent, who tries to regulate traffic, about a parcheggio. He sends us to the right, into a street near the harbor. Time is seriously running out. Olga and Irene decide to get out and visit the boat. It is along Pier 7. I see the sign that indicates Pier 7 and I roar them from the car there. Stefan and I do indeed find a huge parking lot at the end of the street. Place was enough. We now quickly lose the car and the parking meter turns out to be a challenge. The thing requires some study, which is not nice when the clock is ticking away the little time we have left. The thing accepts my debit card. Regularly. Then paced Pier 7 visit. As we get close, Olga is standing near the gangway in the distance, gesturing for us to speed up. Now it is running. There are two girls at the gangway who want to see my voucher. Which can. Then pay and we can get on the boat. We are the last. As soon as we set foot on board, the gangway is brought in behind us and the boat leaves. It is exactly 10:30 am. We shouldn't have been a minute later. You can call it sharp timing, but nice is different. The lesson: leave home well on time.

The boat is full. We walk back and forth looking for a free seat and that is not easy. Finally we find a hole below deck, but it is not a success. We do it. About ten minutes later, Stefan suddenly finds some seating space on the fore of the upper deck, right in front of the wheelhouse. That turns out to be a golden find. We have a beautiful view in the sun here. We settle down with beach towels and a few bags and the rest of the day we do not give up anymore.

The trip takes us along various islands and beautiful bays. The first stop at a bay is for swimming enthusiasts. The boat anchors for 15 minutes and a gangway is celebrated that acts as a diving board. Fun! The water is turquoise. As you can only see on brochures, but now it is real. Then sail on to another bay where the boat moors at a rocky outcrop behind which we can go onto the beautiful sandy beach for swimming and sunbathing. Because our Royal Box is far away from the gangway, we are the last to get off the boat. We walk to a beautiful idyllic white sandy beach. Such a beach that you also find in the Seychelles, for example. It couldn't get more romantic. We carefully put our feet down between the towels of the several hundred other sun worshipers who have already draped themselves on the same beach and are lying hut to bed. Because our boat is not the only one that has docked here. There are also two others. That's a bit of a shame because it distorts the romantic image just now. After all, studying the butt cleft of the neighbor one meter away for an hour is bad for the digestion. So we walk fifty more to a second beach and we have plenty of space there. We swim a little. The water is wonderful.

The pattern repeats a few more times. Mooring, finding a spot, sunbathing and swimming. The bays are beautiful. Swimming in an azure blue sea is a party. On board we get a simple lunch. No complaints about it. The crew are friendly and try their best to make us feel at home. A nice girl explains the sights in three languages, but because we are on the front deck, the noise blows away and we don't understand much of it. Is that bad? Well no. Sometime in the afternoon, Irene kicks over a can of Coke. I never knew that stuff flies back and forth so fast over the deck of a sailing boat pounding the waves. Stefan gets a wad of paper to blot it up because we don't give Irene permission to throw her bath towel on it. A shame about that sheet. But then the guide suddenly comes up with a joke. Laughing she cleans it and we play around. Great girl!

Finally, the boat moors at the quay of La Maddalena on Isola Maddalena, the largest and the only inhabited island in the archipelago. We walk through the historic streets, have an ice cream and a terrace for a cup of coffee, brought by another friendly lady who speaks good English. The last cruise returns to Palau where we arrive around 5:30 PM. Then drive back to our resort for an hour. We had a great day. Travelogue 04-09-2017 - Ron Putting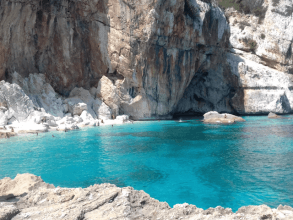 If I went again I would go to the North West
Beautiful country, versatile. Beautiful beaches. What we regretted was that many beaches were poorly accessible (occupied by hotels, you had to pay a lot of parking, overcrowded parking lots so you had to drive to another bay. And if it was accessible you were really packed. I could touch the neighbors. I thought that the charm of the beautiful beach fell away. I am from Aruba, so maybe I am a bit spoiled ... haha. If I would go again I would go to the North-West. I liked that the most Beautiful surroundings, more to do The roads were good to ride.
If you want to be more active, I would go in the spring or autumn. Always have cash with you because you cannot pay with the card everywhere and most beaches have paid parking. Next time I would choose two destinations close to the beach. We were in the car a lot now and we had 4 destinations. Seen a lot of the country in this way. The south was sometimes 42 degrees, so we could do nothing but be alone in the sea. If you really want to see the bays, take a boat trip. The caves of Nettuno are a must. You can do it by boat or on foot. We did it on foot and were glad we did despite the 654 steps. Learn a little Italian. We speak Spanish and English ourselves, but often unintelligible to both parties. Be careful when traveling with your own car. We were stopped once on the highway by a car driving behind us. He claimed we smashed his side mirror. He got out quickly and ahead of us to unnoticeably make a line with his finger on the side of our car like a trail. He threatened to call the police and saw that we were not impressed. He already had the amount for a new mirror ready on his mobile. 75 euros. I said that we will call the police ourselves or fill in the European claim form on the spot. He wanted money. I gave him 15 euros and said goodbye. Travelogue 13-08-2017 - Anonymous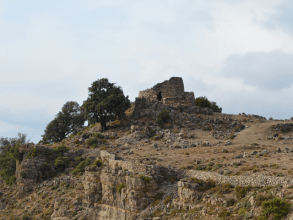 Unforgettable tour
We found our tour unforgettable and that had everything to do with the choice of the agriturismos. Marieke changed a booking during our trip, so that we could stay the last night in an agriturismo closer to the airport. Thanks again for this service. Sardinia is surprising; We love archaeological sites and museums, so we got our money's worth. The bays and beaches are very beautiful and perfect for water sports enthusiasts. And staying in an agriturismo with a swimming pool was very pleased with us. We don't want anything else anymore. Tip: Visit a typical nuragic tower, giant tomb or necropolis (cemetery) especially with children; it really appeals to the imagination. Travel report 20-07-2017 - Anja Boesten-Simonis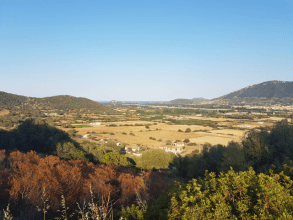 Super pleasant stay in Sardinia
The compliments how everything is arranged down to the last detail before you go on holiday to Sardinia. Nice information that you can use and start enjoying what to expect on your path. The locations that are visited have been carefully chosen and you will be quite spoiled here. Keep in mind that you are definitely dependent on a car because the location is unique but isolated from the villages / towns. Sadinia4All also makes recommendations that you can do something with during your stay. Worth the effort. Thank you again for the unique service you have provided to make our stay on the island of Sardinia super pleasant. Highly recommended for people who enjoy entrepreneurship, travel and enjoyment !!! Travelogue 21-06-2017 - Mr. P Janssen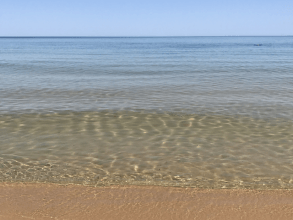 Each has its own charm
We had a wonderful holiday! You gotta love sorting things out and love the beach! The accommodations are good to very good and each has its own charm! In June, the season really starts around the 20th or 1st of July. Sometimes no beds or umbrella for rent or a demarcated piece of beach in front of the hotel! It has its charm to discover this. There are beautiful beaches. Pebble beach only doable with water shoes! Always check whether parking fees already have to be paid. If you like nature, beach, sun and good food, Sardinia is fantastic! Tourism is starting to take off, but certainly not massively yet. Alghero is a nice city! Nice streets, a bit more touristy, but certainly not boring! We were already warned by Sardinia4all.com, never get extra insurance for a rental car! They try! We got a free upgrade because the cars were gone, then they tried to get us to take out an extra insurance of over 500 euros for the friend price of 480 euros! Perhaps tip, only put in Dutch on the voucher, that everything is insured, but also in Italian ;-) Tip: Always make sure you have cash, boat trips, caves, etc., you want cash there. Often more convenient at gas stations and better not to refuel on Saturday or Sunday, unmanned, money or ticket in machine hassle! Travelogue 20-06-2017 - Henk C. (NL)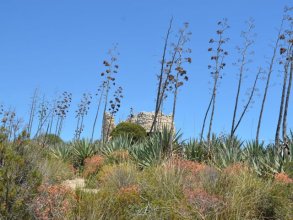 S4all thanks for your advice!
Great club to help you make a good choice from the offer that Sardinia has. After we went looking to only do the Northern part of the island, we were able to make a nice tour. We stayed in Olbia for 1 night, afterwards that was not necessary, because we got a change for the flight with Transavia. Instead of the evening flight became the early afternoon flight.
Our first address was Agriturismo Neule. Was nice to have spoken to the owner once, after which they no longer interfered with the guests. Too bad she only cooked for larger groups. You can expect from an Agriturismo that cooking would be done every other day. Breakfast fine maintenance should be given a little more attention. Insect screens, for example, were almost all broken. Was near Dorgali which is a beautiful region and a good starting point to explore this area by car. Very beautiful mountains and fine beaches. 2nd address a Wine Resort Leda dÏttri near Alghero was fantastic delicious food, beautiful pool, delicious wine and beautiful surroundings. Occasionally a plane, but that doesn't bother you especially if you live in Hoofddorp. Definitely recommended, we got a suite. Lovely room and friendly staff .Great breakfast. 3rd address more in the north B & B La Pastruccialeddu beautiful surroundings nice walking and the beach not far by car. We had dinner twice with a family member, a few minutes by car. Really good food and very cozy. For 30eu pp you have food like the Italians can. Everything comes from their own farm. Wine, too, and you could drink as much of it as you wanted. We had taken care of a car ourselves, which again saved the holiday budget. We can tell a lot more but I would say experience it for yourself. S4all thank you for your advice. Travelogue 18-06-2017 - Mr. Moningka (NL)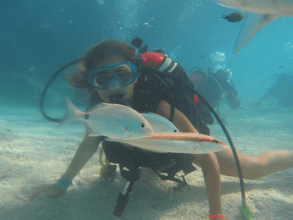 We could dive a lot
We had a wonderful holiday. When drawing up the itinerary, we had taken into account a space to dive at Maddalena. In Calla Gonone we came across a dive center Blufiore by accident and I dived there nicely. There a tip was given to also dive at Villasimius (Air Sub). Also done and that was great too. Then also on spec at Alghero against a nice diving club (Overing diving) near Capo Caccia beautiful cave dives arranged. Finally only dived 1 day at Maddalena. The dive centers mentioned on the site of the hotel no longer exist or are not good. There are quite a few in Cannigione near the harbor. So this was a lot of fun. Well for a (demonstrably) experienced diver!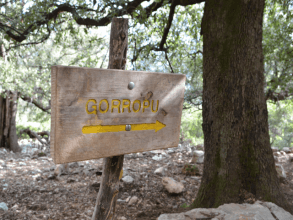 I'm going back for sure!
What a beautiful island and friendly people! I will definitely go back as we have only traveled the Northern part in more than a week. We listened carefully to where we wanted to stay in Sardinia. As a result, the travel time from one accommodation to another has proven to be fine. The directions are also excellent. The accommodations are all excellent due to their good service, location and characterful appearance. Tip: The 4-hour (return) hike to Gorropu gorge is definitely worth it. A guide is not necessary as the route is well marked. Thank you for your excellent suggestions and handling. Maybe it is nice to know that we initially asked for a quote from another Sardinia travel specialist, but it was rejected because they did not want to book accommodations for "only" 1 or 2 nights? In short, if we were to go to Sardinia again, we will book again through you. Travel report 10-09-2016 - Carolien & Lies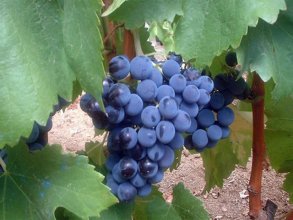 Sardinia has surprised us in every way
Dear Marieke,
We would like to thank you personally for arranging our accommodations at a reasonably short notice. It was all arranged tip-top. Unfortunately we are already back home but we had a wonderful holiday. Sardinia has surprised us in every way. You feel safe, the people are friendly and hospitable and you can do anything. Visiting cities, hiking in the mountains and also snorkeling in the sea. Do you have a tip for us where we can best buy that delicious Cannonau wine here?

With best regards,
Jannette and Mattijs - Travel report 05/08/2016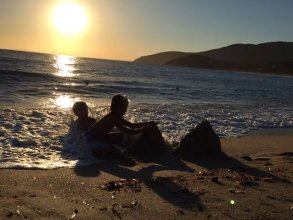 The island is a must see ... the people are super friendly and the sea is really beautiful!
We found our holiday in Sardinia very successful with 3 children, ages 8/11 & 13. Travel time is short (plane) and the location is beautiful. Because we had two houses near the beach, the temperature (33 degrees avg) was very pleasant due to the sea breeze. The countless beautiful bays, charming villages with markets and the friendly people make Sardinia a top holiday! An absolute must. Tip: Renting a boat and sailing along the bays is highly recommended.
The Schade family / Niersman (NL) - Travel report 25/07/2016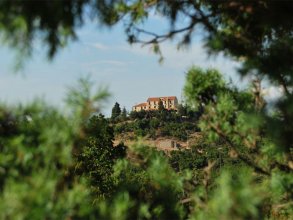 Very satisfied with the online support
Great tour, the documentation that I can find on my sardinia about my booking and the general sardinia information I find very well taken care of! I am very satisfied with the online support, always with everything you need. And the hotels we have visited so far are all beautifully situated. I'm curious about the rest.

Sardinia is great for walking. Leave on time. The roads through the mountains can be steep, so take a strong motorcycle. Goroppu gorge is definitely recommended! And there are many beautiful places. Mrs. Tyl - Travelogue tour Sardinia October 4, 2015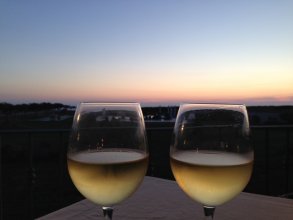 Ieder verblijf had weer z'n eigen eigenschappen en charmes
Voor ons was het de eerste keer dat we een dergelijke rondreis geboekt hebben. Het was meteen ook een zeer positieve ervaring. Op deze manier zie je alle delen van het land, of in dit geval eiland. Ook de korte verblijven in de diverse agriturismo's is ons ook goed bevallen. Het geeft een bepaalde afwisseling die wij wel prettig vonden. Ook was het iedere keer weer spannend te zien waar je na een verblijf weer terecht kwam. Ieder verblijf had weer z'n eigen eigenschappen en charmes. Het ene verblijf was zeer luxe, het andere weer wat minder. Bij de een was het diner heerlijk, bij de ander weer wat minder. Wat wel iedere keer fantastisch was, was het uitzicht en de rust. Een geweldige ervaring.
Anoniem - Reisverslag rondreis Sardinië 6 oktober 2015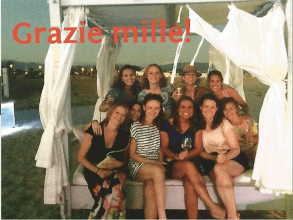 Grazie Mille
Dear Marieke, we would like to thank you very much for all the help for our trip to Sardinia.
We thought it was a very nice destination with good accommodations, restaurants and the nice tour through Cagliari was very good for the group. We really enjoyed it!
Ciao ciao! Nicole, May & Annette - Travelogue anniversary trip to Sardinia 11 September 2015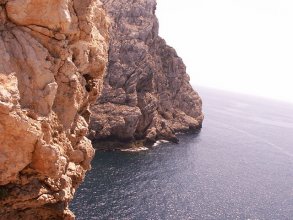 Beautiful weather and beautiful hotels during our tour
Sardinia is a beautiful island with a lot to see. Our 1st experience with Sardinia was therefore very good, beautiful weather with beautiful hotels / resorts. Because at the last minute the return flight was not via Alghero but from Olbia, Marieke was able to arrange free of charge that the nights in the hotels were moved and even 1 hotel was canceled. Everything was well organized, car was ready at the airport, all hotels were prepared. Driving in Sardinia is doable, roads are not busy, but many small roads and curves, so sometimes you are on the road for quite a long time.

We made a tour of 8 days in October 2015. Started in Alghero, there we visited the old center with the nice streets and the harbor. From the harbor we made a boat trip to the caves of Neptune but because the sea was too rough, the boat could not moor and we could not enter the caves. We visited this one a day later via the 654 steps down and later up again. The caves are beautiful. Then drove clockwise via the north coast to Olbia, from there flew back.

Along the way viewed various antiquities, seen nice places on the coast, had a good meal. Seen many special animals such as bats in a nughero, a turtle at Capo Testa, many lizards, flamingos in a nature reserve. The weather was very good, around 22 degrees. Advice is to bring a TomTom and make sure you are at the hotel before dark because there is little lighting on the roads and bottled water for the road, in the interior you will find few supermarkets, stuff against mosquitoes.
Mw. Pouwels - Travelogue tour Sardinia October 30, 2015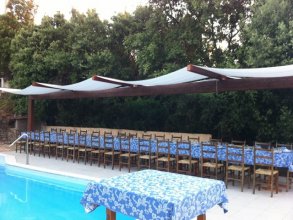 My wife has completely fallen in love with Sardinia. And I ;-)
Good afternoon, no question, just compliments and our thanks for the truly wonderful holiday we were able to experience on that paradise called Sardinia. Beautiful locations, where La Quercia stood head and shoulders above the rest in terms of atmosphere (dining together is one of the most beautiful holiday experiences we have had). Also i Mandorli was great and we didn't notice any of the stiff staff (unless we got an advantage, because I'm Italian myself ..). Su Vrau is also beautiful, but it was quite disappointing to us, because it is not just an agriturismo, but more of a (large) hotel. But that is our fault, because we should have been more careful when booking. Perhaps Agriturismo San Macario (in Pula) can become a new contact for you. We booked it directly and it is really beautiful with great food. all together. Only drawback: no air conditioning. The description on the site regarding the trip to Italy and the cruise to Sardinia is also heartfelt. We could have written it ourselves! My wife has completely fallen in love with Sardinia. And I. Thank you for helping make this discovery possible and, hopefully, see you next summer!
Kind regards, Marco Vallebella (Bergen op Zoom) - Travelogue Sardinia September 8, 2015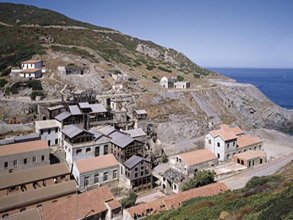 Each separate location has its own atmosphere and audience, which provides a nice change
We had a fantastic holiday in Sardinia and enjoyed the nice weather, the sea and the beach as well as the nature and culture. We had a lot of fun with the rental car and the locations were well looked after. The reception at the locations was warm and the employees were nice and helpful. We also had a delicious meal (including at the locations) and swam in the pools. At most locations, the apartments are not completely fitted with mosquito nets. Often the window frames but not the double doors to the terrace or balcony. That is sometimes difficult because then some flies and mosquitoes come in anyway. We have visited the following places: Porto Torres, Capo Caccia (Grotto Nettuno), Alghero, Olmedo (winery Sella & Mosce), Stintino, Bombarda, Argentiera (abandoned mining town), Sassari (cathedral), Bosa, Oristano (and ruins from Tharros), Arbus, Cagliari (amphitheater, Castello, various churches), Arbatax (harbor and rocks), Baunei (and plateau), Dorgali, Olbia (and visited the church service in the Chiesa Evangelica on Sundays) and the La Maddalena Archipelago ( boat excursion). We also enjoyed swimming in the sea and pool and climbed the highest mountain in Sardinia (Punta Marmora). It was very nice to speak Italians, French and Dutch. Each separate location has its own atmosphere and audience, which provides a nice change. Tip: Have a car with a built-in navigation system or a TomTom: some places / addresses are otherwise difficult to find, especially because the street name indications or the signage are missing. In addition, a navigation system shows the distance and the expected travel time, which is very easy when planning the trip. Thank you for everything, we had a wonderful honeymoon!
Kind regards, Jan-Paul & Wilma - Travel report Sardinia 12 August 2015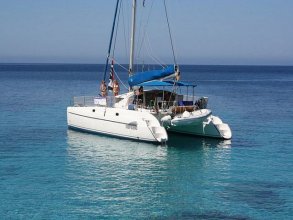 Very nice country
Very nice country, felt very safe. Good roads and everything within easy reach. No pushy restaurants, everything quiet and friendly. Beautiful beaches wherever you go, clean sea and clear water. And so many places where you can park well and for little money, with the exception of La Peloza. The contact with Sardinie4all has been correct from the first moment. The alternative I got (first B&B was fully booked) was completely good. Tip: Excursion on the boat Andrea Jensen was great, because of the attention and care that was given. Later I also arranged the excursion to Asinara on a catamaran on the spot; I was lucky: saw dolphins. There too good care with food and drinks on board.
Ms. van Dooren - Travelogue Sardinia 12 August 2015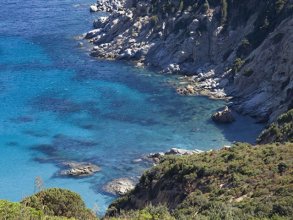 Nice as it is always close to the coast
Due to the high temperatures in the summer months, it is nice if you are close to the coast and can look up water. This was the case with us at both locations, we had a great time. You can visit very busy beaches, but there are also plenty of locations where it is very quiet. Driving distances on the roads is not easy, we expected to be able to visit a larger part of the island by rental car. But the mountains, bad roads and limited speed limit won't get you very far. Air conditioning in the car is a must. Tip: In August during peak hours. You will not be bothered by that on the roads, no traffic jams anywhere. Some beaches (those with the bright blue water) are very full. This actually applies especially to the region around Alghero. In the southwest at Torre dei Corsari it was much less touristy and less crowded. There you are mainly among the Italians, very nice to experience. But you shouldn't go there if you like strolling / hustle and bustle / nightlife. Water shoes are very nice on the rocky coasts. Because of the slipping, but also because of the fact that there are many sea urchins between the stones. On the coast you can cool off from the sea breeze. In the interior it is very hot in the summer. Air conditioning in the car is badly needed. Fam. Dobbelaar - Travelogue Sardinia 11 August 2015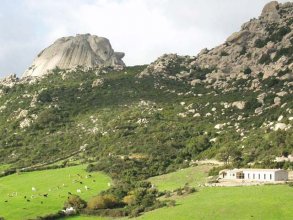 Rent a car and explore the island
Beautiful island. We are going back for sure. We have visited the entire northern half in 9 different accommodations. Coast, inland, mountains, at sea. Explored everything. And all equally beautiful. So don't stay in one place. Sin. Rent a car and explore the island. Now the southern half! Tip: Agriturismo La Cerra in Tempio Pausania is worth a visit. 2 nights was ok for us. But a third certainly could have!
Ms. Roorda - Travelogue Sardinia 08 August 2015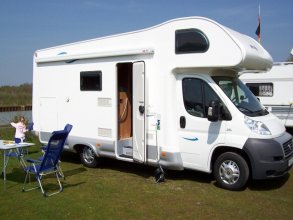 A very successful first introduction to Sardinia with the camper
We went on a discovery with the camper from Alghero towards Stintino, from there we headed north-east to take a look at Porto Cervo. We are then towards Porto Rotondo, Olbia to San Teodoro. We stayed there for 2 days, we thought it was really great there. From San Teodoro we headed north-west to discover Bossa, which was also a top location. From Bossa we then returned to Alghero where we stayed at a nice and very well maintained camper place "Camping Mariposa". It was a very successful first introduction to Sardinia and we will definitely come back to discover it further. As tips, I would like to share the following: Porto Rotondo is a beautiful village with a very special church (beautiful), San Teodoro was also a prime location for us, the motorhome directly on the beach "La Cinta" and many nice restaurants in the village (Tip resto "Da Fabio"), Bossa was a great moment for us. Very lively town with again nice and affordable restaurants. Alghero is also a place that is well worth a stay for a few days.
Max - Travel report Sardinia 25/05/2015
Cozy towns, beautiful beaches with clear water
Sardinia is fantastic! Recommended. Will definitely go back if finances allow :) Apartment and park were in good condition, very nice large expansive area. Very nice staff, live music every day. Child-friendly. Nice and quiet in preseason. Beach at the park is fairly small and the beach where the shuttle bus goes, we have not discovered and nothing else has been told about it. But shuttle is only in high season, we had the idea. But by car you can visit many beautiful beaches in the area. You really have to ask for information about the environment, because there was no information folder in the accommodation. We had bought a travel book ourselves so had already read a lot, but it is always nice to read / hear about the smaller towns and markets in the area. Sardinia is hilly / mountainous and therefore you drive a bit longer on, for example, 150 km. than you do in the Netherlands. Roads were also easy to drive. Delicious eaten everywhere and on average cheaper than in the Netherlands. Great island to visit more often. Cozy towns, beautiful beaches with clear blue water, lots of green on the island. Etc. Park and island a must.
Mrs. Kenters - Travelogue Sardinia 14/05/2015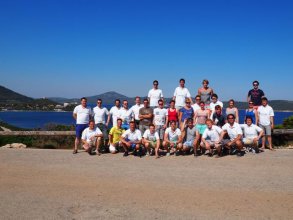 Group tour Sardinia 2014
What do you do if you want to go away with the team of the company for a few days and you want to visit a beautiful Mediterranean environment for an attractive price? What do you do if you don't want to spend too much time traveling and want to get the most out of your vacation?

We chose a vacation through Sardinia4all. We had a beautiful hotel in Alghero, a pleasant old town. Sardinia4all has thought well with us in the implementation of a fun activity program. We have thus gained a wonderful experience of the Mediterranean life in a short time. In addition, we were introduced to the best dining options on the island. Thanks to staff who live on the island, Sardinia4all has real know-how and added value because we could always turn to questions.

We also found the efficient flight Eindhoven - Alghero a huge advantage. It is almost unreal to suddenly be on a sun-drenched island in 2.5 hours.

All in all, a must to do for a short or longer period of time. We look back on a good organization and a great price-quality ratio.

Syncraft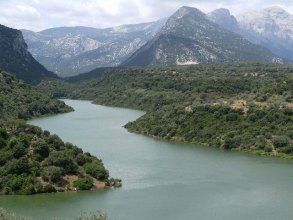 Still wild and unspoiled
Sardinia stood still until 50 years ago and then developed very nicely. As a result, central Sardinia is still wild and unspoiled without houses ... Where do you still see that. However, do not go there for nice places, you will find them especially on the coast. Alghero very nice place. East coast really beautiful, much cheaper than north and hardly any tourists. Costa smeralda is beautiful but insanely busy when you come from the east coast with packed beaches.
Mrs. Karmiggelt (NL) - Travelogue Sardinia 29/07/2014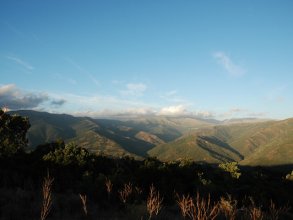 Sardinia, a pleasant holiday destination
A very pleasant holiday destination, with many possibilities, nature, history, beach and sports. It is affordable (May / June). Roads are good, but many mountain roads, many curves. We therefore underestimated the travel time somewhat. The people are calm and friendly. Never had the feeling that they were trying to cheat you. The Sardinians are proud of their country and their products and they clearly show it. In restaurants, Sardinian specialties and wines are on the menu almost everywhere and that tastes delicious. Very nice and varied mix of accommodations, they all had something special. Friendly and very helpful people at all accommodations. Addresses were well distributed across Sardinia. Travel documents were good and extensive. Tip: Learn a little bit of Italian, generally speaking English is poor. We underestimated that a bit.
Mrs. Heij - Travelogue Sardinia 27/05/2014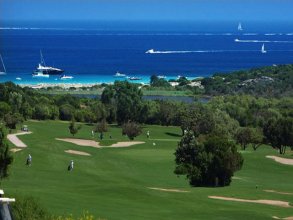 Golf on the course of Pevero (Costa Smeralda)
In the north of Sardinia lies the beautiful Costa Smeralda (Emerald Coast). The number one tourist attraction on the island. The fantastic rock formations, the clear sea and the Mediterranean vegetation guarantee a special experience. For golfers, the Pevero golf club is located here, sandwiched between the Gulf of Pevero and Cala di Volpe . A beautiful 18-hole course (par 72) by Robert Trent Jones Sr. That is by no means easy. On many holes you have a view of the sea with the most beautiful yachts. Most of the holes are sloping and the greens are faster than we are used to in the Netherlands. Playing technical is definitely recommended. You can walk this track perfectly and a buggy is only necessary if you have difficulty walking.
Anonymous (NL) - Travel report Sardinia 15/04/2014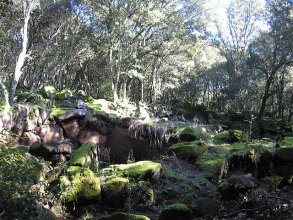 Schitterend weer en warme zee in oktober
Sardinië is een prachtig eiland met schitterende stranden, maar ook een heel mooi achterland. Wij hebben een hele mooie wandeling gemaakt bij de Setti Fretelli, het achterland van Coste Rei. Ook het weer was tijdens onze vakantie eind oktober nog schitterend en de zee lekker warm.
Fam. Tabak (NL) - Reisverslag Sardinie 30/10/2014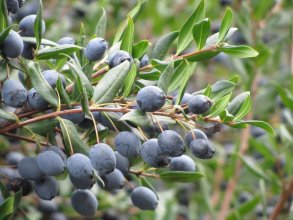 Made a wonderful tour!
Went to Sardinia for 12 days with my husband and 2 daughters. You have booked a tour for us with stays in Agriturismo and b & b. It fully lived up to our expectations and we had a wonderful time! A green island, nice people, good food and drink and plenty of sights. A tour of about 2 weeks is therefore highly recommended, especially in B&B. Combine coastal locations with those of the "inland" and experience the "pure" Sardinia!
Mrs. Bloem - Travelogue Sardinia 07/09/2013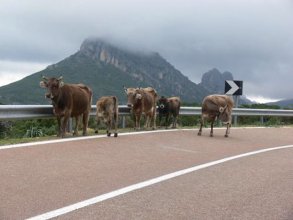 Visit Capo Testa and Urzulei
Capo Testa is well worth a visit because of its very distinct and peculiar rocks. Here is also a very nice walk away from the tourists. Urzulei and the surrounding mountains are also very worthwhile. A lot of wildlife roam here: donkeys, horses, pigs, cows, sheep, etc. The road there is also breathtaking.
Mr Broeckx (BE) - Travelogue Sardinia 11/05/2013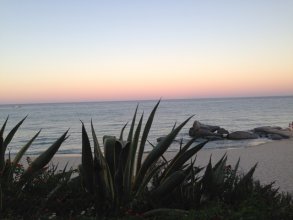 We will definitely go back to Sardinia again
Dear Marieke,
Our journey is almost over. We want to let you know that the accommodations were all fantastic. The reception was also warmest everywhere. And the food delicious !! Very varied tour, in this way.
We got to know the whole island well. Very beautiful. Our children also really enjoyed it. We will definitely go back. Thank you for all your efforts. We really appreciated it. With warm regards,
Liesbet (NL) - Travelogue Sardinia 19/07/2013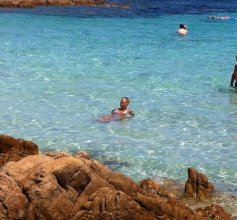 Put together your own Sardinia tour
We look back on 10 beautiful days in Sardinia !!! We started at a nice first location, near Alghero. Room was beautiful, view was nice, pool and playground were nice and clean. Friendly owner and child friendly. Food was once possible, suspected it had to do with May 1 and had the feeling that the restaurant only officially opened for the season that week. Food was not very special, price / quality was less (food then).

In Bitti at Su Lithu we have experienced the most friendly hotel staff, extremely hospitable and helpful. Room was beautiful, view was beautiful, really advisable to take a view of the town !!! Food was very good and we got good recommendations including wine. When we had a problem in the room, this was resolved very well and accurately by the receptionist. Breakfast was superb, best of the three hotels. Lots of fresh fruit !!

Last hotel Tenuta Pilastru (if I spell it correctly ...), nice room and nice and quiet sitting, really a location where it is quiet and where you are close to many sights. Beaches are also easily accessible. Here the price / quality of food (EUR 24.50 for all courses, including wine, water, coffee and digestive) is very good. The food was well taken care of, we ate here twice (out of convenience) and the menu was changed a bit each time, so that you were not always served the same thing.

With a child we would go for a good location next time from which we can make various trips. Our daughter quickly gets carsick and there were some difficult parts on the route (a lot of bends). It was fine to stay at a location for three days, we thought it was a bit too hard for our daughter.

Everything went well and quickly with the rental car and handled it. Seat for our daughter was fine, so it is also suitable for children older than 3 years (you could not see that on the booking, but I called).

Hope you benefited from my short evaluation. We are very satisfied with your advice and are happy with the locations that were eventually booked, they really made the holiday for us.

Good luck with your holiday organization, we will certainly recommend you to our friends.

Cordial greetings,
Jasper & Charlotte - Travelogue Sardinia 10/05/2013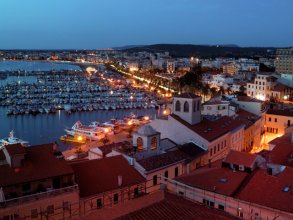 Alghero in 3 days
Alghero and surroundings is easy to do in 3 days. The old town is nice, terraces and eateries and restored city. Food is not equally good everywhere. Tip: at the transition old / new city is the restaurant Il Pavone (the peacock). Delicious. A bit more expensive, but then you also have something. Pay attention to useful meals: you will be asked to put a basket of bread on the table. It gives the impression that this is free, but it is not. On some menus bread is explicitly mentioned on some not in the menu section but small print at the back of the card. Will be charged. Sometimes € 6 per basket.
Mrs. Wevers - Travel report Sardinia 13/09/2012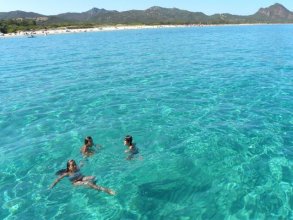 Enjoyed the beach
We had a wonderful holiday. The apartment exceeded our expectations and was in a wonderful quiet location close to all necessary amenities. We mainly enjoyed the lovely beach, sea, the large balcony / veranda of the apartment and excellent restaurants. Recommended to have lunch at L'escargot during the beach day. At the height of Muravera on the beach, the restaurant Gio Marina is recommended. In short, very much enjoyed despite a bad cold during vacation. We will definitely come back and prefer to use apartment Le Verande. Floor (NL) - Travelogue Sardinia 16/06/2012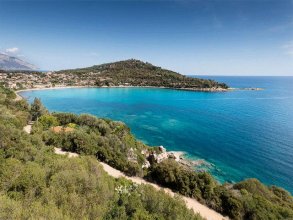 Varied natural beauty and beautiful beaches
Sardinia is a beautiful country with varied natural beauty and beautiful beaches, nice people. Our trip was very relaxing, because of the preseason. If you are in Cagliari, don't forget to eat at Eno Ristorante Vineria Bar, Vico Carlo Felice. Fine cuisine, fine wine.
Anonymous (NL) - travel report 09/06/2012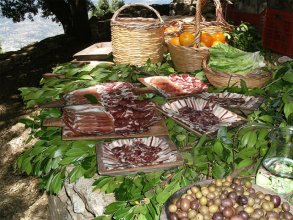 Tour neatly arranged
Our experience is that everything was neatly arranged. Voucher system works fine. Everything was clear, only 1 location gave some trouble to find. It is recommended to bring a TomTom to find the locations. And to check all addresses at home via Google Earth. Had a nice tour. Sardinia is a beautiful island to visit with friendly hospitable people and excellent food and drinks.
Anonymous (NL) - Travel report Sardinia 04/06/2012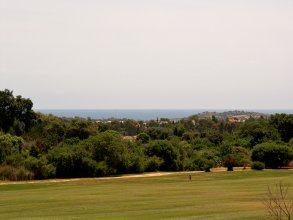 Golf on the course of Is Molas (south Sardinia)
Is Molas golf club is located in the south of Sardinia near Pula, a tourist village with a nice center where there is plenty to do in the evening. Is Molas is one of the oldest courses in Italy and has 27 holes. The course is 4 kilometers from the sea and on one side against a mountain slope. Pay attention to this when standing on the green, as the fast greens look fairly flat, but they are not.

The sea is visible in the distance on a number of holes. The characteristic lighthouse on an island off the coast of Pula will regularly attract your attention. A fantastic and challenging course, where the Italian championships are regularly held. The fairways are wide and the driver can be removed from the bag. However, when you end up outside the fairway, you often have a problem. The vegetation is very beautiful and you will regularly encounter a tree in the middle of the track that forces you to think. The cork oaks that are there are also special. It is not without reason that you will find many souvenirs made of cork in Sardinia. If you want to run a job in peace, then this job is definitely recommended. Take enough water with you in the summer, because the temperature can rise considerably. In the course you will encounter a water tap twice. Anonymous (NL) - Travelogue Sardinia 30/03/2012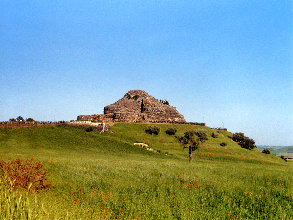 Our first introduction with Sardinia
Our first introduction to Sardinia was more than successful. After a few days' stay in the pleasant coastal town of Alghero, we drove by rental car to Pula in the south, where there is a lot to see: archaeological excavations, beautiful beaches, untouched pieces of nature and of course the capital Cagliari. Our pleasant and spacious B&B Eleonaro was well located for exploring the area. Pula itself is a pleasant town with a lot of atmosphere in the evening. From here we drove back to the west coast in the north with destination Bosa. On our itinerary we visited the nuraghe Su Nuraxi of Barumini. You really should have seen it. In Bosa we stayed in the B&B Dimora di Campagna Pessighette. An absolute must! Beautifully situated between olive trees and vineyards, rooms that are excellent, a very cordial host and hostess, delicious meals with Sardinian specialties ... We will definitely come back here. The surroundings of Bosa are very different from the south but just as beautiful.
Mr. Bollen, Hasselt (BE) - Travel report 22/08/2011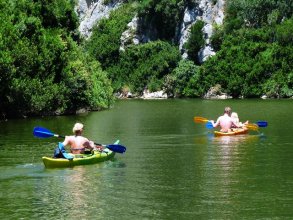 A country to return to!
The constant warm weather is wonderful! We have recently hiked, seen a lot of natural beauty, which is never boring! Very original, hardly encountered any Dutch. We drove at least 3 times to Dorgali to undertake activities from there (boating, mountain biking, park). A country to return to!
Anonymous (NL) - Travelogue Sardinia 26/07/2011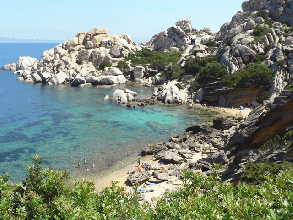 2 ladies discover 3 places in Sardinia
We visited 3 places in Sardinia with a travel group of 2 ladies. We started in Castelsardo, a very nice place to stay, the accommodation (Baja Loglia) was perfect in terms of location and comfort. From this village we visited Stintino (fishing village), La Pelosa (beach) and Assinara (island). This was all fine to ride. A very beautiful area with a beautiful coastal route. Then we traveled to Porto Cervo, here we visited the rock formations at Santa Theresa Gallura (Capo Testa), beautiful and with nice little white sandy beaches. Had dinner in the evening in Baia Sardinia, Mezza Luna, nice family restaurant with delicious dishes !! Day 5 we traveled back to Alghero, here we visited the 'Grotta di Nettuno', please note that here you first have 656 steps !! must go down. However, the visit is well worth it, follow the signs from Alghero to Capo Caccia. Later in the day we went to the estate of Sella & Mosca, beautiful vineyards and a nice tour of the entire complex made our holiday complete! Sardinia is highly recommended, both azure blue sea and white beaches can be seen but also many beautiful sights !! Travel report Sardinia 16/05/2011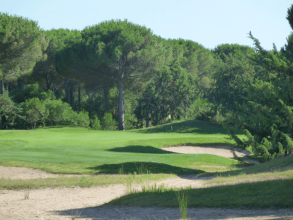 Golf on the course of Is Arenas (Oristano)
Is Arenas golf and country club is located at Narbolia in Oristano. This course is close to the sea, but the sea breeze is well kept away by the pine trees on almost all holes. A wonderful quiet job where it can happen that you come face to face with a fox. The course is partly in the dunes and partly in the forest. This means sloping fairways and in the wooded part an extra degree of difficulty for the "longhitters", through the trees along the fairway. In addition to a beautiful course, you can also spend the night here in one of the beautiful rooms that are fully equipped. Each room has a spacious outdoor terrace or even a garden. The restaurant serves delicious regional dishes and the service is fine. Relaxing by the pool or by the sea after playing golf makes it easy to stay here for a few days. Anonymous - Travelogue Sardinia 16/04/2011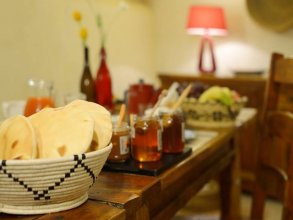 Sardinia is very worthwhile in terms of scenery!
Landed by plane from Eindhoven in Alghero. Then by rental car via Sassari - note: very difficult to navigate in Sassari! Environment east of town is very beautiful. Sardinia is very worthwhile in terms of scenery! Friendly people. But: always bring What & How i / h Italian, because English is a "foreign" language for most people. A few good restaurants in Sennori, otherwise a busy town with lots of hanging out in the evening. B&B is good. Hostess is friendly and speaks English. Beautiful veranda with a view! Tip: avoid the tourist coastline in the north. Sardinia is very worthwhile to be visited! "
Steve, Wageningen - Travel report Sardinia 09/05/2011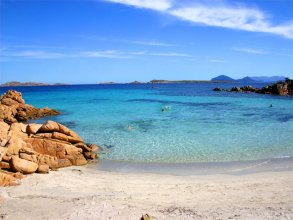 A compliment to Sardinia4all
We have had a wonderful week in Residence Capriccioli. The accommodation was fine and very child friendly !. We had a lot of fun with our 2 kids. I also want to compliment the organization Sardinia4all, even though the communication was done by email, everything is perfectly arranged. Also last minute matters, such as renting a car. Anonymous (NL) - Travelogue Sardinia 29/08/2010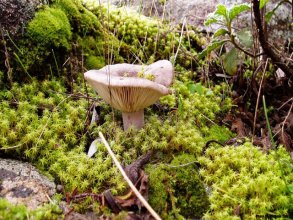 In October in Sardinia
We went to Sardinia for the first time during the autumn holidays. It is low season there, so many places are very quiet and many "attractions" are closed. The people are super friendly and hospitable everywhere, without exception. We will definitely go back.
Marco & Yvette, Velp (NL) - Travelogue Sardinia 25/10/2010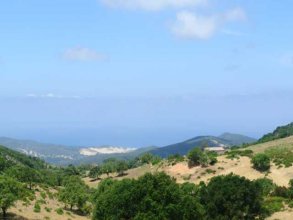 Sublime beautiful Sardinia
It seemed like the end of the season - there were very few people. That was nice for us, but there is still a lot of work to be done on the tourist shop. In a similar place in Greece, the guesthouses are now full of walkers. This region is sublime beautiful and a wet dream for hiking tourism, but there are no hiking trails now. What is there is not indicated and you have to discover for yourself. The tourist information is sparse, and only in Italian. It does come from Latin, but it has been a while since it was spoken everywhere. The absolute lack of language skills in the tourism sector is disturbing. It has been since communist times that I found a tourist office that did not understand any language other than its own. It was frustrating to discover on the last day a stunning walk that started on our doorstep, deep into the Costa Verde. We did travel around a bit: this region in Sardinia is sublime beautiful. The Giara di Gesturi was a complete surprise - I didn't know it still existed. But we also had to walk on the sun as a compass. If you wanted to walk there, the maps were far too brief to find your way on all these "animal paths". Italy has become very expensive. The same guesthouse in Sicily had doubled in price in eight years. Then we were there at the beginning of July, and it seemed that the season had not started yet. Then the season will be very short. With limited investment, this region is ideal for active holidays - I don't know of one that has as many assets as a hiking paradise in Southern Europe. The landscape is beautiful and reasonably accessible. I hardly dare to write it, but an industrious Dutchman has to get behind those Italians! Kind regards, Luc - Travel report Sardinia 19/09/2010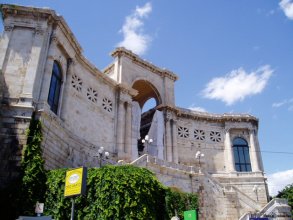 You really have to travel around!
Sardinia has pleased us very well. South west side is absolutely not touristy, lovely, we were one of the few tourists. Very friendly people, beautiful surroundings, great diversity of nature. Lots to see, nice beaches, good food and very cheap, as long as it lasts of course ... although most people don't speak a word of English they are very helpful. It is a shame of Sardinia to only stay in one place, you really have to travel around because then you see amazing beautiful things. Cagliari was also beautiful, beautiful city with many old buildings and very nice little streets with restaurants and beautiful shops. Worthwhile to visit this city if you go to Sardinia. We have seen a lot of the South West side in 1 week and if you don't like the crowds, it is an absolute must! Boukje G. - Travelogue Sardinia 20/06/2010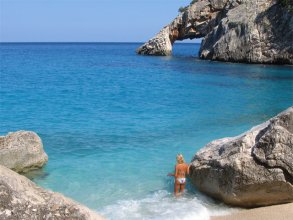 Baunei was a winner!
Dear Marieke,
Back in the Netherlands, I want to thank you again for your advice. The Agiturismo in Bitti is great. Very rough in terms of the environment with beautiful beaches within driving distance, but especially beautiful mountain areas. Topper was Baunei, a real must! A mountain village at an altitude of about 1000 meters with terraces against the edge of the mountain. Beautiful view!!! If you then continue the road to Dorgali, you will enjoy a sensational mountain tour. Good to drive but high and narrow road. Furthermore, the food in this Agiturismo was an absolute must. Actually, you can not only go to the B&B, but you must also experience dinner. Everything made from farm products. Special culinary antipasti with all kinds of different very special dishes. Good pastas, homemade, at least 3 different served, primo is a bit less because you are already so full, but certainly worth it. (2nd night piglet from the spit) and delicious dessert. All in all, excellent accommodation that contributed to a wonderful holiday.
Fam. Green (NL) - Travel report 07/08/2010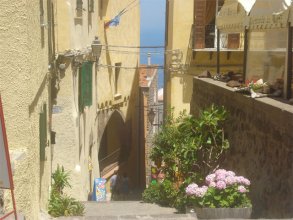 Bosa, Stintino, Castelsardo and Costa Smeralda
Alghero is a nice, friendly city. Boat trips are offered at the harbor to the dripstone caves. Nice trips in the area: trip to Bosa (beautiful coastal road), to the north visit Stintino (beautiful clear sea and beach La Pelosa), the coastal town of Castelsardo is also worth a visit as well as the Costa Smeralda. Anonymous - Travelogue Sardinia 20-07-2010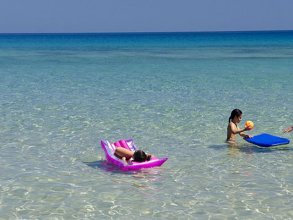 Sardinia, a friendly and warm country
We did not know that Sardinia was such a sweet warm friendly country! We are going back soon with our children. The journey of Sardinia4All was fine, we got a bit of a wrong picture during the first 4 days, but after that it was enjoyable, delicious eaten, delicious wine and great enjoyment of nature, art and history.
Jelle and Tony, Bergen Lim (NL) - Travelogue Sardinia 19/07/2010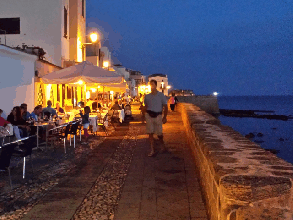 From Alghero to the Costa Smeralda
Alghero is a nice, friendly city. Boat trips are offered at the harbor, including to dripstone caves. Nice trips in the area: trip to Bosa (beautiful coastal road), to the north visit Stintino (beautiful clear sea and beach), the coastal town of Castelsardo is also worth a visit as well as the Costa Smeralda.
Anonymous (NL) - Travelogue Sardinia 10/08/2010