Walking in Sardinia: A panoramic walking route in the Gallura
Sardinia
is a surprising and varied island. You will find a beautiful coastline with a clear blue sea, but also a rugged and unspoiled interior with beautiful walking routes through natural parks. Today Sardinia4all takes you to a beautiful hiking area in the north of Sardinia; Monte Pino. Are you walking with us?
This walking route on the panoramic paths of the Gallura region is a must! The standard course is fairly easy and can also be done with children or four-legged friends. If you want to extend the walking route, this is also possible. Along the way you will find several turns to easily extend the walk.
From the forest house on forest paths around Monte Pino
From the forest house we follow the walking path - past a holy statue of Mary - up. With steep curves and along beautifully shaped granite rocks you will slowly ascend uphill, enjoying great views along the way. At the first fork you continue the route straight ahead to the viewpoint of Monte Pino. From this point you have a spectacular panorama over the Limbara Mountains to the Costa Smeralda and from the bays at Golfo di Marinella to the rocky ridge of the island of Tavolora.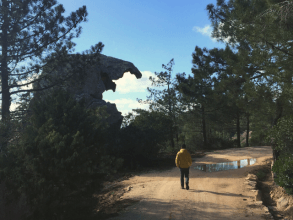 Rare pine trees above the sea
Back to the main road, you walk further in an easterly direction through the pine forest. Rare at this altitude in Sardinia are the maritime pine - a tree of the pine family (or conifer from the Mediterranean). Here you will find some beautiful copies. These trees also gave the name Monte Pino to this mountain landscape. The path slowly leads down to the starting point. You have to keep right at the junction. Follow the forest path further down the slope of the Roccia dell'Elefante - an impressive granite formation whose shape, with a little imagination, is reminiscent of an elephant. Here too, the view over the fertile plains of Olbia is simply stunning. The walking path will eventually take you back to the entrance / exit, directly under the forest house.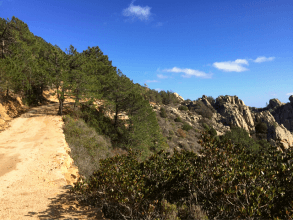 Our tips
• Easy walk, also suitable for kids and four-legged friends
• Unmarked walking route
• Duration approx. 2 hours
• Picnic areas available
• Do not forget to bring enough water for the road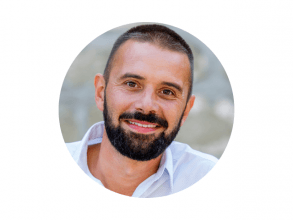 Plan your hiking trip in Sardinia with Sardinia4all!
What is the right accommodation, the best beach, which is the right room for you?
Just ask us
- We know where that Hiking happiness is waiting for you.
Timo
Sardinia4all

Hiking in the forest of Monte Pino high above Olbia