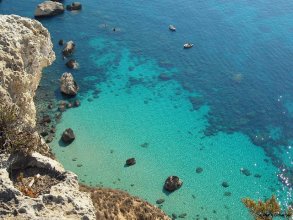 Natural hotspot in Cagliari
"Sardinia4all takes you today to a natural spot in Cagliari, in the south of the island. This area of ​​Sardinia offers much more besides the cozy and lively capital full of history. Sardinia4all visits the natural hotspot La Sella del Diavolo (the devil's saddle) in the south of the beautiful city of Cagliari".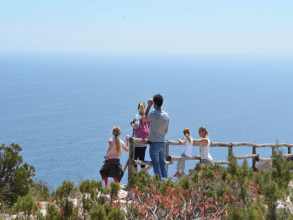 La Sella del Diavolo
The famous cape La Sella del Diavolo, which can often be found on the postcards of Cagliari, was previously a military zone and therefore not accessible to hikers. The beautiful promontory separates the Poetto beach from the beach of Calamosca. Part of the area has now been released, so it is a good moment for us to cross off a tip from our bucket list and climb the so-called "devil's saddle". We enter the area from Calamosca. Sardinia4all is going on an adventure!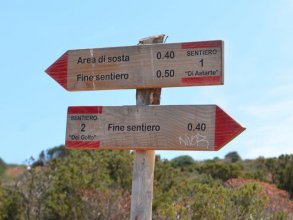 Follow the signs and dots
Two marked routes allow you to choose a short or long hike to the top. Handy, because of the paint stains that are drawn on the rocks we can in any case not get lost. Clambering over the rocks we pass the beautiful colorful low vegetation. Along the way we regularly stop to take a picture of a bright green lizard that is sunbathing on a rock.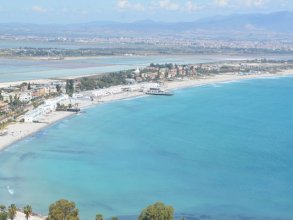 What a view!
After a walk of about 45 minutes we arrive at a place with a fantastic view over the tourist harbor of Marina Piccola, the sandy beach Poetto to Capo Carbonara and the open sea. An ultimate moment for a photoshoot, because today with a lovely sun and a temperature of 22 degrees, the clear blue sea really comes into its own! After the shoot we continue our path to a wonderful place where we have our self-brought picnic in the shade, surrounded by rich Mediterranean vegetation.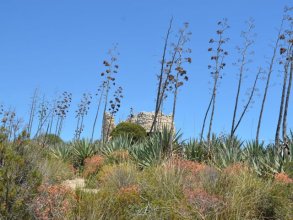 Defense bunkers on top
After lunch we walk a little further to the top, where there are some old defensive bunkers. Located on the highest, most panoramic point of the cape, these semi-derelict bunkers were used in the 16th century as a defense against the Spanish. A little further we enjoy the spectacular view of Cala Mosca for a while, after which we continue our way back due route two.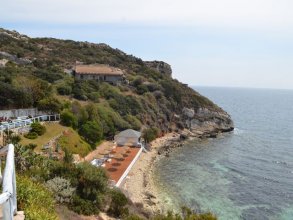 A sunny terrace by the sea
To end this great (and sometimes challenging) nature walk, we choose the beautiful sunny terrace of La Paillote in Calafighera. While relaxing and overlooking the Gulf of Cagliari, we treat ourselves to a glass of local wine. What a wonderful day!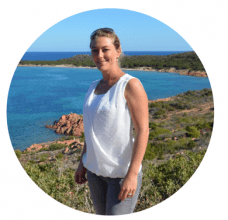 Cagliari - Sella del Diavolo