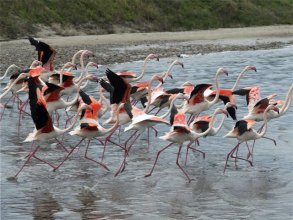 Pink flamingos have been spotted
"Spring, with its pleasant temperatures during the day and cool evenings, is ideal for us to discover the southern province of Cagliari. Because in addition to the historic and above all cozy and lively capital, this area of ​​Sardinia has a lot more to offer. Sardinia4all is looking for the
pink flamingos in the nature rich hotspot Parco di Molentargius
in the south of the beautiful city of Cagliari. "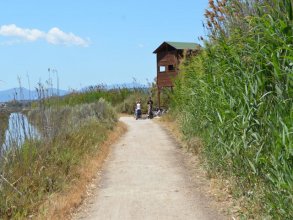 Il Parco di Molentargius
Another beautiful sunny day in Sardinia; perfect weather for a wonderful day on the road. This time the unique nature park Molentargius Saline is on our list. Located between Cagliari and Quartu Sant'Elena, this regional park was used for salt production until 1985. The uniqueness of this area is the presence of fresh and salt water reservoirs. In 1999 it became a protected area to offer the many species of water birds that reside here a safe resting place, wintering and breeding grounds. In short: a great opportunity for us to discover this area and its birds.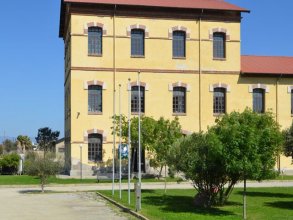 On foot, by bike or by boat?
The area can be discovered in different ways. On foot, by boat, by minibus ... despite a strong breeze, we choose to explore the area by bicycle. At the info point on Via la Palma in Cagliari, which is open from 8.30 am to 8.00 pm, we rent a few bicycles. Besides Italian, the lady also speaks English and she gives us some explanation. We also get a map on which the various routes are indicated. Always useful!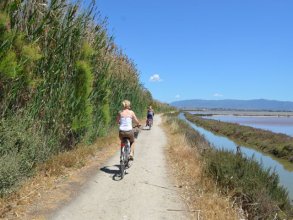 In search of the pink flamingo
The different routes turn out to be quite simple. The tour leads via cycle paths past greenery, ponds, lakes and salt pans. The most wonderful thing about the quiet natural area is for us the spotting of the different animal species - and in particular the charming pink flamingos.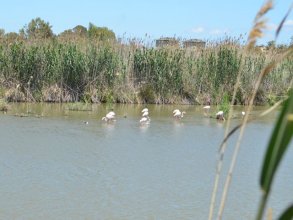 Spotted!
Although most specimens have their heads under water while looking for food, we managed to spot some graceful flamingos and take some nice pictures.
After the photo stop, we get back on our bikes, towards Quartu and then cross to the long sandy beach of Cagliari.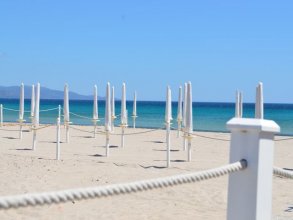 Lunch by the sea to finish
After arriving in Quartu Sant'Elena, we take a seat on the terrace of a cozy kiosk on the Lungo Mare Poetto for a nice lunch in the sun. The fantastic view over an azure blue sea is a nice end to this wonderful bike ride through the beautiful natural park of Cagliari.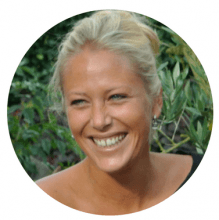 Would you like help putting together a unique holiday in South Sardinia?
Tell me about your holiday wishes
; I'll be happy to give you personal advice.
Marieke
Sardinia4all