Round trip Sardinia: a comfortable stay in the countryside
Discover Sardinia with this fantastisch tour, which includes 3 rural agriturismos (farmhouses) with pool. The authentic villages in which you'll be staying are the perfect base for a memorable journey of discovery through Sardinia without having to travel too long. Book now and enjoy the beautiful things Sardinia has to offer!
This round trip by (rental) car includes 11 nights' bed & breakfast in 3 authentic agriturismos.
Your itinerary:
• 4 nights in
Agriturismo Villa Barbarina in Alghero
(north-west Sardinia)
• 3 nights in
Agriturismo I Mandorli in Lotzorai
(east Sardinia)
• 4 nights in
Agriturismo Funtana Abbas in Luras
(north Sardinia)
This tour is intended to provide an illustrative example of a possible itinerary. The round trip can be customized on request, taking into account your flight details and travel period.
A tip for travellers who wish to spend more time on the island: extend your itinerary with 3 more nights in
Agriturismo Capo Nieddu
in Cuglieri (west Sardinia) and explore the unique Costa Verde!
Distances:
• Alghero – Lotzorai: 215 km
• Lotzorai - Luras: 193 km
• Luras - Alghero: 113 km
A perfect tour for those...
The 12-day tour Sardinia in Agriturismo is perfectly suited for travellers looking for a versatile tour which includes stopovers in intimate and authentic yet comfortable farmhouses.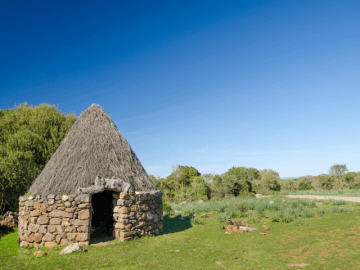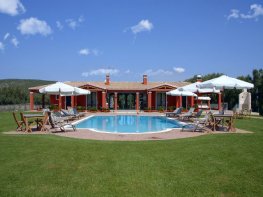 Villa Barbarina
The beautiful nature resort Villa Barbarina, located at a small distance from Alghero on the north-west coast of Sardinia, consists of a welcoming and modern country house with pool. This lovely agrihotel is definitely worth a visit!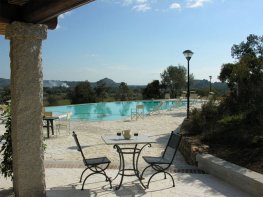 Agriturismo I Mandorli
I Mandorli is an idyllic agriturismo located on a tranquil estate near the sea in east Sardinia. The agriturismo features a pool and its kitchen serves delicious dishes made with the farm's own products. You should definitely try their homemade mirto or limoncello.
Prices
Ratces are per person per night
Arrival: daily
Starting point: Olbia or Alghero

The tour includes:
• Stay: 11 nights
• Type of room: Standard room
• Board: bed & breakfast

Touring with an all-inclusive rental car
We're happy to book you a rental car. The Sunny Car's all-in formula includes all insurances and an unlimited mileage. During the online booking process you can easily add a GPS package as well. The shown prices are an indication of the rental price for the entire tour. Should the current price differ, we will inform you before confirming the booking of your rental car.
We offer various car categories:
• Small: 3-door Fiat Panda or similar, manual transmission with air-conditioning
• Comfort: 5-door VW Polo or similar, manual transmission with air-conditioning
• Station: 5-door Opel Astra STW or similar, manual transmission with air-conditioning

We're happy to tailor the tour to your preferences!
• You can easily extend or change the tour's itinerary
• Do you prefer a more luxurious stay? It's possible to upgrade to a superior room
• Do you prefer half board in all accommodations? Please ask us about the possibilities
• We're happy to help you find the best flights and ferry crossings
• Travelling with kids? We're happy to send you a travel plan adjusted to your specific travel party
• Tip: extend your round trip with one of our unique excursions!



12-day tour Sardinia in Agriturismo
De 3 verblijven lagen net ver genoeg uit elkaar om op 12 dagen de bovenste helft van Sardinie te verkennen
8,0
Anoniem
This tour is an excellent way to discover the island. A must for those who have not been in Sardinia before.
9,0
Piet Hemminga
De plekken waar we verbleven waren top!
9,0
Lisanne
Fantastisch!!!
9,0
Willeke en Leo Kayser
Prima rondreis langs goede locaties
7,0
Hans, Deurne
Geweldig geregeld! Prachtig eiland, veel te zien!
9.0
Mevr. J Vijn (NL)
Mooie rondreis, prima accommodaties
8.0
Mevrouw Spoek (NL)
We hebben een heerlijke vakantie gehad
9.0
Mevr. Kuijken (NL)
We vonden de afstanden te lang
7.0
R. Luimes (NL)
Een geweldige ervaring
8.0
Dhr. van der Wijst (NL)
Super ontspannen
8.0
R Happee (NL)
Wij hebben deze rondreis met de motor afgelegd; Geweldig!
9.0
Mia en Patrick (BE)
Meer info over wandel- en fietsmogelijkheden.
7.0
Van Puymbroeck (BE)
Wij hebben genoten!
10.0
Mevrouw Lansink (NL)
Leuke rondreis
8.0
Mw. van Lisdonk (NL)
Super vakantie
7.0
Anoniem (NL)
Genoten
9.0
I Vermeulen (NL)