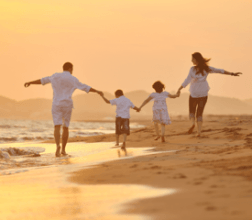 Beautiful holiday spots for a family vacation in Sardinia
Do you have plans to spend your family holiday in Sardinia? Sardinia4all is happy to help you organize a unique holiday with children in Sardinia that suits the age of the children and your specific travel wishes. During a relaxed family holiday it is important that your holiday home is child-friendly or if you wish to stay in a hotel, activities are organized for the kids.
Small-scale and child-friendly accommodation or a resort with plenty of activities?
At Sardinia4all you will find numerous accommodations in Sardinia, ideally suited for a family holiday. From beautiful apartments by the sea where young holidaymakers have enough space to play outside and build castles on the beach to well-organized club hotels where there is plenty to do for older children. Would you rather stay in one of our small-scale accommodations or a complex with a kids club?
Een avontuurlijke familievakantie?
Are you looking for a family adventure, then we are happy to put together a suitable active trip to Sardinia. Enjoy hiking, cycling or mountain climbing with the family in the authentic interior of Sardinia, while naturally taking the whole family into account. Would you like to discover several places with the children? Have a look at the selection of tours through Sardinia with children or ask us to put together a tailor-made trip.
Book your family vacation in Sardinia with Sardinia4all
Nice child-friendly day trips and excursions in Sardinia
During a holiday in Sardinia with the family you will fully enjoy a beach holiday. Sardinia has a beautiful coast with a lot of variety. There are several long sandy beaches very suitable for children. You can walk meters far into the sea where the water does not come higher than your knees. The beaches on the west coast of Sardinia, the area from Oristano to the south, are better avoided with children. Here the sea is often rough and a strong current predominates. In addition to wonderful relaxing moments by the sea, the island also offers various fun attractions for children. In addition to a number of water parks in both north and south Sardinia, several excursions are also interesting for young holidaymakers. Sardinia4all has already listed a number of child-friendly trips to fully enjoy your family holiday in Sardinia!
Tips for fun trips and excursions with children in Sardinia