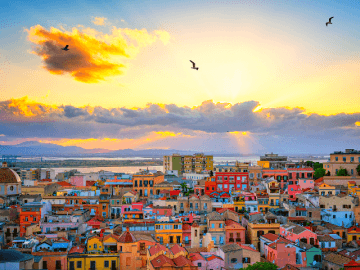 Cagliari
Sardinia's capital is located on the south coast of the island. The city was founded by the Phoenicians around 800 B.C., but it owes its name to the Romans, who called this city "Carales". The oldest part of the town, Castello, is located against a steep height, surrounded by the old city walls.

The new districts are located along the base of the Castello quarter and the current Cagliari is situated on and among 7 hills. Both east and west of the city there are large lagoons, such as Stagno di Cagliari and Stagno di Montargius, where pink flamingos can be found all year round. These salt lakes are located in front of the 8 km long sandy beach; Poetto.

The city centre starts at the impressive quay at the Via Roma, which leads towards the main railway station and the town hall at the junction of the Via Roma with the Largo Carlo Felice. Via the Largo Carlo Felice you'll arrive at the slightly higher located Piazza Yenne, a cosy square filled with terraces, where the shopping street Via Mano starts as well.

Following the Via Mano you'll arrive at the Piazza della Costituzione. You can use the marble stairs to the visit the square of Bastione San Remy, built in the beginning of the 20th century. From here you have a beautiful panoramic view across the entire city. Ascending the stairs you'll arrive in the oldest district of the city; Castello. This district is filled with many impressive monuments, such as the Torre dell'Elefante dating back to 1307, Torre di San Pancrazio dating back to 1305, the Palazzo Vicereggio, the cathedral Santa Maria and the National Archaeological Museum.

Viale Buon Cammino will lead you down to the arena of the Roman amphitheatre, dating back to the 2th century A.C. This theatre, built in a rock slope slump, is still used as open-air theatre nowadays.

To the south-west of the amphitheatre there's a botanical garden. This lush garden, planted in 1865, contains over 500 different types of tropical plants. There are various groves and caves as well.

The quarter behind the Via Roma houses numerous cosy restaurants situated in one of the many narrow alleys in a mostly car-free area.
The best accommodations around {plaats} & excursions