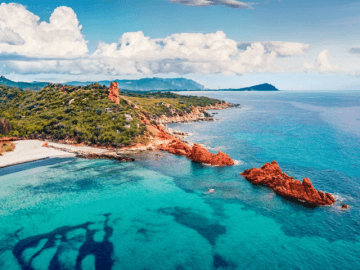 Discover the province of Ogliastra in east Sardinia
In east Sardinia Ogliastra, a province established in 2001 when the number of Sardinian provinces was doubled, stretches from the peaks of the Gennargentu mountain range to the Tyrrhenian sea. Its landscape is varied; the coastline is known for the impressive red cliffs and hidden bays while the inland consists of high rugged mountains. The area is therefore popular among both beach lovers and active travellers alike.
Driving upwards via Baunei, you'll arrive at the high plateau Altopiano di Golgo, where you can explore the spectacular hiking trails. With a bit of luck you get to spot donkeys, horses, cows, wild boars and goats along the way. If a bit of climbing doesn't scare you, we highly recommend descending to the "pearl of Baunei"; the stunning bay of Cala Goloritzè.
Read more