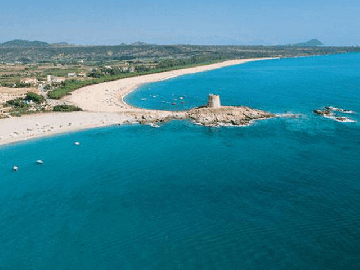 Bari Sardo
Bari Sardo is a small village on the east coast of Sardinia. The area bears many traces of its ancient inhabitants; many Nuraghe, Domus de Janas (chamber tombs) and Tombe dei Giganti have been found. Three large Menhirs are situated along the road at ca. 4 kilometres from Tortoli, the biggest of which is called "Sa Limba e Boi", or "ox tongue".
Bari Sardo's church is provided with a rococo bell tower dating back to 1813. The village is known for its linen, tapestries and fabrics.
The name of the neighbouring village Torre di Bari is easily explained; "torre" refers to the 17-century Spanish tower and "Bari" means "swamp".