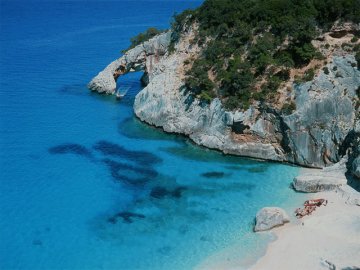 Santa Maria Navarrese
The lively Santa Maria Navarrese is located on the east coast in a hilly landscape characterised by spectacular beaches and turquoise waters. The traces of the ancient Nuragic tribes are still visible today. One of the most famous structures of Santa Maria Navarrese is the 17th-century Spanish watchtower, south of which there's a broad sandy beach. We definitely recommend visiting the impressive Pedra Longa in front of the Spanish tower; a gigantic rock of 128 metres rising out of the sea.
The most important cities near Santa Maria Navarrese are Lanusei, the mountain village Baunei, Barisardo and Tortoli.