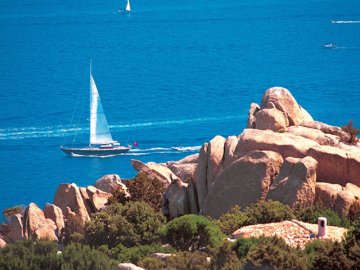 Baja Sardinia
You will find the popular holiday destination in the Gallura, Baja Sardinia, on the northeastern point of the Gulf of Arzachena. In the heart of this beautiful holiday destination you will find the long bright sandy beach of Baja Sardinia.
When the luxury resorts on the
Costa Smeralda
were launched in the 1960s, they also invested in some kilometers to the west: construction began in 1961 in the bay that was then called Cala Battistoni. Baja Sardinia sounded better, so the coastal town - which today consists of villas and apartments hidden among the granite rocks and bushes of the maquis - was expanded with hotels and a small square with a promenade. Today the place is known for its beautiful beach, active nightlife and last but not least for the "Acquadream" pool.
In the low season it is particularly pleasant when the water in Baja Sardinia bay shimmers in every shade of blue imaginable. With a bit of luck and a clear view, you can see the Maddalena Islands and the mountains of the island Corsica.
The best accommodations around {plaats} & excursions