Residence Ea Bianca, Baja Sardinia - Sardinia
Residence Ea Bianca's apartments are located near the lively Baja Sardinia in north Sardinia, close to many spectacular beaches.
Residence Ea Bianca's apartments are immersed in the lush green in the hilly landscape of northern Sardinia, just 3,5 kilometres from the vibrant Baja Sardinia and within a 10-minute walk of the beautiful beach of Cala dei Ginepri. This comfortable accommodation has a spectacular view across Cannigione.
Residence Ea Bianca has several holiday apartments which can accommodate 2 – 8 guests. The apartments are divided over 3 floors, all accessible by elevator. Each apartment has a private terrace or balcony. All apartments feature air-conditioning and a washing machine. On request it's possible to book one of the apartments with (lateral) sea view for a small surcharge. There's a Wi-Fi area (limited) by the pool.
A perfect stay for those...
Ea Bianca is a perfect accommodation for travellers looking for a comfortable apartment close to the beach and located in an area with a vibrant nightlife.
Accommodation & facilities:
• Parking space
• Reception (9.00-13.00h an...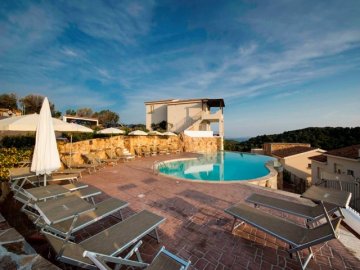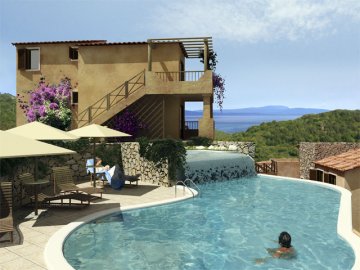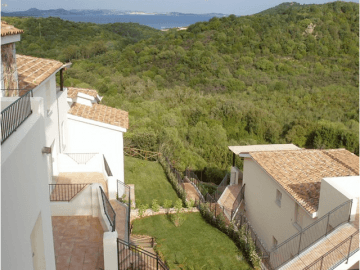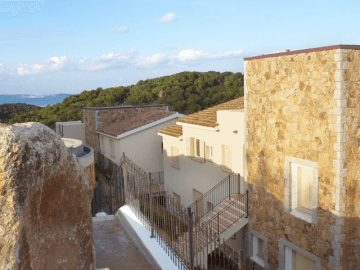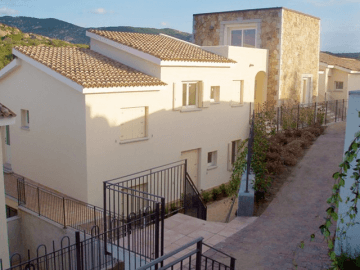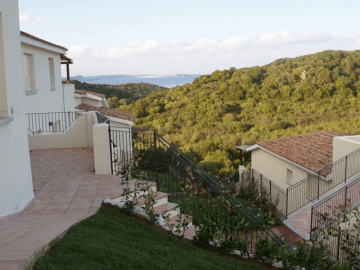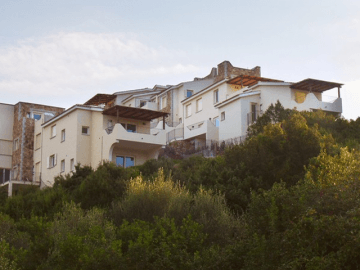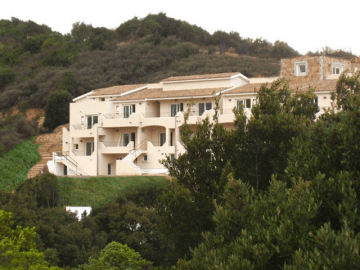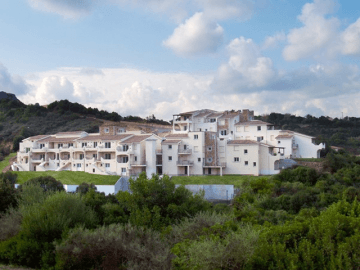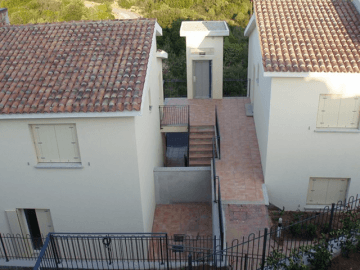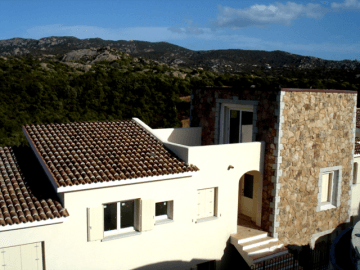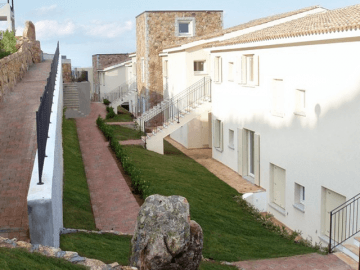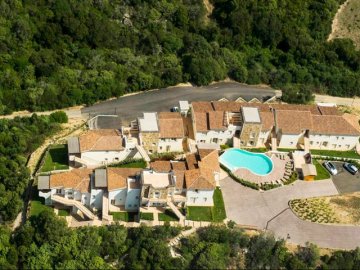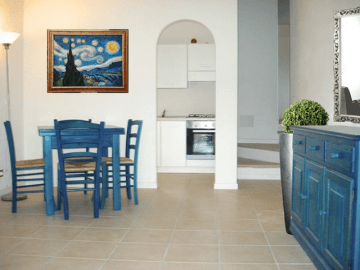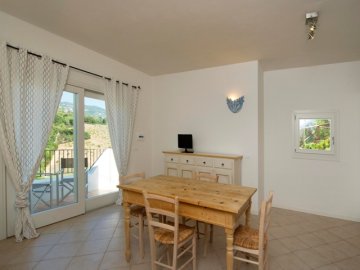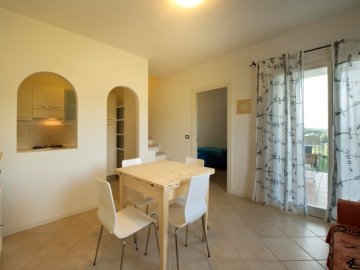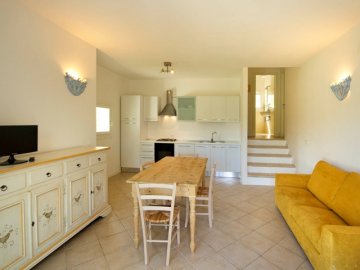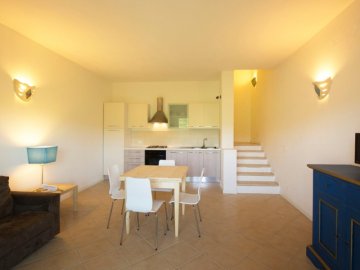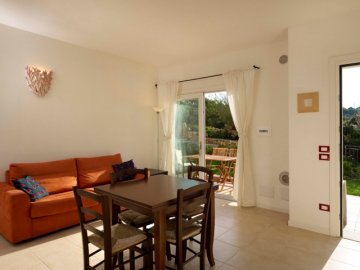 Residence Ea Bianca
Baja Sardinia
You will find the popular holiday destination in the Gallura, Baja Sardinia, on the northeastern point of the Gulf of Arzachena. In the heart of this beautiful holiday destination you will find the long bright sandy beach of Baja Sardinia.
When the luxury resorts on the
Costa Smeralda
were launched in the 1960s, they also invested in some kilometers to the west: construction began in 1961 in the bay that was then called Cala Battistoni. Baja Sardinia sounded better, so the coastal town - which today consists of villas and apartments hidden among the granite rocks and bushes of the maquis - was expanded with hotels and a small square with a promenade. Today the place is known for its beautiful beach, active nightlife and last but not least for the "Acquadream" pool.
In the low season it is particularly pleasant when the water in Baja Sardinia bay shimmers in every shade of blue imaginable. With a bit of luck and a clear view, you can see the Maddalena Islands and the mountains of the island Corsica.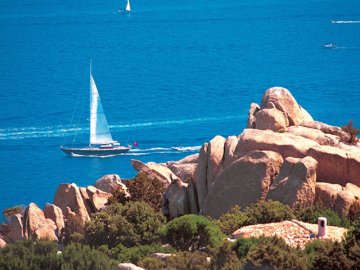 Discover the province of Olbia-Tempio in north Sardinia
Olbia-Tempio is one of the most popular holiday destinations in Sardinia. It's the perfect province for a relaxing beach holiday because of the countless bays and broad sandy beaches here. Its landscape is furthermore characterized by a lush Mediterranean vegetation and impressive rocks. The province is an international crossroads for numerous visitors, thanks to the international Olbia-Costa Smeralda Airport and Olbia's marina, where ferries from Genoa, Livorno, Piombino and Civitavecchia arrive daily.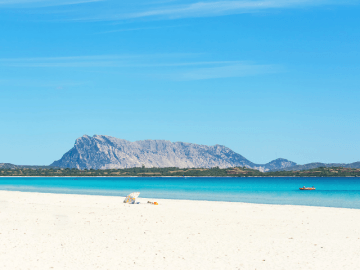 Lees meer
Prices
Rates are per apartment per week
Arrival: Saturday / Sunday / Tuesday / Wednesday
Minimum stay: 3 nights, in period 02.07 - 02.09 5 nights

Book your holiday in Ea Bianca for 2022 with a discount!
• Book an apartment now for the period 18.06 - 29.06 with a 40% discount

Mandatory additional costs (to be paid on arrival):
• Use of gas, water, electricity, bed linen, 1 parasol. air-conditioning, use of the swimming pool*: € 35 per adult per week (children 3 - 11 yr. € 17,50)
• Final cleaning (kitchen excl.): Mono € 60, Bilo € 70, Trilo € 85, Quadri € 95
• Deposit: € 200 per apartment
*This supplement will not be applied on stays before 04.06 and after 09.09.2022

Supplements (optional):
• Bath towels: € 10 per person
• Extra change of bed linen: € 10 per person
• Beach towel: € 5
• Extra cleaning (kitchen excl.): Mono € 20, Bilo € 25, Trilo € 35, Quadri € 45
• Cot: € 35 per week
• Stroller: € 10 per week
• Family Kit: € 50.00 per week (cot, baby bath, hot water bottle, stroller, high chair)
• Small pets: € 30 per stay
• Coffee maker (American coffee): € 10 per week
• Sea view: Bilo € 10, Quadri € 25 per day
Bedden niet comfortabel, geen stoelen buiten op het terras
7,0
Annebeth
Prima locatie om de Costa Smeralda te ontdekken maar erg zakelijk
6,0
José
Nice holiday
8.0
Mw. Prodan (BE)
I recommend a holiday in Sardinia
7.0
Dhr. Stumpe (BE)
The key only at 5 pm
7.0
Mw. Recko (BE)
Fine place to spend the holidays
9.0
Familie Janssen (NL)