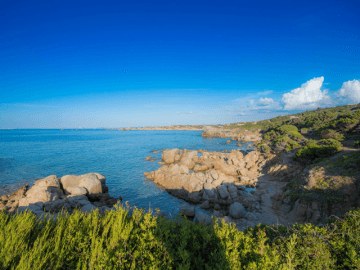 Portobello di Gallura
Portobello di Gallura is located on Sardinia's north coast, a stretch of coast that because of its beauty is also known as
Costa Paradiso
. Along the coast, huge, bright red rocks and cliffs alternate with mini bays of pebble beach and yellow
sandy beaches
and crystal clear water. There are no endless sandy beaches here, but beautiful nature! Here is the holiday resort of Portobello consisting of single storey holiday houses and villas. Here you can spend your entire holiday peacefully because everything is close by, such as a "Centro Commerciale", a bar, magazine shop, a restaurant, a lounge bar and a playground. Everyone knows each other in Portobello: those who go on holiday here are mainly looking for peace and a quiet place.
Vignola Mare is 6 kilometers away with its long sandy beach, which is also very popular by surfers and water sports enthusiasts. 20 kilometers away is the lively port city
Santa Teresa di Gallura
. In this part of the island you will find wild and untouched nature and you can enjoy a unique landscape with rocks that are bizarrely shaped by wind and weather, a clear blue sea and stunning bays.