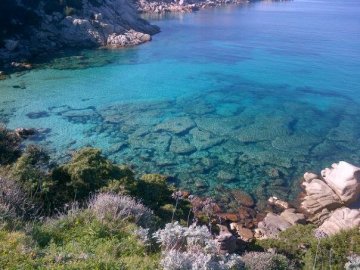 Santa Teresa di Gallura
Santa Teresa is a popular summer holiday resort, when numerous bars and pubs are open in the center. A small art and shopping market is organized in the evenings on the lively main streets from July to September. Great for walking and enjoying Dolce Vita! Moreover, in Santa Teresa you have a dream beach right on your doorstep: the beautiful sandy bay of Rena Bianca is only a few meters away from the old town.
From mid-June to mid-September there is also a bus that serves the main beaches in the area. A network of cycle paths well developed for Sardinian conditions also allows you to go on holiday in Santa Teresa without a car. Besides Rena Bianca, the most beautiful beaches of Santa Teresa are the dreamlike little bays Rena di Levante on the Capo Testa peninsula, the bay of
Cala Santa Reparata
with its Caribbean blue sea, the beautiful
Bay of La Marmorata
and Conca Verde in the evergreen valley of
Valle dell'Erica.
. There is also a beach for animal lovers: Porto Quadro - Porto Fido are the dog beaches of Santa Teresa Gallura. The granite boulders and stone towers on the Capo Testa peninsula are an experience. There are rock formations beyond imagination - be sure to plan half a day to explore!
In 1808, Viktor Emanuel I, the former king of Sardinia-Piemonte, founded Santa Teresa di Gallura and named the city after his Austrian wife Maria Theresa of Austria-Este. But the region of Santa Teresa has been inhabited since prehistoric times: the first traces can be traced back to the nuraghi, which, among other things, the gigantic tombs of Lu Branali left here. Romans used the granite rocks on nearby Capo Testa as a quarry, and the last of the 1970s hippies still live in caves and among granite blocks in the legendary Valle della Luna.
In Santa Teresa you are very close to Corsica: only 12 km of the sea separates the two Mediterranean islands; Ferries from Santa Teresa commute several times a day to Bonifacio, whose white chalk cliffs shine against the high, forested mountains of southern Corsica in clear weather. You don't need a car for a day trip to Bonifacio, the fortified town at the southernmost point of France is within walking distance of the harbor. It is more comfortable with the inflatable boat:
and then you can also visit the Corsican islands of the Lavezzi archipelago easy to visit
.