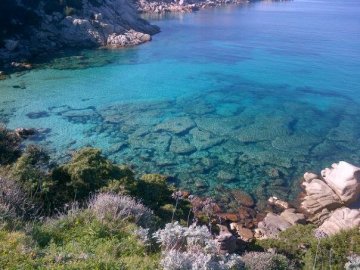 Santa Teresa di Gallura
In summer Santa Teresa is a popular holiday resort, when numerous bars and pubs open in the center. In the evening from July till September a small art and shopping market is organized in lively streets. Great for a stroll and enjoy the Dolce Vita. Santa Teresa has a dream beach right on your doorstep; the beautiful sandy bay of Rena Bianca is just a few meters away from the old town. From mid June till mid September there is a bus that serves the main beaches in the vicinity.


Santa Teresa Gallura is located on the northern tip of Sardinia at ca. 41 metres above sea level, on a platform of granite rocks.
A visit of the historic city centre should start at one of the two most important squares, either at Piazza San Vittorio or at Piazza Vittorio Emmanuele, both very popular among tourists during the summer months. The Spanish tower of Longosardo (1577) offers a spectacular view across the Bocche di Bonifacio and Corsica, located at a mere 12 kilometres from Santa Teresa Gallura. Ferries to the neighbouring island and to La Maddalena depart daily from the harbour.