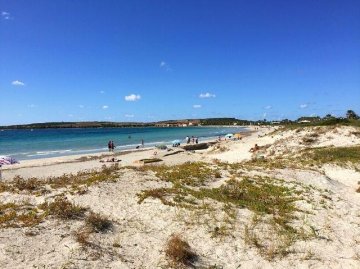 Putzu Idu
Wild, wide and windy - this is the Putzu Idu holiday area, near Oristano, with fine, white sand art strips. The beach is surrounded by salt pans that stretch to the quartz sand bay of Is Arutas. Due to the light blue, shallow water, a holiday in Putzu Idu is also particularly suitable for children.
Putzu Idu is located on the north side of the Sinis Peninsula Marine Reserve, in the San Vero Milis area, which is about 20 kilometers away.
Kite and windsurfing
is one of the most popular sports in this region, especially in winter, the north and west wind can blow inexorably here.
The best accommodations around {plaats} & excursions