Motorbike tour Sardinia: around the island in 10 days

Enjoy touring, conquering bends and in between a nice dip in the Mediterranean? During this unique experience on the motorcycle you will be surprised by the different landscapes of the island after every mountain top or curve. We have put together a varied travel proposal, in which you discover the island in three stages via a spectacular route. A real experience for motorcyclists!
Accommodations:
• 3 nights in Hotel Pausania in Tempio Pausania (Northeast Sardinia)
• 3 nights at the Hotel La Baja Santa in Caterina di Pittinuri (west coast)
• 3 nights in Hotel Vecchio Mulino in Arbatax (Eastern Sardinia)

This tour has been compiled as an example, but the program can of course be adapted as desired. We can take into account the desired duration of your stay as well as the chosen (air) port. We can also book boat crossings from mainland Italy, France and Spain or via island Corsica.

Unique tour for ....
The 10-day tour of Sardinia is perfect if you are looking for a varied motorcycle holiday alone, as a couple or with a group. During this tour you can enjoy motorcycle-friendly places to stay, relaxing, going out and touring for days in the most winding regions of the island.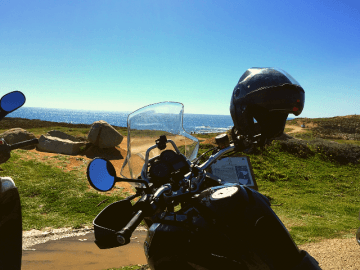 Northeast Sardinia and the Gallura
We recommend to start your tour in the northeast of the island. Fantastic winding areas are located around Tempio Pausania, through the Valle della Luna, or "Moon Valley", with its large granite formations, but also around the mountain range of Monte Limbara and its endless cork forests. Less known, but a treat in themselves, are the mountain routes of Buddusò and Bitti and the north flank of Monte Albo. A tour along the world famous Costa Smeralda should not be missing from your program. Are you looking for motorcycle-friendly beaches? Then we recommend the bay of Cala di Budoni and Baja Sardinia.
West coast and Costa Verde
You continue your way from the north coast towards the west coast. Along the way you can enjoy spectacular views, interspersed with sharp bends. After Alghero, a real collection of curves begins and the route runs via Bosa to Capo Mannu. With this program you have three days to discover the loops of the Monteferru and the deserted Costa Verde on the west coast by motorbike. Endura fans can indulge themselves on the endless off road routes in the deserted mining areas around Arbus. Are you looking for unique beaches in the west? Be sure to visit the quartz beaches Is Arutas and Mari Ermi.
Wat is een motorvakantie op Sardinië zonder het bochtenparadijs in de Ogliastra? Deze outdoorregio heeft nóg meer te bieden dan de bochten in de bergen van Barbagia bij Ulassai, Seulo, Sadali, Gadoni en Aritzo - en dat is dan ook precies de reden dat wij de Ogliastra voor drie dagen hebben opgenomen in het programma! Naast rondrijden kun je in de omgeving ook een van de schitterende stranden bezoeken, een bezoek brengen aan "Sta Stiddiosa", een bijzonder plekje in de natuur, of genieten van een boottocht langs de unieke Golf van Orosei. Geen geheim, maar wel een fantastische must: een spectaculaire tocht te voet naar de baai van Cala Goloritzè, die alleen te voet kan worden bereikt. Een van de beroemdste bergwegen, die ook de terugweg naar het beginpunt van de vakantie markeert, is de Orientale Sarda van Baunei naar Dorgali: een mooie kronkelige route!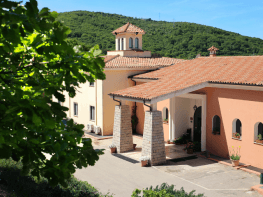 Hotel Pausania Inn
In the middle of the woods of Tempio Pausania, in the heart of the Gallura region, lies Hotel Pausania Inn. The hotel overlooks the beautiful mountains of Aggius. The well-kept hotel features a restaurant that specializes in local and national cuisine. A great address for a relaxing holiday in the north!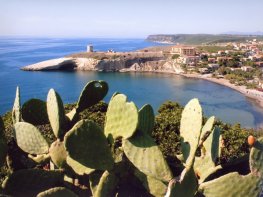 Hotel La Baja
Hotel La Baja is located on top of a cliff in Santa Caterina di Pittinuri. This well-kept hotel with swimming pool is located on the west coast between Bosa and Oristano. You spend the night near the beach in an area far away from the crowd. A great destination for a peaceful stay in Sardinia.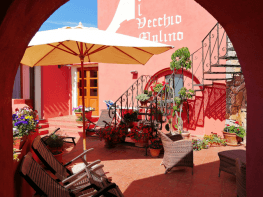 Hotel Il Vecchio Mulino
Hotel Il Vecchio Mulino is located in Arbatax, on the east coast of Sardinia. The small 3-star hotel is located 600 meters from the sea and 2 kilometers from the center. In the area you will find numerous beaches and beautiful bays, but also beautiful nature reserves. In short, a wonderful destination for a varied stay on the island!
Prices
The rates are per person per night
Arrival: daily
Start of the motorcycle tour: Olbia or Alghero (at your choice)

Included in the price:
• Overnight stays: 10 nights
• Room type: Standard room
• Care: bed & breakfast
• A handy travel guide with tips and fun facts

We are happy to make the tour suitable, especially for you!
• You can expand or adjust the standard tour program
• Do you prefer a more luxurious room? An upgrade to a superior room is possible
• Would you rather stay on a half board basis in all accommodations? Feel free to ask us about this option
• We are happy to inform you about the best crossings
• Complete your tour with our range of island excursions
• Do you want to make this trip by (rental) car? Of course you can! Feel free to ask us about the possibilities
Motorbike Tour Sardinia: Around the island in 10 days