Book boat trips to Sardinia at Sardinia4all.com!
Nothing is more fun than surprising yourself during your holiday with one of our beautiful Sardinia boat trips! We offer all-inclusive boat trips in Northern Sardinia such as beautiful round trips to the Maddalena islands but also beautiful sailing trips including lunch on board in the south of the island. Discover the coastline of Sardinia and book your favorite boat trip in unique Sardinia today!
Boat trips North Sardinia
The north of Sardinia is well known for its beautiful waters. An excursion by boat is actually an absolute "must-do" during your holiday. A day of floating on the water with the family, an adventurous catamaran trip with a group of friends or would you rather rent a boat with a skipper for a group trip?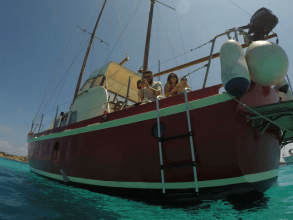 Sailing to the Maddalena Islands
Board your sailing ship in Palau for a day trip to the beautiful Maddalena Islands. Along the way you can enjoy the sun, a clear blue sea, the beautiful coastline of Sardinia and with a little luck you will encounter dolphins along the way! The captain will sail to the most unique bays of the archipelago and will spoil you with a traditional lunch including drinks in the afternoon. Do you want to sail? Then don't wait too long to book a spot on board this sailing boat!
Read more about this sailing trip to the Maddalena Islands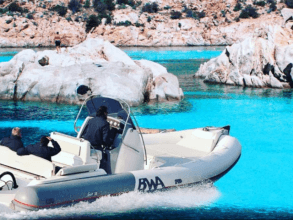 Boat trip around Tavolara
During this boat excursion you will discover the waters around the island of Tavolara, which is located opposite Porto San Paolo. Of course you can also snorkel fantastic in various places. The five kilometer long lime island rises 565 meters above the sea. Part of the island is military, a small part is accessible to everyone and the rest is surrounded by a deep blue sea and beautifully situated between the Capo Ceraso and the smaller islands of Molara and Molarotto. Bays like on a postcard, beaches from the most beautiful photo books await you today during this boat trip from Olbia to this protected marine nature reserve. Did you know that Tavolara is also one of the smallest kingdoms in the world?
Read more about this boat and snorkel tour around Tavolara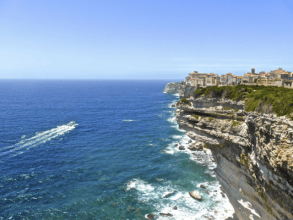 By boat from Sardinia to Corsica
Did you know that you can easily cross from Sardinia to the French neighboring island of Corsica? Board this comfortable dinghy in Santa Teresa di Gallura and sail to Corsica. A nice day trip to visit the beautiful beaches of Bonifacio, the southernmost city of Corsica, during your holiday in Sardinia.
Read more about this boat excursion to Corsica
Boat trips in Eastern Sardinia
The east of Sardinia is beautiful and sailing along the east coast is even more beautiful. On this coast of the island you will find numerous small bays that can only be reached after a long walk on foot or by boat. Make sure to take a boat trip during your holiday from Arbatax, Cala Gonone and discover the bay of Orosei!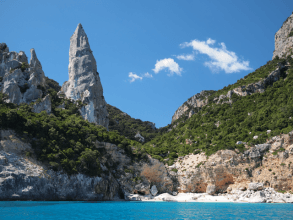 Day trip along the east coast of Sardinia
If you are staying on the east coast of Sardinia, be sure to take a boat excursion along the beautiful bay of Orosei. A very varied coastline where impressive limestone cliffs, caves and small fjords alternate. What better way to explore this spectacular coast with its crystal clear waters than by boat?
Read more about this boat trip along the bay of Orosei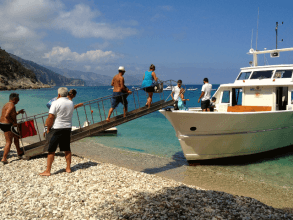 Day trip along the bay of Orosei
You can also sail along the east coast from Arbatax, for example with this vintage motorboat and experience the beautiful coastline of Orosei. A very relaxed trip along the coastline of Orosei for the whole family where you will enjoy beautiful views and admire impressive caves and cliffs along the way. Of course you also have the opportunity to chill on the most beautiful beaches on the east coast of Sardinia. Are you also sailing with us?
Read more about this boat trip along the east coast of Sardinia
Boat trips in South Sardinia
You will also find a beautiful coastline in the south of Sardinia. Just take a look around Chia or Villasimius. Of course we have again some beautiful boat trips in store for your holiday in this area of ​​the island.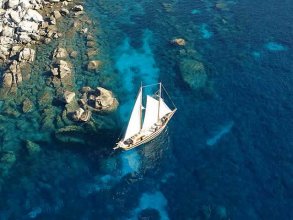 Sailing trip from Villasimius