A wonderful boat trip to the most beautiful islands in Sardinia
Visit the most beautiful islands of the stunning La Maddalena archipelago during a day trip with the 22-metre-long ship Lady Luna. Explore the natural park and swim and lounge on the breathtaking beaches of Budelli and La Maddalena.

Having embarked on the Lady Luna in the port of Palau you'll sail to the beautiful Budelli Island. Don't forget to bring your camera to take a picture of the pink beach Spiaggia Rosa and the Roccia del Coccodrillo ("alligator rock") along the way. You can enjoy a refreshing dive in the natural pool of Piscine Naturali. The tour continues to Santa Maria and Sparghi. En route you can dive in the Mediterranean to cool down multiple times. The final stopover will be at the La Maddalena island, where during a visit to the town you can stroll through the picturesque alleys, to various shops and the port of Cala Cavetta. On your way back you can spot the island of Santo Stefano and Caprera.

The comfortable Lady Luna is provided with a lounge with tables and chairs, an observation deck, ladder and a bridge to dive off of. The experienced crew and their commander with over 30 years of experience in the marittime sector will make sure you will enjoy a safe, carefree, relaxed and memorable day on board.

Good to know:
• Minimum number of participants: on request
• Duration: 09.30 - 16.30h
• Suited for: all travellers
• Don't forget to bring: swimsuit, towel, sunscreen, lunch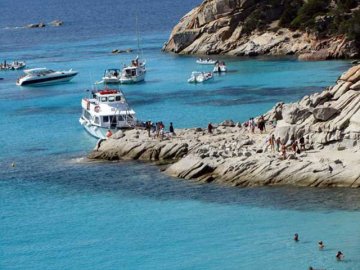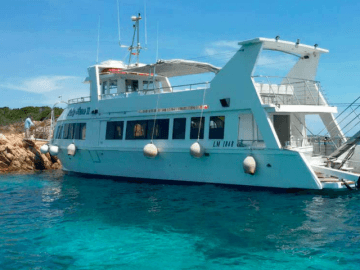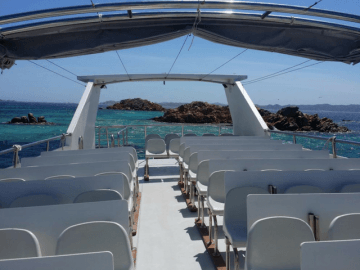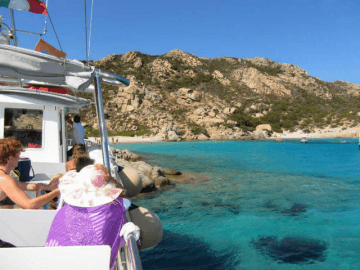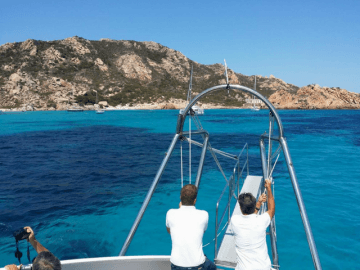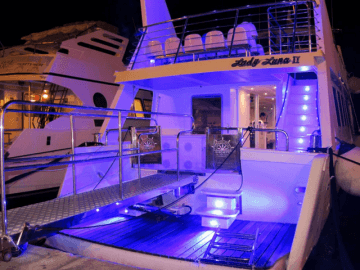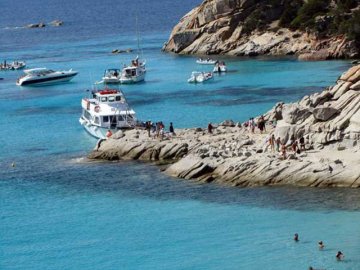 Prices
Rates are per person per excursion
Duration: 09.30 - 16.30h

To be paid extra on spot:
• Maddalena Tourist Tax: € 5 per person (children 0-6 y. free of charge)

Discounts for children:
• 0 - 10 years: € 15 discount

Supplements (optional):
• Caprese salad: € 7
• Entrée: € 10 (Sardinian specialties)


Boat excursion to La Maddalena with Lady Luna
Massa maakt kassa
5,0
Familie Minderhoud
Heel leuk en afwisselend! Prachtige strandjes! Niet te lang, precies goed.
7,0
Eva van Ruth
Eerst even naar de stad Maddalena en dan naar de 3 stranden
8,0
Jos en Marianne de Hond
Het is massatoerisme waarop je echt niet zit te wachten
1,0
Dirk van Greuningen
Nice. The luck is that we are still a bit in the preseason.
7,0
Anoniem
Zeer mooi! Echt de moeite waard! Heel vriendelijke begeleiders!
10,0
Van Hoof
We highly recommend booking a boat trip!
8.0
Hox Valérie
Beautiful island!
8.0
Anoniem
Friendly staff, no complaints
8.0
Anoniem
Beautiful tour
9.0
Hans Bosch
A bit touristy, but Spargi was stunning
7.0
Dhr. De Mey (BE)
Maybe we would've preferred touring by Vespa
5.0
Dhr. van Geert (BE)
Fantastic
9.0
Dhr. de Jong (NL)
Very nice but crowded
9.0
Jan-Paul & Wilma
Lovely excursion during which we've seen a lot
9.0
J. Rensink, Leidschendam (NL)