Discover the underwater world
Would you like to spend your holiday in the beautiful waters of the Costa Smeralda? Dive with this PADI Dive Center and discover the beautiful underwater world of the Mediterranean.
Discover Scuba (for inexperienced divers)
Have you always wanted to see the wondrous world beneath the waves? Enjoy your first diving experience with a Discover Scuba course. After a safety briefing and explanation about the dive and the equipment, you'll dive for the first time. During this dive, to a depth of max. 6 meters, you will learn how to breathe under water and explore the underwater life. Let's cross this wish of your bucket list!
Dive excursions (for experienced divers)
To explore the most spectacular diving sites and marine parks in Sardinia, book one of the following excursions:
Short distance

Location: Caprera/Monaci

Distance: 4/5 miles

Navigation time: 15/20 min.

Number of dives: 2 (morning) or 1 (afternoon)
Long distance

Location: Strait of Bonifacio

Distance: 12/16 miles

Navigation time: 30/40 min.

Duration: 9.00 - 14.15h

Number of dives: 2
Extra long distance

Location: Cerbicali/Tavolara

Distance: 18/22 miles

Navigation time: 50/60 min.

Duration: 9.30 - 17.30h

Number of dives: 2
Good to know:
• Minimum number of participants: 5
• Spoken languages: Italian, English, Spanish, French, German
• Suited for: for both beginners and advanced divers of 10+ years old
• The excursion includes: 1 guide to 5 divers, use of the cilinder, belt, snack, diving equipment
• The dives take place in different areas and the availability depends on the number of participants and weather conditions.
If you are interested in one of the diving excursions or if you'd like to get a diving certificate during your holiday, please don't hesitate to
contact us
.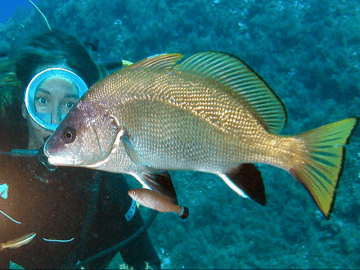 Prices
Rates are per person per excursion

Diving rates
• 1 dive (09.00-13.30h): € 45
• 2 to 9 dives (09.00-13.30h): € 35
• 10 to 14 dives (09.00-13.30h): € 30
• More than 14 dives (09.00-13.30h): € 28

Supplements (optional):
• Excursion long distance: € 15
• Excursion extra long distance: € 30
• Guide short distance: € 25
• Guide long distance: € 35
• Guide extra long distance: € 40