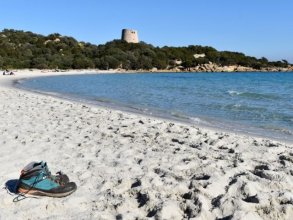 Short tour with a great view of Cala Pira
This short hike, steep at first, takes an hour and a half to the hill north of the sandy bay of Cala Pira. The six-kilometer trek, initially overgrown with scrub and then over washed roads, is not strenuous and is rewarded with a dip in the cool waters of the sheltered sandy bay of Cala Pira.
The small sandy bay of Cala Pira with fine, white and pink sand grains impresses with clear waters and sheltered location. It starts at the northern car park of Cala Pira (signs to the left).
On the left side of the bay it goes first over granite stone slabs, then through a gorse grove up the hill. A large Saracen tower watches over the small sandy bay year after year. In visual contact with the Torre di San Luigi on the island of Serpentara, attempts were made from here in the 15th century to protect the southeast coast from pirate attacks with cannons and guns. The renovated tower cannot be visited.
Behind the tower there is a gentle left on a steep footpath up the mountain, which is often lined with all kinds of shrubs. So it is better to wear long pants. But after only a few hundred meters, after a great vantage point back to the bay and the uninhabited Serpentara Island on the horizon, the path widens and leads up the hill, hardly to be overlooked even though it is unmarked . After a right turn and a steep uphill section you will come to the ruins of an old house.
Obviously uphill
The trail goes uphill and is hard to miss. A great view of the interior of Southeast Sardinia and with a view of the Sette Fratelli mountains our way continues. At a fork we keep left. After a slightly uphill stretch the road descends steeply again into the valley. Once there, the path leads to the left, first past a pine forest, then along a eucalyptus forest and then along the valley. If you turn right here and follow the path to the north, you will reach the southern part of the bay of Cala Sinzias at a little known pebble bay.
After a dilapidated farm we follow a power line straight on to the beach, with a view of the watchtower in the distance back to the parking lot.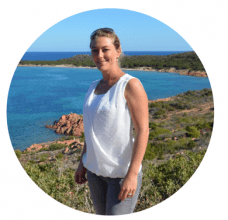 Plan your hiking tour in Sardinia with me!
What is an appropriate stay, the best beach in the region for the outdoor-fans?
Ask us
about the best options for your walking holiday in Sardinia!
Sanne
Sardinia4all
Maybe you also like this: