Villa Pevero Blu Deluxe, Cala di Volpe - Sardinia
Exclusive holiday villa on a great location right at the Costa Smeralda in a small, exclusive holiday resort in the north-east of Sardinia. In five minutes you reach the beach by car, you have a large private pool and sea view and there are five bedrooms, each with its own bathroom - This is our offer for you between Cala di Volpe and the Grande Pevero.
This luxury villa is located near Cala di Volpe on the fashionable Costa Smeralda in Northern Sardinia. In the area - which until the 1950s was called Monti di Mola and was not much more of a nature reserve north of Olbia - you will now find numerous beautiful villas surrounded by imposing granite formations. Over the years, this area of ​​the island - with a lot of beautiful beaches - has become one of the most beautiful holiday areas in the Mediterranean. The legendary luxury Hotel Cala di Volpe - frequented by James Bond and Lady Di, among others - was also the setting for the film The wizard of Oz.
Your villa in Cala di Volpe
You drive directly to the house through a private gate, where you can park your car directly in the large covered parking lot. This exclusive residential area offers no further parking along the road. From the front door you enter a spacious and stylishly furnished living/dining room equipped with a large dining area and a huge corner sofa for chilling out overlooking the large terrace with sun loungers. The kitchen is also chic and offers you all the facilities to prepare dishes. Of course you can also eat outside on the terrace with sea view of Villa Pevero Blu Deluxe. All five bedrooms - both upstairs and downstairs - can be reached from the living room. A number of them are also accessible from the outside and have furnished outdoor seating. Also ideal is the presence of a private bathroom in the other bedroom.
Experience this and more from your luxury holiday villa
Not far from this villa, on the golf course of the Pevero Golf Club, golfers challenge Sardinia's most famous 18-hole course. This course is considered one of the most special courses, partly due to the constant change in wind conditions. And then you will of course also find dream beaches, all reachable in 5 minutes by car or 10 minutes by bike. The picture-postcard turquoise-blue waters of the Bay of Grande Pevero attract not only swimmers but also luxury yachts and sailboats from around the world. Or Capriccioli, on the beautiful headland beyond Cala di Volpe where you can always choose a sheltered beach thanks to three different bays. La Celvia beach with its granite and shell beach is also worth a visit and very popular with families with children. If you prefer to enjoy small hidden bays, take a look at Liscia Ruja. Enough of the beach? Dive in the pool! This house offers a lovely large swimming pool with a waterfall and plenty of sun loungers around it to chill out.
A perfect stay for those...
This super-deluxe holiday villa is ideal for a group of friends or families who like to travel together and who value comfort, Mediterranean charm, a private pool and beautiful views.
Accommodation & facilities:
• Sleeping places: 10
• Bedrooms: 5
• Bath...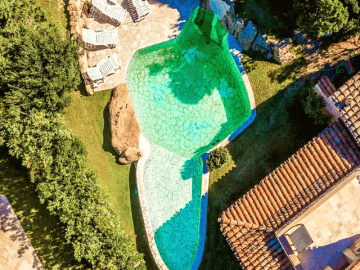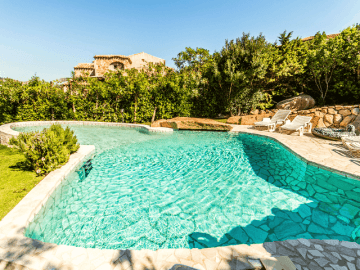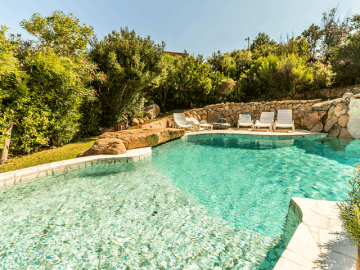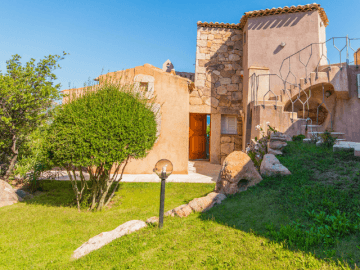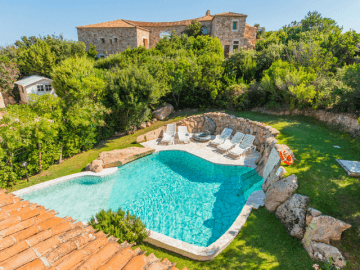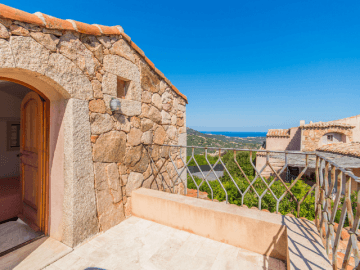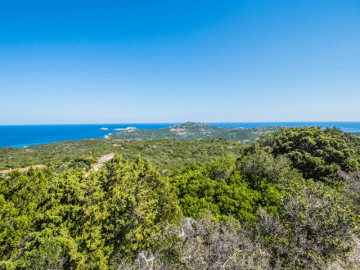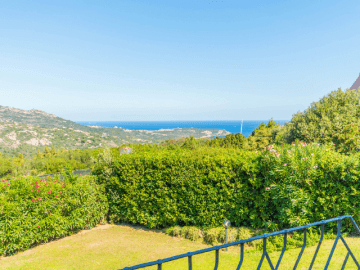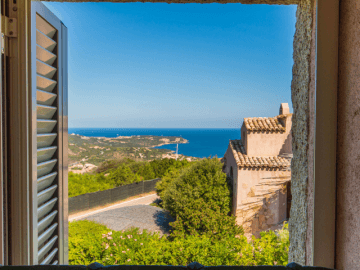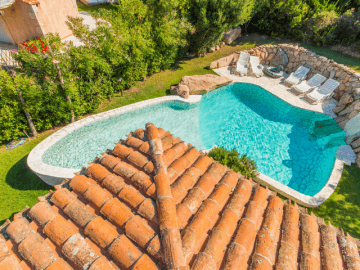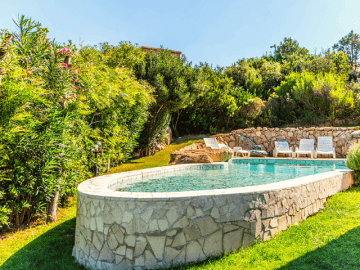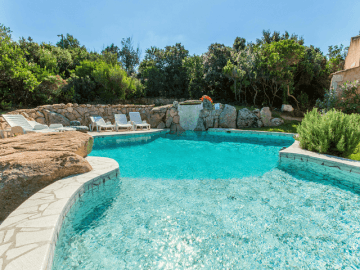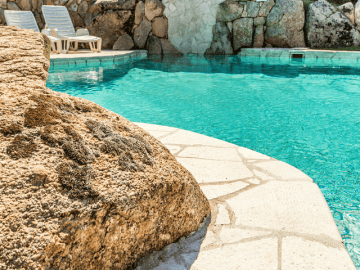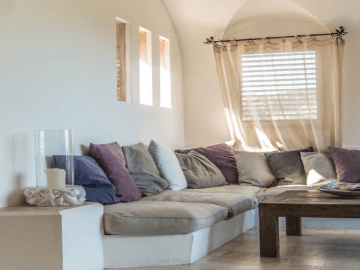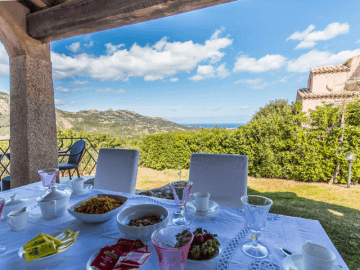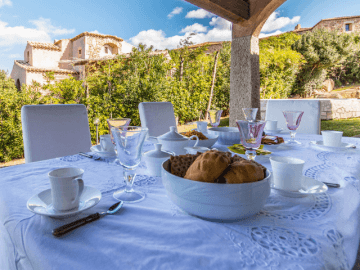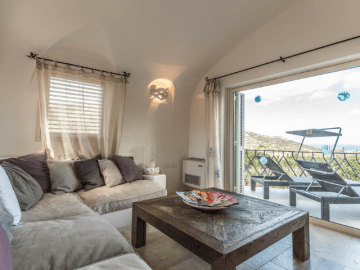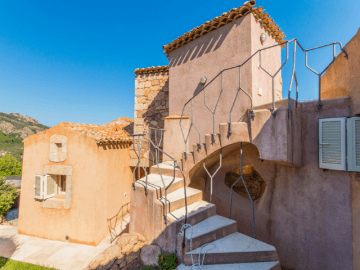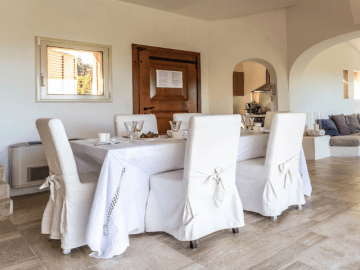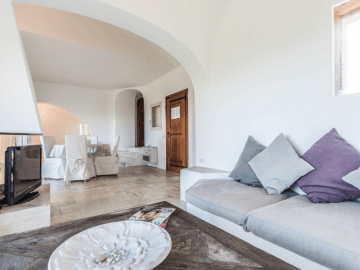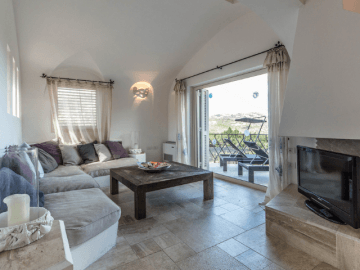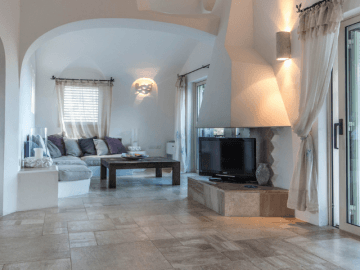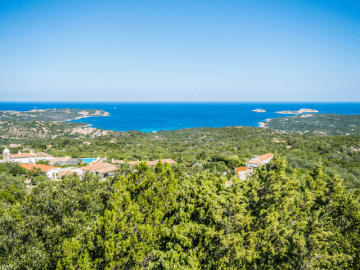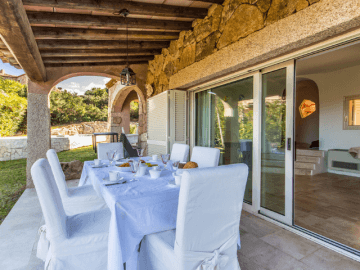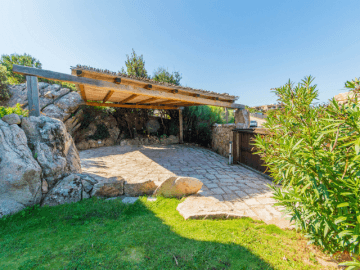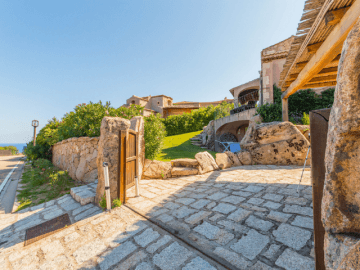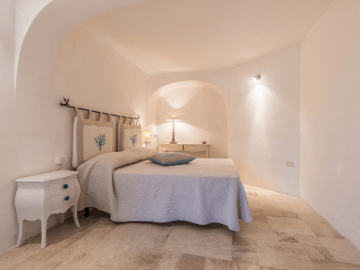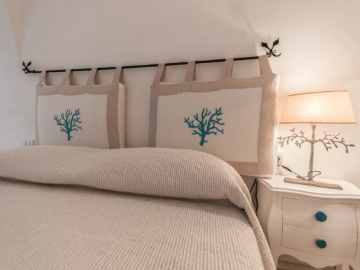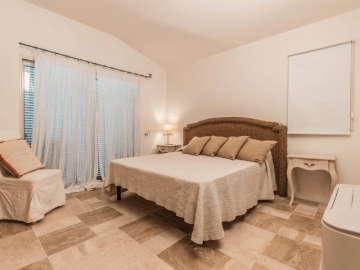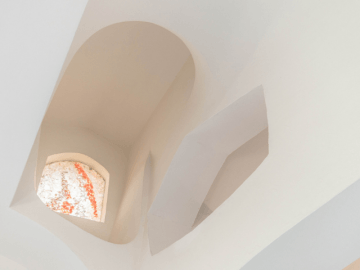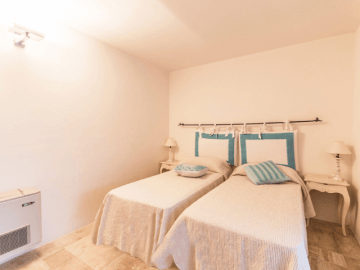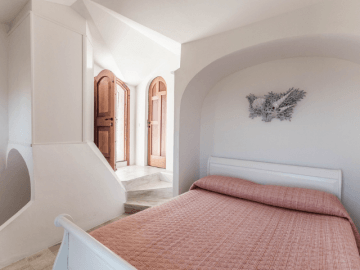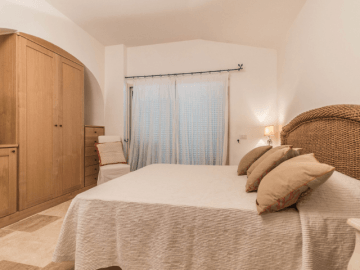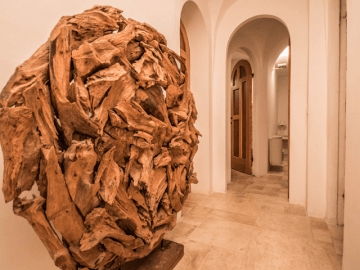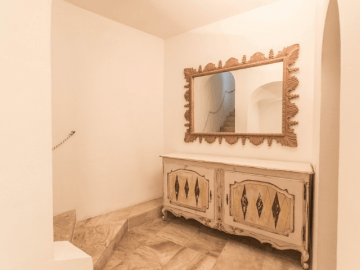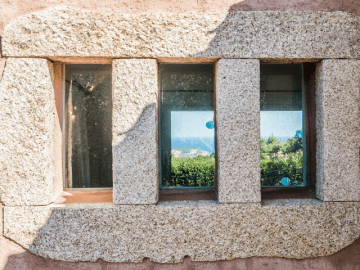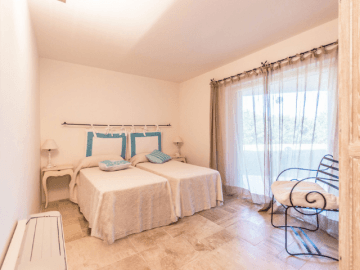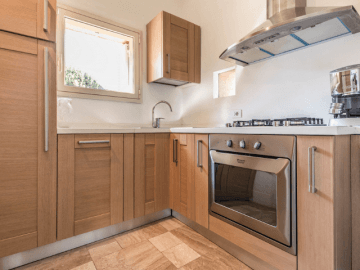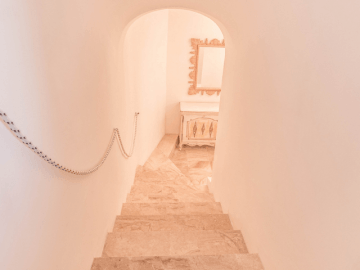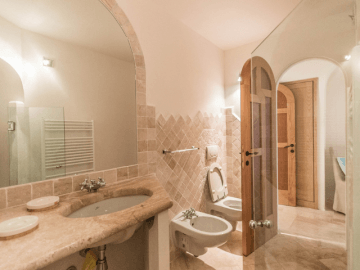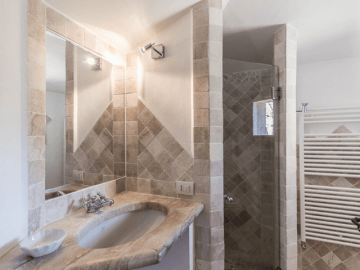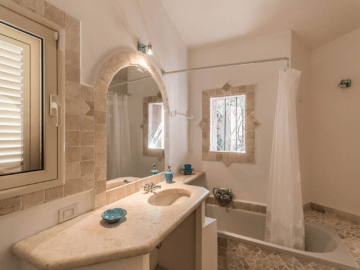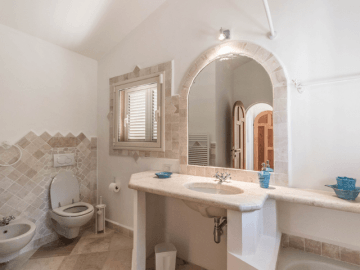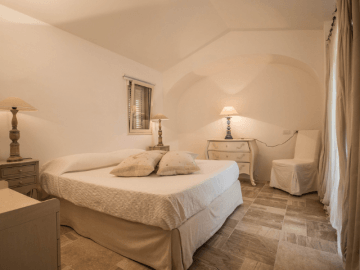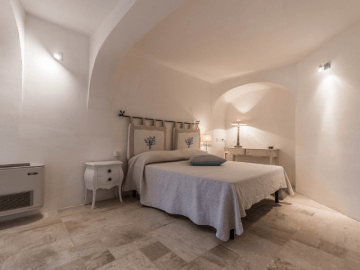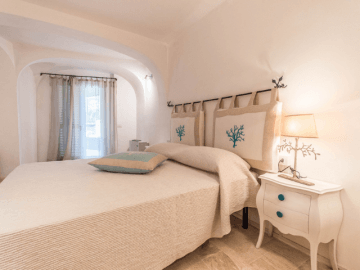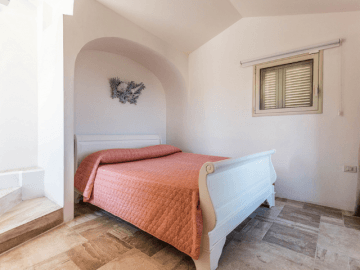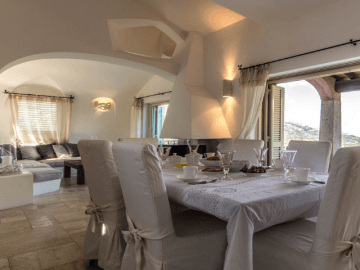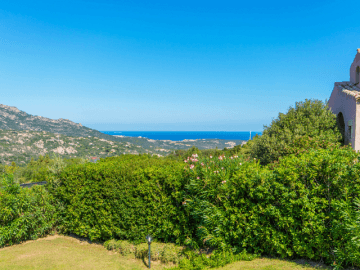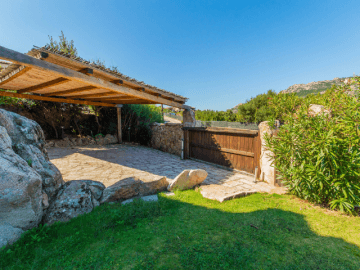 Villa Pevero Blu Deluxe (10 Pers.)
Porto Cervo
Created by Prince Karim Aga Khan IV in the 60s and 70s, Porto Cervo is the main centre of Costa Smeralda. The Sardinian seaside resort is popular among both the international and Italian jet set. In the small marina you can find a parade of luxurious yachts. The elite resides in one of the luxurious resorts, villas or hotels or visits the boutiques near the central square.
Near Porto Cervo there are many beautiful beaches, such as Liscia Ruja.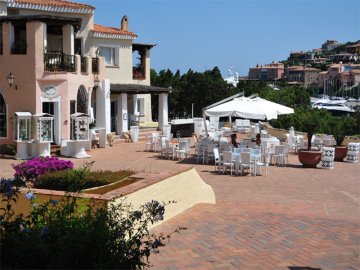 Discover the province of Olbia-Tempio in north Sardinia
Olbia-Tempio is one of the most popular holiday destinations in Sardinia. It's the perfect province for a relaxing beach holiday because of the countless bays and broad sandy beaches here. Its landscape is furthermore characterized by a lush Mediterranean vegetation and impressive rocks. The province is an international crossroads for numerous visitors, thanks to the international Olbia-Costa Smeralda Airport and Olbia's marina, where ferries from Genoa, Livorno, Piombino and Civitavecchia arrive daily.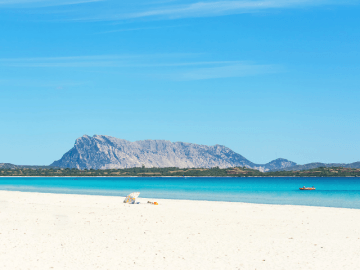 Lees meer
Rates
Prices per villa per day
Arrival: Saturday
Minimum stay: 7 nights

Mandatory additional costs on site
• Deposit: € 3,000 (return on departure)
• Power consumption (meter reading)
• Final cleaning and upholstery cleaning: € 400
• Bed linen and towels: € 20 per person
Villa Pevero Blu Deluxe (10 Pers.)