A tasty round trip: Culinary Sardinia
Discover Sardinia with our yummy 8-day culinary tour! This versatile trip, which is perfectly suited for gourmets, will bring you to 3 luxurious hotels. Besides relaxing and enjoying the tasty Sardinian cuisine, the tour enables you to explore the area along the way as well.
This 8-day tour by (rental) car includes seven nights' half board in 3 charming accommodations with pool.

Your itinerary:
• 3 nights in Hotel Parco degli Ulivi**** in Arzachena (north-east Sardinia)
• 2 nights in Hotel Su Gologone**** in Oliena (inland)
• 2 nights in Agriturismo Is Cheas in San Vero Milis* (west Sardinia)

This tour is intended to provide an illustrative example of a possible itinerary. The round trip can be customized on request, taking into account your flight details and travel period.

Distances:
• Olbia - Arzachena: 25 km
• Arzachena - Oliena: 126 km
• Oliena - San Vero Milis: 92 km

A perfect tour for those...
The 8-day tour Culinary Sardinia is perfectly suited for travellers wanting to explore not only the various Sardinian highlights but also the culinary local delights!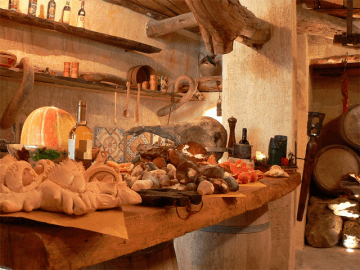 The round trip starts in Arzachena, ca. 25 kilometres north of Olbia Airport. The territory of the commune of Arzachena stretches for a surface area of around 228 km² and includes a spectacular coastline of approximately 80 kilometres filled with countless bays and beaches. When visiting this area, neighbouring the famous Costa Smeralda, you'll be surprised by the many impressive rock formations, such as the Bear Rock; a massive cliff of red granite sculpted by the wind resembling a bear.
The area is known for the presence of "stazzi", rectangular houses in Sardinian granite, consisting of 1 or 2 rooms, originally used by shepherds as a stopover or shelter on their journeys. Through the years most of them have been transformed into houses or agriturismi.

Arzachena is renowned for its many archaeological sites, such as the Necropolis Li Muri, the Tombe dei Giganti of Li Lolghi, Nuraghe Prisgiona and Coddu Ecchju. Because of its strategic location Arzachena is the perfect base for a journey of discovery through the north; the La Maddalena archipelago, the Surrau winery and Calangianus, the so-called "cork capital", are all definitely worth a visit.

You'll spend 3 nights in Hotel Parco degli Ulivi, a charming accommodation with pool, located in a stunning area in north Sardinia. The culinary highlights will make for a delicious start of your tour!
To truly experience versatile Sardinia, you'll be travelling southwards to the village of Nuoro, capital of the eponymous province. Through the years neither the Romans, Carthaginians nor any other foreign conquerors have succeeded in invading this area, because of which it's been able to develop its own culture. Nowadays Nuoro's unique folklore and traditions are still visible during the festivities in the local villages.

The next 2 nights you'll be staying at Country Hotel Su Gologone, an accommodation in a spectacular location, where the rugged nature, local traditions and excellent cuisine are in perfect balance. We recommend exploring the exhilarating hiking trails in the mountains, visiting the famous well Su Gologone as well as the beautiful coastline of Cala Gonone, including a boat trip to the Bue Marino Caves and the hidden Cala Luna beach!
After breakfast you leave for Oristano, a village on Sardinia's west coast, where you'll be staying on the estate of Is Cheas, far away from mass tourism. The charming Is Cheas has an excellent restaurant with outdoor terrace, where you can enjoy the tasty cuisine known for the use of local products and high quality wines.

This area is characterized by a pristine landscape, high plains, mountains and numerous beautiful beaches. Oristano is within easy reach, as well as the Phoenician town of Tharros, the fishing village Cabras, the famous Nuraghe Su Nuraxi in Barumini and the high plateau of the Giara di Gesturi. The beautiful coastal route via Bosa to Alghero is definitely worth exploring as well!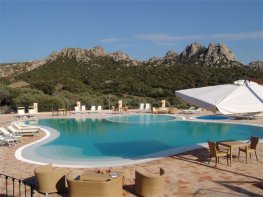 Hotel Parco degli Ulivi
The beloved Parco degli Ulivi, an authentic country hotel with pool, is located in the beautiful area near Arzachena in north Sardinia. This strategically located accommodation is surrounded by centuries-old olive trees. From here both the beach and the city centre are within easy reach.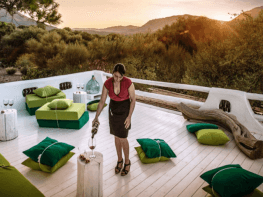 Country Hotel Su Gologone
During a stay in Hotel Su Gologone, located in the heart of the island, you will discover the traditional Sardinia. Enjoy the warm ambiance, the spectacular cuisine, the relaxing wellness facilities and the typically Sardinian traditions combined with a touch of luxury in a romantic setting.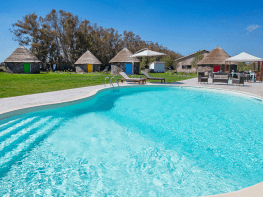 Agriturismo Is Cheas
The stunning agriturismo Is Cheas in west Sardinia is run by the young couple Juan Carlos and Francesca, who bought an estate near San Vero Milis to make their life-long dream come true; to build a sustainable agriturismo and to indulge their guests, staying in truly unique rooms, with pure Sardinian dishes made of fresh and local products.
Prices
Rates are per person per night
Arrrival: daily
Starting point: Olbia or Alghero

The tour includes:
• Stay: 7 nights
• Type of room: Standard room
• Board: half board (drinks excl.)

Touring with an all-inclusive rental car
We're happy to book you a rental car. The Sunny Car's all-in formula includes all insurances and an unlimited mileage. During the online booking process you can easily add a GPS package as well. The shown prices are an indication of the rental price for the entire tour. Should the current price differ, we will inform you before confirming the booking of your rental car.
We offer various car categories:
• Small: 3-door Fiat Panda or similar, manual transmission with air-conditioning
• Comfort: 5-door VW Polo or similar, manual transmission with air-conditioning
• Station: 5-door Opel Astra STW or similar, manual transmission with air-conditioning

We're happy to tailor the tour to your preferences!
• You can easily extend or change the tour's itinerary
• Do you prefer a more luxurious stay? It's possible to upgrade to a superior room
• We're happy to help you find the best flights and ferry crossings
• Travelling with kids? We're happy to send you a travel plan adjusted to your specific travel party
• Tip: extend your round trip with one of our unique excursions!
8-day round trip Culinary Sardinia
Ik vond het rondreizen erg leuk, dus van lokatie naar lokatie en heb zo veel variatie gezien van het eiland
8,0
Anoniem
Overnacht in 3 mooie hotels een heerlijk gegeten
9.0
Julia
We hadden een fijne reis
8.0
Anoniem (NL)