A round trip around Sardinia: north Sardinia in 8 days
A holiday in Olbia, Alghero or Bitti? This 8-day itinerary enables you to explore not one but all three cities. Discover some of north Sardinia's most unique features, such as its hospitality, beaches and mountains, in a week's time!

Our tour will lead you through north Sardinia via three charming accommodations with pool and includes seven nights' bed and breakfast.

Your itinerary:
- 2 nights in Villa Barbarina in Alghero (north-west Sardinia)
- 2 nights in Hotel Su Lithu in Bitti (central Sardinia)
- 3 nights in Locanda Sant'Andrea in San Pantaleo (north-east Sardinia)

This tour is intended to provide an illustrative example of a possible itinerary. The round trip can be customized on request, taking into account your flight details and travel period.

A tip for travellers who wish to spend more time on the island: combine this tour with our round trip through the southern part of the island and experience the very best of Sardinia with these recommended itineraries!

Distances:
• Alghero – Bitti: 138 km.
• Bitti - San Pantaleo: 116 km.
• San Pantaleo – Alghero: 154 km.

A perfect tour for those…
This year round available 8-day tour through north Sardinia is perfectly suited for travellers wanting to discover various Sardinian highlights in a short amount of time by (rental) car.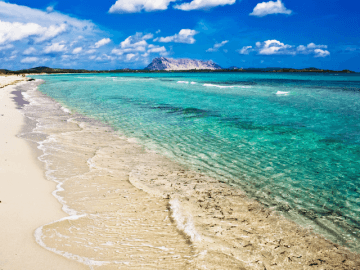 The first 2 nights of this beautiful 8-day roundtrip you will spend in Alghero, where the host of Villa Barbarina is ready to welcome you with open arms to the elegant country house. This accommodation with swimming pool is just 8 kilometres from the city centre of Alghero, a lively town also known as "Barceloneta" (little Barcelona), where the Catalan dialect is still widely spoken. The Sardinian province of Sassari contains various beautiful beaches, such as Maria Pia, Le Bombarde and Spiaggia del Lazzaretto. We recommend exploring the hiking trails in the natural reserve of Porto Conte as well.

The old town of Alghero consists of a maze of narrow cobbled alleys. The palazzos, city walls and defence towers are built in a Spanish style. In the city centre you can enjoy a stroll along the various piazzas or relax on the shaded terraces cooled by a fresh sea breeze. Since Alghero is located on the "Riviera del Corallo", the Coral Coast, most boutiques have various coral ornaments for sale. At night, as the sun sets behind cape Capo Caccia, the city is bathed in a beautiful orange light. At this time of night we recommend taking a walk along the boulevard and the harbour to one of Alghero's restaurants to enjoy the delicious seafood dishes. Don't forget to try the local specialty, "Aragosta alla Catalana" (lobster)!

One of Sardinia's highlights near Alghero is Neptune's Grotto ("Grotte di Nettuno"), a stalactite cave on the tip of the peninsula of Capo Caccia whose entrance lies only around a metre above the sea level. The 204-metre-high cliffs and caves are therefore accessible via a boat trip of approximately 45 minutes from the port of Alghero. Alternatively, after a scenic route by car, you can descend the 654-step stairway cut into the cliff called "escala del cabirol" (goat's steps) to visit the grotto.

Another symbol of Sardinia are the nuraghe, ancient megalithic edifices developed by the Nuragic civilisation which inhabited the island from about 1500 BC onwards. Their villages were built around round tower-fortresses which date back to the Bronze Age. The sturdy structures, consisting only of layers of basalt blocks, stand only by virtue of the weight of their stones. We recommend visiting the Nuraghe di Palmavera near Alghero, founded around the 14th century BC and renovated in 1963.

Furthermore, Stintino's beautiful beaches, the Asinara National Park and the historic villages of Bosa and Castelsardo are all within easy reach of Alghero. If you'd like to explore Alghero's versatile coastline by boat, we recommend booking our sailing excursion with the Andrea Jensen!
After breakfast you leave for Bitti, a mountain village in central Sardinia. In this mountainous area you can enjoy spectacular hikes. You'll be staying in Su Lithu, an intimate hotel situated in a beautifully rugged landscape, where you can book an excellent dinner on request.

A stay in this pristine province immediately shows why Sardinia is one of five "blue zones", a demographic and/or geographic area with the highest longevity. The landscape consists of hills and high mountain peaks covered in lush Mediterranean vegetation. The many country roads lead to the Gennargentu mountain rage, natural waters or to the local shepherds. In the authentic mountain villages you can discover the real Sardinia; exceptionally hospitable, with a rich tradition, an excellent Sardinian cuisine and tasty Cannonau wines.

One of Sardinia's most important nuragic villages is Su Romanzesu, situated on a granite plateau along the road to Mamone near Bitti in a cork oak forest. The village dates back to the 16th century BC and consists of approximately 100 huts and several buildings used for cultural activities.

There are beautiful hiking trails in the Crastazza Littos Tepilora Nature Park, which is home to several animal species typical of Mediterranean brush habitats such as the wild boar, the Sardinian hare, the fox, the wild cat, the deer and the mouflon. We recommend visiting the waterfall S'Illiorai and the natural pools Tepilora. The park is the perfect place for a savoury picnic!

We recommend combining a visit to Nuoro, the capital of the eponymous province, with a trip to Orgosolo, a traditional village renowned for its "murales" (murals). Oliena, a mountain village with a beautiful historic city centre, is worth a visit as well. It is renowned for the Su Gologone well, the most important spring in Sardinia which emanates from the base of the big rocks of the Supramonte. Its discharge has been estimated at 300 litres per second.
45 minutes to the south-east of Oliena the nuraghe village Tiscali is another one of Sardinia's highlights.

If you prefer to spend a day at the beach, you can easily drive to Orosei or to the lively Cala Gonone, where boats depart for the famous Bue Marino Caves and the unique bay of Cala Luna. Only accessible by boat or on foot like many other beaches along Sardinia's east coast, this spectacular bay is a must see!

The tour will continue to the beautiful hotel Locanda Sant'Andrea, the accommodation for the last 3 days of the round trip. This hotel with swimming pool is located in the undulating landscape of San Pantaleo in the northern province of Olbia-Tempio.

On your way there you will pass the lively seaside resorts Budoni and San Teodoro. We recommend taking a break to visit the Lu Impostu beach and the peninsula of Capo Coda Cavallo to enjoy the view across Tavolara, a small island off the north-east coast.

From Olbia it's less than half an hour to Arzachena, renowned for the archaeological sites. The area of this municipality stretches for over 228 square metres and has a beautiful coastline with many bays and beaches and spectacular rocks. The wind has sculpted the rocks into beautiful shapes, the most famous of which is the "Roccia dell'Orso", which with a bit of fantasy resembles a bear.

The strategic position of the hotel enables you to visit many nearby villages, such as the worldly Porto Cervo, the heart of the Costa Smeralda. Created by Prince Karim Aga Khan IV in the 60s and 70s, this Sardinian seaside resort is popular among both the national and the international jet set. In summer the elite resides in one of the luxurious resorts, villas or hotels or visits the boutiques near the central square.

One of the highlights in north Sardinia is La Maddalena. The archipelago consists of more than 60 islands, of which La Maddalena, Caprera, Santo Stefano, Spargi, Budelli, Santa Maria and Razzoli are the biggest. Only the main island La Maddalena is inhabited. Many tourists visit the archipelago by boat to enjoy the beautiful rock formations, nature, sea, bays and beaches. A ferry can bring you from Palau to La Maddalena in a mere 20 minutes and with a bit of luck you can spot dolphins on the way. Should you like to visit the other islands of the archipelago, we recommend booking our boat excursion with the Lady Luna!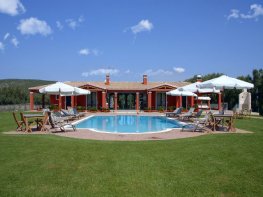 Villa Barbarina
The beautiful nature resort Villa Barbarina, located at a small distance from Alghero on the north-west coast of Sardinia, consists of a welcoming and modern country house with pool. This lovely agrihotel is definitely worth a visit!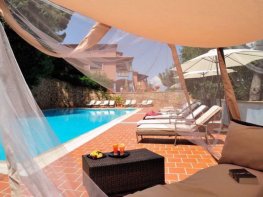 Hotel Su Lithu
Su Lithu is an intimate country hotel with pool located in a beautiful villa in the middle of nature in central Sardinia. You'll be pleasantly surprised by the Sardinian cuisine and traditions here at Su Lithu in Bitti!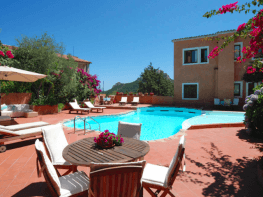 Locanda Sant'Andrea
Locanda Sant'Andrea is a 3-star relais de charme in San Pantaleo, a picturesque village on Sardinia's north-east coast surrounded by granite cliffs. During your stay in this intimate boutique hotel you can both relax by the pool and enjoy a stroll through the narrow streets of San Pantaleo. A lovely destination!
Prices
Rates are per person per night
Arrival: daily
Starting point: Olbia or Alghero
The tour includes:
• Stay: 7 nights
• Type of room: Standard room
• Board: bed & breakfast
*If you make this tour with 3 or 4 people, you will stay in Villa Barbarina in a 3 or 4 person room, in Su Lithu in a triple room or 2 separate double rooms, in Locanda Sant'Andrea in a triple room or family room consisting of 2 rooms with 1 bathroom.
Touring with an all-inclusive rental car
We're happy to book you a rental car. The Sunny Car's all-in formula includes all insurances and an unlimited mileage. During the online booking process you can easily add a GPS package as well. The shown prices are an indication of the rental price for the entire tour. Should the current price differ, we will inform you before confirming the booking of your rental car.
We offer various car categories:
• Small: 3-door Fiat Panda or similar, manual transmission with air-conditioning
• Comfort: 5-door VW Polo or similar, manual transmission with air-conditioning
• Station: 5-door Opel Astra STW or similar, manual transmission with air-conditioning
We're happy to tailor the tour to your preferences!
• You can easily extend or change the tour's itinerary
• Do you prefer a more luxurious stay? It's possible to upgrade to a superior room
• Do you prefer half board in all accommodations? Please ask us about the possibilities
• We're happy to help you find the best flights and ferry crossings
• Travelling with kids? We're happy to send you a
travel plan
adjusted to your specific travel party
• Tip: Extend your round trip with one of our unique excursions!
8-day round trip north Sardinia
Natuur is prachtig, hotels prima.
7,0
Anoniem
Mooie kilometers langs kust en stranden, hoogte- en kilometers in het binnenland
8,0
Jeroen Oosterhof
Echt een aanrader. Zoveel gezien in 8 dagen zonder te haasten. Sardinië is zo mooi. We raden het iedereen aan.
9,0
Bianca
Wij hebben de rondreis uit laten breiden naar 15 dagen
9.0
Nout L.
Beautiful tour of the north of Sardinia
10.0
Maartje and Frank
Perfect holiday. Good trip, good tips. I'm in love with that island!
10.0
Caroline (NL)
Beautiful country, great food and lots to see.
8.0
Dhr. Tervoort (NL)
Very good. Nice people and beautiful island with lots of possibilities
9.0
Margriet (NL)
Very nice hotels on beautiful locations
9.0
Mevrouw Hamelrijck (BE)
A great trip!
9.0
Anoniem (NL)
Fantastic Island, beautiful nature, the coasts, the flowers in the mountains, nice and quiet in this period. Everything perfectly arranged!
8.0
Luc Bakker
In one word: GREAT!
8.0
Mw. Beekmans (NL)
A beautiful island with beautiful nature and friendly people.
7.0
Dhr. Jeukens (NL)
A tour is the perfect way to explore the island.
9.0
A. van Mensvoort (NL)
Fantastic journey
9.0
Mw. Reyneveld (NL)
Excellent, thanks for the quick service
9.0
O. Brunklaus, Alem (NL)
Very beautiful. Definitely worth repeating.
9.0
Dhr. Van de Wiel (NL)
Good offer and good range of hotels
9.0
Frank Sprangers (NL)