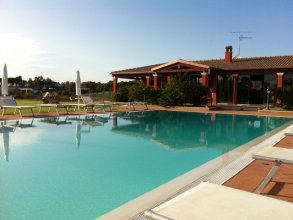 Country with a modern twist
"The winding coastal road from Bosa to Alghero has been on our wish list for a while. We often choose the fast route to Alghero via the SS131 but since we have a little more time today, our dream is finally coming true. On to Alghero. The beloved town on the Riviera del Corallo with a lot of attractions. We are curious about what the day will bring us today and above all the new discovery in Country Style that we will visit this afternoon."
Sardinia4all on the road to Alghero
A new day, a new destination. Full of enthusiasm we leave from the colorful town of Bosa to Alghero. The beautiful panoramic and winding coastal road (the Strada Provinciale 49) offers many beautiful views. A truly spectacular route! We now also understand why so many motorcyclists are around here. A few more sharp turns and in the distance the beautiful historic city meets us.
For a moment we imagine ourselves in the Caribbean
Time for a coffee break. We put on flip flops and we order "due cappuccini" in a tent on one of the white sandy beaches of this city; Le Bombarde. Wonderful that warm sand between your toes, a view of the clear blue water and a lovely sun. For a while it feels like a real holiday ...
Time to go! It has been a while since we visited Delio from the beloved
Residenza di Campagna
a stone's throw from Alghero and Annamaria from
Il Borgo de I Vigneti
nearby Olmedo. Always nice to drive by, take a look and especially to chat.
A country style oasis
By noon we will be about seven kilometers out of town. With a large driveway, on the left decorated by olive trees and a beautiful lawn, we are warmly welcomed by owner Giovanni and host Antonio of
Villa Barbarina
. After a tour of the modern and very spacious holiday farm, we receive a drink at the swimming pool of the resort. Relax on the lawn that is adorned by a huge piece of land with olive trees, a true oasis of peace and a feeling of freedom!
Treats, cosiness and modern guest rooms
We end the day with a delicious dinner in the restaurant with outdoor terrace of the villa. From tasty antipasti, tasty spaghetti to the main course where both fish and meat dishes are served to us. Room for dessert? We can't anymore! While enjoying all these delicacies, a glass of beautiful wine, we have hours of pleasant conversations with Giovanni, Antonio and Diana, who have now also joined the table. What a pleasant evening and above all what a beautiful new place in Country style we have found!
Ciao Giovanni, A presto!
After all the beautiful impressions, we spend the night well in the modern room of the villa, which is located separately on the estate. Awakening here, embraced by a sea of ​​space and starting with an extensive breakfast, we really liked. The suitcases are packed, we thank Giovanni and his team, ready for a radiant new day with plenty of new discoveries in Sardinia.
Are you curious about this holiday address in Alghero? View the accommodation here