Agriturismo Villa Barbarina, Alghero - Sardinia
The beautiful nature resort Villa Barbarina, located at a small distance from Alghero on the north-west coast of Sardinia, consists of a welcoming and modern country house with pool. This lovely agrihotel is definitely worth a visit!
The beautiful agriturismo Villa Barbarina, located near Alghero and surrounded by a large lawn and 5 hectares of olive trees, is run by its welcoming host Giovanni. The accommodation features a pool and at a mere 7 kilometres lies the stunning Riviera del Corallo (coral coast). Villa Barbarina offers neatly set tables in its restaurant where you can enjoy traditional and special dishes every night.
The agriturismo's reception and restaurant are located in the main building. The spacious rooms are housed in a secondary building. Each room features its own bathroom, lcd-television, air-conditioning and safe. The rooms are elegantly decorated with natural colours and handmade lamps. Villa Barbarina offers rooms suited for two, three or four guests. Suites can be booked on request. These are provided with a living room, 1 or 2 bedrooms and 1 or 2 bathrooms. From your private balcony or terrace you can admire the view across the estate.
A perfect stay for those...
If you're looking for a relaxing holiday in a rustic setting which offers the possibility to get to know the traditional, local cuisine, then you should definitely consider staying at Agriturismo Barbarina! This accommodation is easily included as a stop over during around trip across the island as well.
Accommodation & facilities:
• Parking space
• Garden
• Air-conditionin...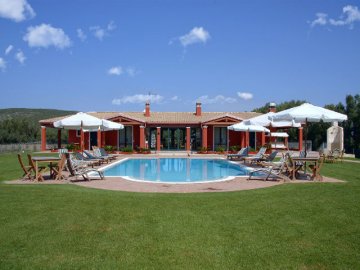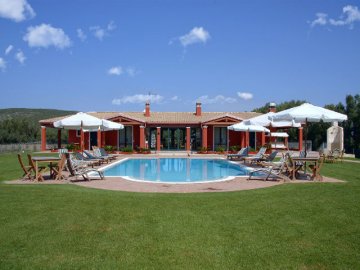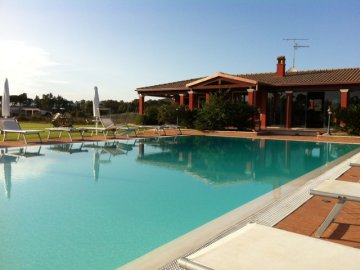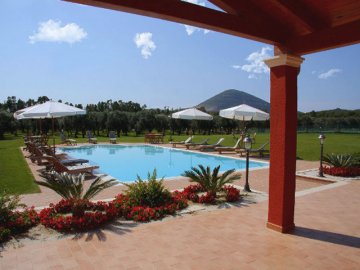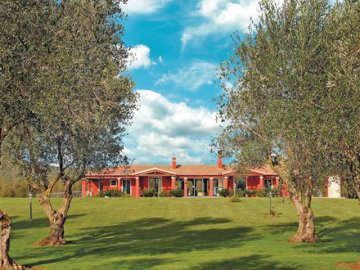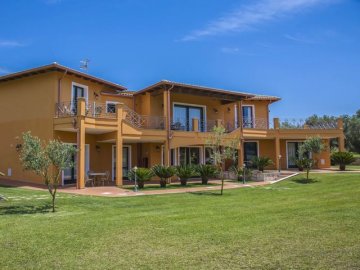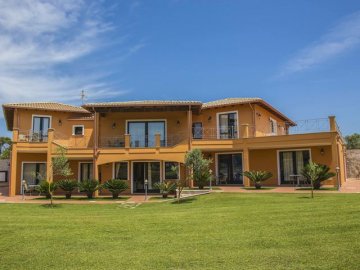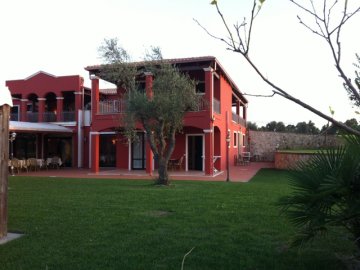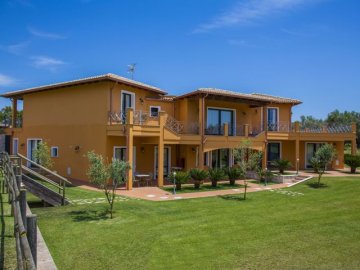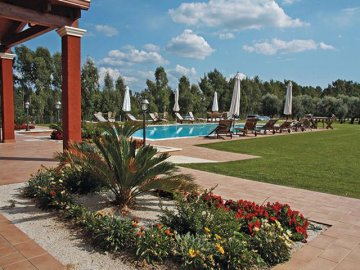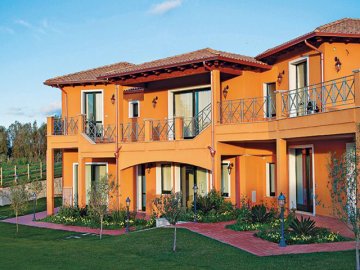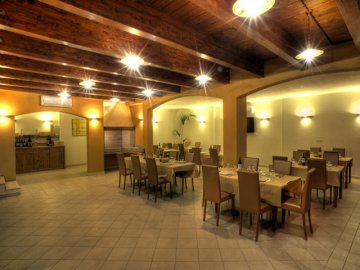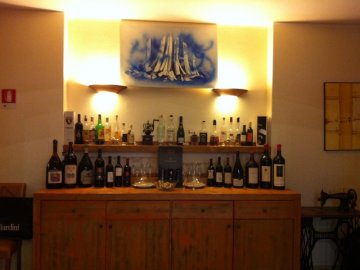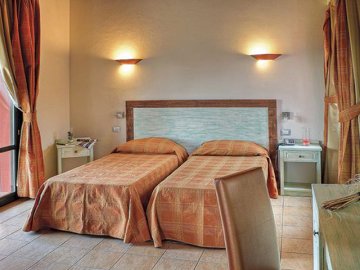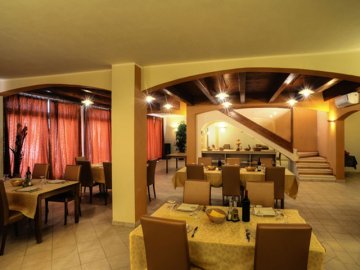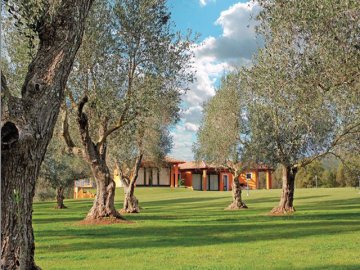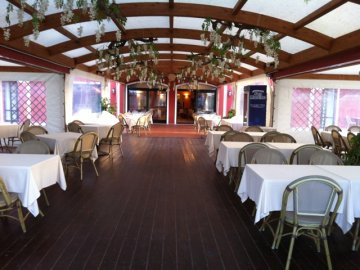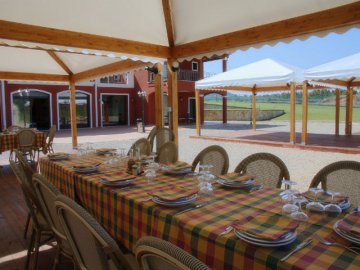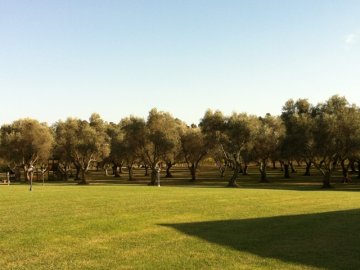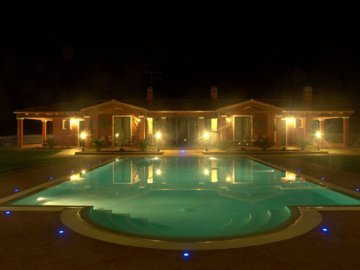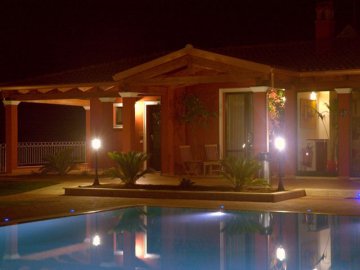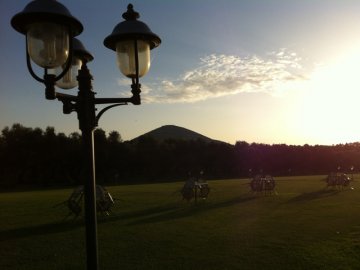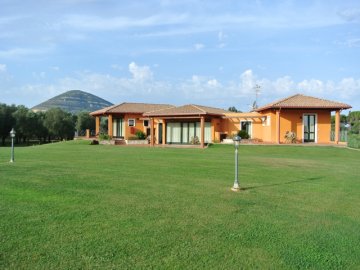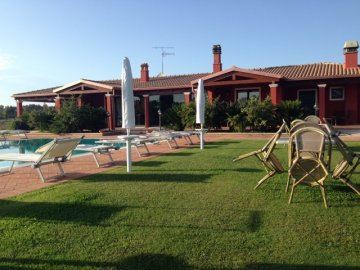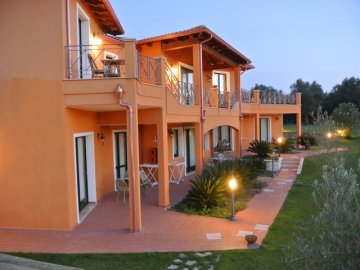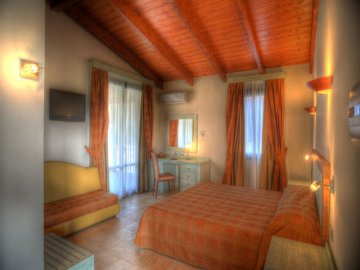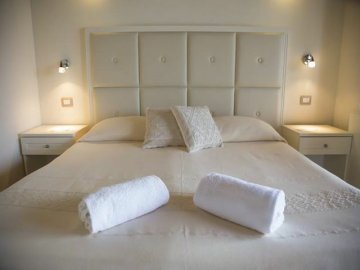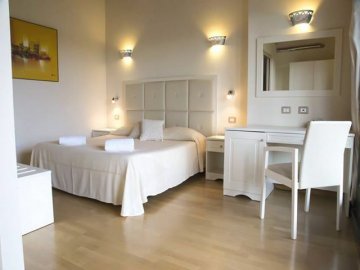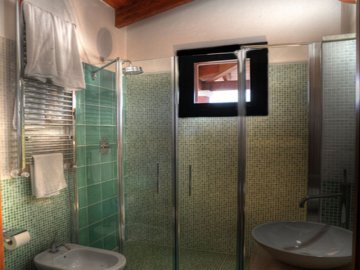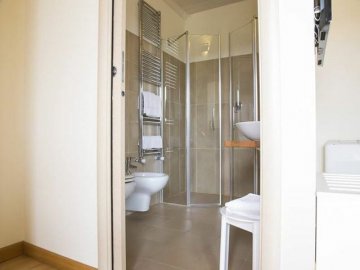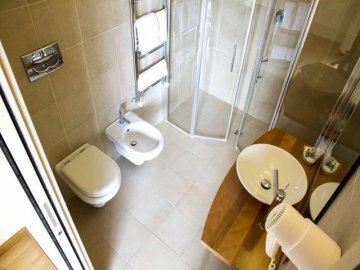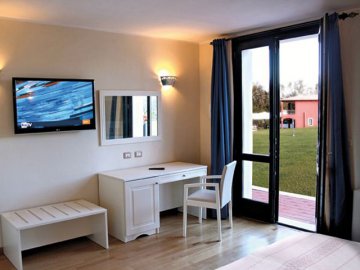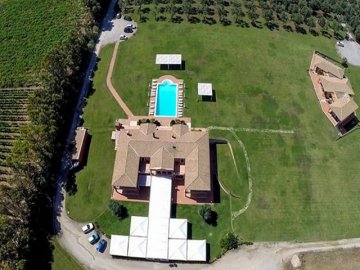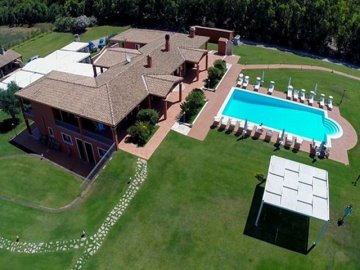 Agriturismo Villa Barbarina
Alghero
The medieval Sardinian-Catalan coastal town Alghero, located in the north-west of Sardinia, dates back to 1102, when the nobel Doria family built a castle there. In the same period, this family also built a castle in
Castelsardo
. In the year 1353 the Spaniards seized power in Alghero, leaving many traces behind which are still visible today. The palazzos, city walls and defence towers are built in a Spanish style. The bilingual street names in both Catalan and Italian still reflect the proud heritage after more than 300 years of domination.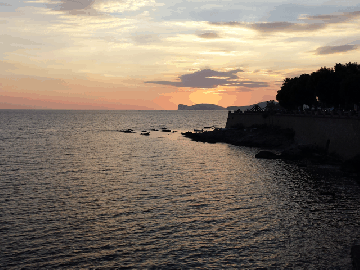 A cosy town on the northwest coast of Sardinia
The city is popular among tourists all year round. Its ideal location near the sea and within a 15-minute drive from Fertilia, Alghero's airport, makes for a perfect holiday destination. The old town consists of a maze of narrow cobbled alleys, decorated with laundry hanging out to dry on drying racks and makeshift clothes lines tied from balcony to balcony. In the city centre you can enjoy a stroll along the various piazzas with restaurants, bars, cafes and ice cream parlours or relax on the shaded terraces cooled by a fresh sea breeze. Don't forget to visit the well-known Neptune caves during your holiday in Alghero!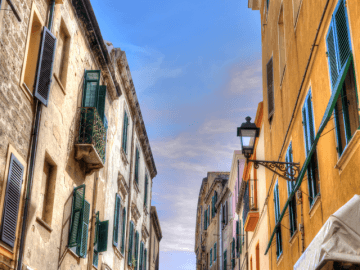 Capo Caccia, Grotte di Nettuno and Aragosta
Since Alghero is located on the "Riviera del Corallo", the "Coral Coast", most boutiques have various coral ornaments for sale. At night, as the sun sets behind cape Capo Caccia, the city is bathed in a beautiful orange light. At this time of night we recommend taking a walk along the boulevard and the harbour to one of Alghero's restaurants to enjoy the delicious seafood dishes. Don't forget to try the local specialty, "Aragosta alla Catalana" (lobster). Don't even forget to visit the well-known Neptune caves during your holiday in Alghero!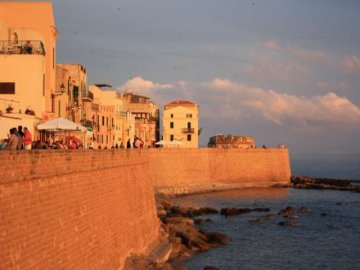 Discover the north-western province of Sassari
The province of Sassari is a fairly well-known province, due to the presence of the Fertilia Airport near Alghero which draws in many a tourist. Its eponymous capital, whose city centre consists of numerous narrow alleys, has a rich history. Villages such as Alghero, Stintino and the picturesque seaside town Castelsardo are the main highlights in the area, although the capital Sassari, which has been extensively renovated over the past years, is definitely worth a visit too.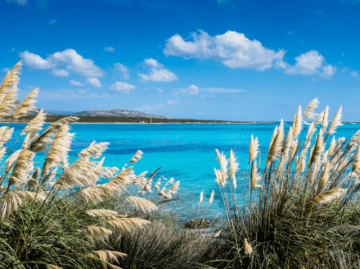 Lees meer
Prices
Rates are per person per night, breakfast included
Arrival: daily
Minimum stay: 1 night

Supplements:
• Half board: € 25 per adult (1/4 L of wine + water included)
• Cot: € 15 per night
• Dog: € 10 per night
Agriturismo Villa Barbarina
We kregen een grotere kamer dan geboekt met een prachtig terras uitkijkend over het hele terrein
9,0
Tanja Reijnders
Mooi gelegen accommodatie met ruime kamers. Ook het restaurant is aanbevelingswaardig.
8,0
Hugo van den Bovenkamp
Het ontbijt was geweldig, kamer ruim, jammer dat het restaurant niet open was
9,0
Jeroen Oosterhof
Eenvoudige maar goed uitgeruste kamer en badkamer. Prachtig terrein. Goed restaurant en uitstekende service
9,0
Emilie de Haas
Prachtige ligging, vrioendelijk, goed eten
9,0
Anoniem
Wat te nieuw en te af, geen uitzicht, drukke omgeving
7,0
Anoniem
Fantastische plek
10,0
Lisanne
Prachtig verzorgd hotel In een natuurlijke omgeving
10,0
Fam. Jansen
Prima locatie, fijne kamers en super badkamer. Ontbijtbuffet was heel goed, avondeten wat variërend
9,0
Anoniem
Fantastisch!
9,0
Kathelijne van der Zwaan
Delicate and beautiful location with good restaurant and nice pool. Very nice room and good breakfast.
9,0
Anonymous
Mooie haast onvindbare locatie, grote kamer, verzorgd ontbijt
9,0
R.F.van Rosevelt , de Rijp
Na de twee vorige Agri wel een beetje wennen aan zo'n nieuw en strak opgezet verblijf. Maar wel goed gelegen als uitval basis voor de omgeving. Ook hier weer vriendelijk personeel en lekker eten in het restaurant.
7,0
Frans & Hella
Schitterende plek en entourage, mooie kamer, goede keuken. Aardig personeel.
9,0
Anoniem
Kamer prima. Accommodatie simpel en geen bijzonder restaurant.
6,0
Jeroen en Monique
Er was een bruiloft in de olijfgaard heel leuk om te zien.
8.0
Nelleke
Ontzettend mooi gelegen.
8,0
Rianne
Wat een rust!
9,0
Elza Linthorst
Gastvrij en leuk restaurant met een pizza van een meter. Druk bezocht door lokale bevolking. Goede ligging tov Alghero en de stranden.
8,0
Martijn
Prachtige locatie!
9,0
Joke Bekker
Prima accommodatie
9,0
Anoniem
Heerlijke plek. Zalig zwembad. Fijn dat je er s'avonds kunt eten. Hele mooie kamers.
9,0
Eva
Ruime kamers, goede WiFi heerlijk zwembad
10,0
Gerrie
Afgelegen, duur restaurant, wifi en kamer prima.
7,0
Anoniem
Airco werkte niet goed
7,0
Ron
Zo mooi landelijk!
9,0
Bianca
Schöne Lage, Pool Klasse, Restaurant gute Preis-Leistung
9,0
Anonym
Hele mooie Agri. Hele mooie kamers.Restaurant...mwahh
8,0
Hans van den Bergh
Lekkere pizza's, mooie kamer, terras wat ongezellig
8,0
Nicole
Very nice accommodation, what a rest and friendly people.
9.0
Ellen
Highly recommended!
9.0
Vleuten
Prachtig gelegen, helaas wel wat ver van het dichstbijzijnde stadje/dorpje van betekenis.
9.0
Tom
Een geweldige vakantie op een prachtig eiland
8,0
Rene en Pascalle
Mooie plek, degelijk verblijf, goed sanitair. Misschien niet de leukste regio (behalve stadje Alghero)
8.0
Anoniem
Super verblijf!
9,0
Anoniem
Heerlijke agriturismo
9,0
Vella Narayen
Net , comfortabel en correcte service. Prima restaurant.
8,0
Wim De Croo
Lager cijfer vanwege personeel en het eten
7,0
Marike
Erg sobere en kleine kamer voor drie personen kamer. Vriendelijke mensen
6,0
Arja, Ria en Marian
Mooi begin van de vakantie
8,0
Tanja
Geweldig en gevarieerd
7,0
Marielle
"Technische storing"
7,0
anoniem
Heerlijk eten in het restaurant en vriendelijke mensen
8,0
Anoniem
This tour is an excellent way to discover the island. A must for those who have not been in Sardinia before.
8,0
Lien de Kruiff
This tour is an excellent way to discover the island. A must for those who have not been in Sardinia before.
8,0
Piet Hemminga
Wederom hele mooie kamer en prima keuken. Wel heel strak en modern.
8,0
Willeke en Leo Kayser
Prachtige olijfboomgaard en zeer mooi zwembad
8,0
Anoniem
Insgesamt wirkt die Anlage schick und kühl
4,0
Sabine
Een 8 waard
8,0
Hans, Deurne
Terug een rustig gelegen hotel buiten de drukte van de stad
9.0
Hox Valérie
1st night spent in another accommodation
5.0
Caroline
Good breakfast and friendly staff. Great, beautiful island!
9.0
Anoniem (NL)
Very nice and modern hotel in a beautiful location. Also very clean.
10.0
Gonda (NL)
Mooie agriturismo, schoon en zeer netjes
9.0
Anoniem
Alles goed verzorgd, wel erg duur
7.0
Hans Bosch
Weinig sfeervol, maar wel heerlijk zwembad en prima gelegen.
7.0
Familie Koopman
Very friendly and delicious food
8,0
Angela van Dongen
Mooie kamer, diner te uitgebreid
8.0
Anoniem
Ik vond jullie geweldig. Na 1 telefoontje al met zo'n goed reisvoorstel komen!
10.0
Edith en Menno
Extremely pleasant holiday, very beautiful nature and beaches and snorkeling is wonderful
9.0
Broere
Sardinia was great!
8.0
Family Zirkzee
Nice location! Spacious clean room but some things can be improved!
8.0
Henk C. (NL)
Wij hebben een heerlijke vakantie gehad. Wij vonden het een mooi eiland met zeer vriendelijke mensen.
8.0
Rik en Ellen (NL)
Beautiful country, great food and lots to see.
8.0
Dhr. Tervoort (NL)
Nice people and beautiful island with many opportunities
8.0
Mw. Kapteijns (NL)
Greatly enjoyed the nature
9.0
Mw. Vermeulen (BE)
Perfectly organized holidays! Beautiful island, a lot of things to see!
9.0
Mevr. Vijn (NL)
Beautiful, definitely worth returning!
9.0
N. Hamelrijck (BE)
Tasty pizzas
8.0
Dhr. Van Zuuren (BE)
van der Valk restaurant
5.0
Anoniem (NL)
Restaurant was full almost every night
7.0
Mevr. Isaac (NL)
Great holiday
8.0
Familie Spoek (NL)
Summer holiday on a nice spot, Hospitality can be better
9.0
Dhr. Daamen (NL)
To recommend if you are looking for a place to relax
9.0
Mw. I Prodan (BE)
Some small flaws
7.0
Mw. Debaets (BE)
Excellent to discover a large island like Sardinia
7.0
A. Donvil (BE)
Nice resort with swimming pool
9.0
Dhr. Loos (BE)
Vriendelijk
9.0
Familie Vanhimbeeck (BE)
Kamer klein, Eten prima.
8.0
Mw. L. Kuijken (NL)
We have had a great holiday
9.0
Mw. van der Pluijm
Slecht eten
5.0
Mw. Stok - Huijgen (NL)
Recommended to visit Alghero and surrounding area
9.0
F. van Wijk (NL)
Everything perfect!
9.0
Dhr. Zwartbol (NL)
Schoon en goed verzorgd
8.0
Lisette (NL)
A great trip
9.0
A. van Kilsdonk (NL)
Go to Sardinia for a nice holiday
7.0
Levinus (NL)
Alles was goed georganiseerd!
10.0
H. de Vries (NL)
Fine service
8.0
Dhr. van der Wijst (BE)
Very friendly staff
9.0
Ria (NL)
Nice place & Satisfied about the online support
10.0
Mevr. M Tyl (NL)
Heerlijk vakantieland
7.0
Kissels (NL)
Een prima vakantie
-
Dhr. Ketting (NL)
A perfect stay for families with children
8.0
J. Janssens (NL)
Super ontspannen
9.0
Dhr. Nas
Meer een hotel met aparte huisjes
8.0
Mw. Huijg (NL)
We made many walks with a walking guide
9.0
D. Galdermans (BE)
Het was een prachtige vakantie, Een echte aanrader!
10.0
Daisy (BE)
Prima locatie
9.0
Dhr. Happee (NL)
Mooi en vriendelijk!
8.0
Familie Vintges (NL)
Goede accommodatie
7.0
Van Puymbroeck (BE)
Een warm welkom op Sardinië!
9.0
Mw. Fransen (NL)
We hebben genoten!
8.0
Mw. van Lisdonk (NL)
Ook erg prettig met kleine kinderen
8.0
W. Dujardin (NL)
Luxury location and accommodation
9.0
G. Kirchjunger
We are very happy about your advice!
8.0
Jasper & Charlotte (NL)
We were spoiled, thank you!
9.0
Dhr. Mensvoort (NL)
Gastvrij
8.0
Mw. Nijland (NL)
Very nice farmhouse with pool
8.0
Dhr. Denissen (NL)
Full meal with a good glass of wine
9.0
Mw. Mehuys (BE)
Excellent!
8.0
Anoniem (NL)
In tegenstelling tot was er op Zoover gepubliceerd was, was het ontbijtbuffet uitgebreid en prima!
8.0
Dhr. Krijgsman (NL)
Mooie rustige locatie. Fijne kamers, aangename ambiance.
10,0
R. Versteeg
Prima agriturismo
8.0
Dhr. Kruithof (NL)
Very nice farmhouse
7.0
Anoniem (NL)
Super groot verblijf
7.0
Familie Wentholt (NL)