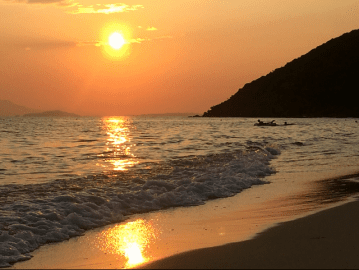 Geremeas
Geremeas is located in the south of Sardinia, on the coast between Cagliari and
Villasimius
. The beautiful beach is so long that it has different names depending on the section. The beginning is the bay of Kal 'e Moru: golden yellow sand, crystal clear and sapphire blue water, small dunes covered with grass and beach lilies. A small beach bar with some sun loungers provides a bit of service. Don't forget your goggles, flippers and snorkel: near the beach bar, just a few meters below the water, is a reef whose variety of underwater plants and fish, crabs and mollusks in this area is unparalleled!
To the east, Kal'e Moru beach merges seamlessly into the headland of Geremeas, Geremeas Due and Baccu Mandara. The holiday area of
Torre delle Stelle
is only a few kilometers further to the east. Thanks to a good motorway connection, you can reach
Costa Rei
and the metropolis of
Cagliari
in just 20 minutes.