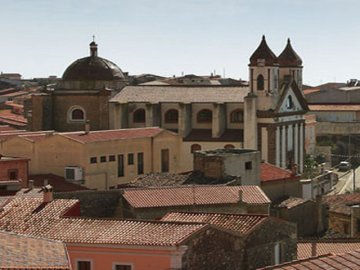 Tresnuraghes
Sardinia, as you hardly know it, is the agricultural community of Tresnuraghes in the west of the island, which merges almost seamlessly into the neighboring community of Magomadas. A small city center around the village church, historic squares, a few village cafes and otherwise mainly farms and a few cute accommodations that you might not expect here. From the village you can easily reach the beaches of Porto Alabe by car. The ocher-colored, coarse-grained, wide sandy beach framed by overgrown sand dunes. At the most, there is a bit of activity during the high season, the rest of the year it is deserted. It is also really deserted around the old watchtower of Punta Foghe, to which a bumpy narrow coastal road leads. The world seems to end here!
Each small village in the area has its own characteristics. Flussio is known for its basketry and there are colorful murals and many fountains to discover in Tinurra. If you are looking for more color and cosiness go to
Bosa
: the town on the river is not only known for its wine, but especially for its traditional festivals!