Tinnari Beach - beautiful coastal path with pure nature on the Costa Paradiso
This short but steep tour along the steep coast of Tinnari leads along a dirt road and the coast. When you arrive at your destination you will find natural coarse pebble sand and the picturesque estuary of the Rio Pirastru as a reward! The outward and return journeys are identical for this tour.
Bumpy approach on a gravel path
How to get there: on the main road from Castelsardo to Santa Teresa Gallura, about 2.5 km north of the junction to Isola Rossa, turn off at the restaurant "Il Geranio". Then go straight ahead and do not turn off towards "Villaggio Calarossa". At the
intersection
you can park or if there are no more parking places turn left and follow the road to a
designated parking space
.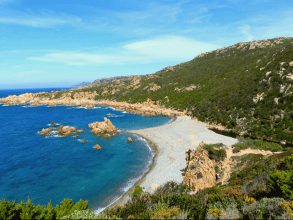 ... on the way to the lonely beach paradise
The start of the short tour is the route that ends about 50 meters after the fork at a white gate, which blocks the road for vehicles. The road leads unmistakably and steeply along the coast, after about 10 minutes you already have a great panoramic view that accompanies you for the rest of the walk. At the junction to the right and the further trail is almost impossible to miss and continues straight on, continuously along the coast towards Tinnari.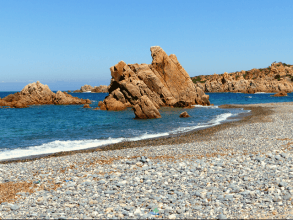 Rust red and rough: this is the Costa Paradiso
After half a kilometer we already have the best view of our destination: the wide pebble bay. Wow! This Robinson atmosphere is protected by rusty red rocks that protect the beach ... on the way to the lonely beach paradise.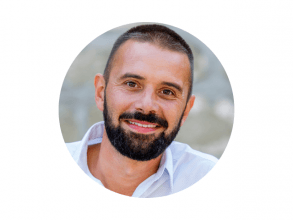 Plan your walking holiday in Sardinia with Sardinia4all!
What is the best accommodation, where is the most beautiful beach, what is the best travel destination on the island for an active holiday?
Ask us
- we know exactly where to go are in Sardinia!
Timo
Sardinia4all

Short walk to Tinnari