Country Resort Tenuta Pilastru, Arzachena - Sardinia
The friendly country hotel Tenuta Pilastru is a luxurious agriturismo with pool and wellness facilities, set in a quiet area close to the beautiful coastline of the Costa Smeralda. It's without a doubt a beautiful accommodation to enjoy a pleasant and comfortable stay in Sardinia!
Amidst a formidable nature with rugged rock formations and olive groves County Hotel Tenuta Pilastru is set in a farm in the beautifully coloured and fragrant countryside. The main building, called "Lu Pastrucciali", contains the reception and a cosy lounge with fire place. This building houses several comfortably decorated rooms as well.
Apart from the ones in the main building, the rooms of Tenuta Pilastru are located in recently renovated little farmhouses scattered across the estate at max. 80 metres from the main building. Every room has 2 to 4 beds and is decorated in a rural style. The rooms feature air-conditioning, television, a private bathroom and seating area. The Superior rooms and Suites are newer rooms, both also equipped with a kettle. The suite also has a living room.
The restaurant is set in a separate country house on the estate. Its menu contains traditional dishes from the Gallura region, such as savoury meat dishes, homemade pastas and high quality wines from the farm's own production. One of the advantages of Tenuta Pilastru is its pool and wellness centre with various baths, Turkish bath, sauna and fitness facilities. Treat yourself to a massage or beauty treatment during your stay here!
A perfect stay for those...
We recommend Tenuta Pilastru Country Resort to everyone wanting to spend their holiday in a quiet environment yet not too far from the beautiful Costa Smeralda. This beautiful Country Hotel will make for a memorable stop over during a round trip across Sardinia as well.
Accommodation & facilities:
• Parking space
• Restaurant *
• Bar
• Ai...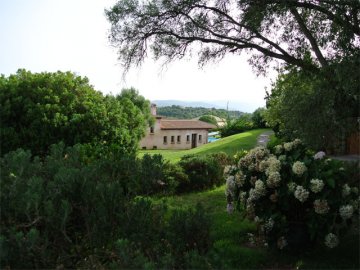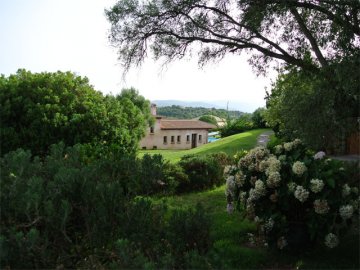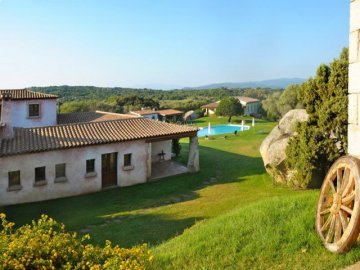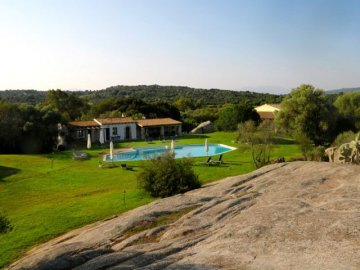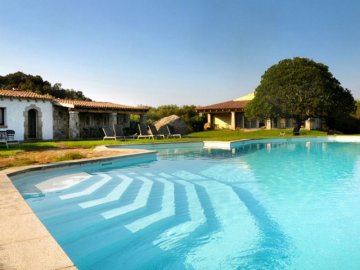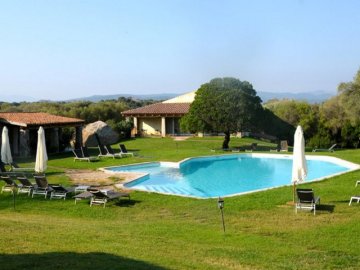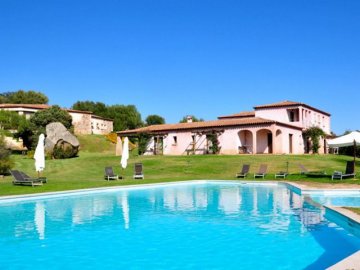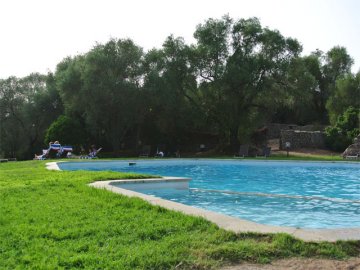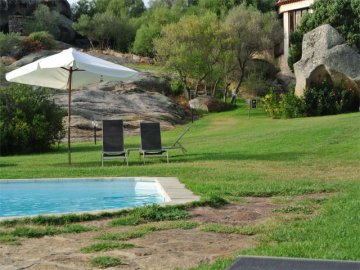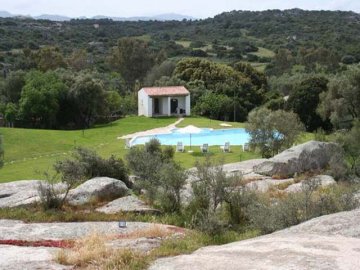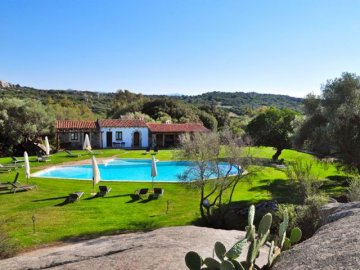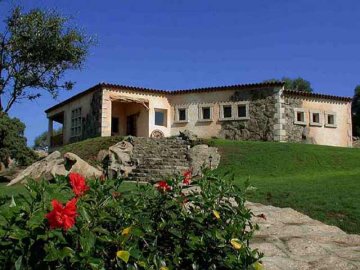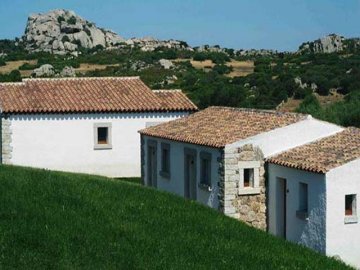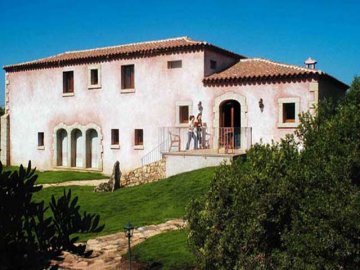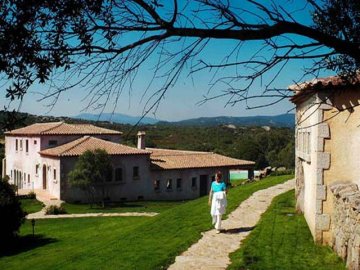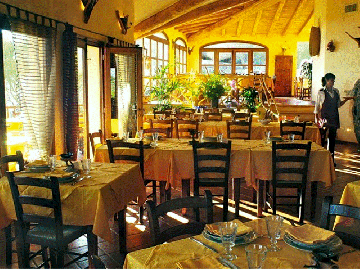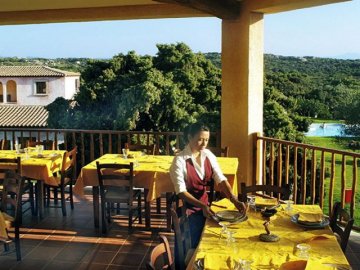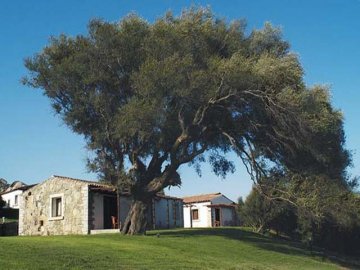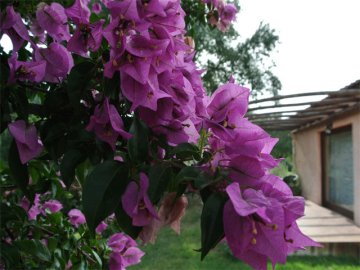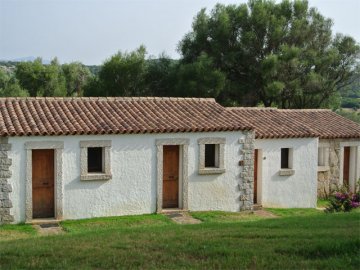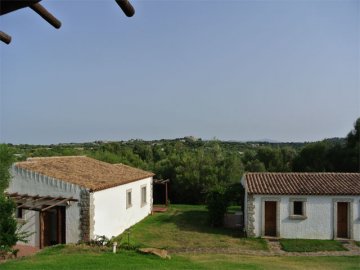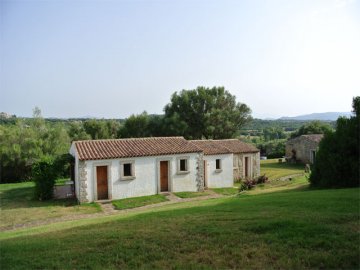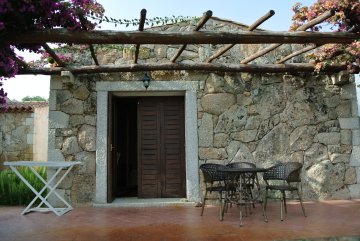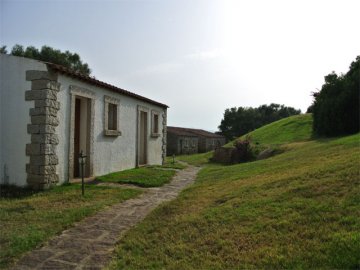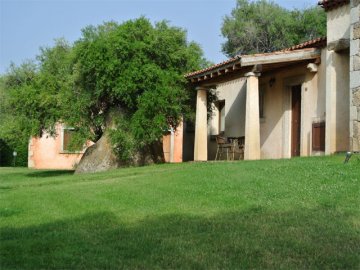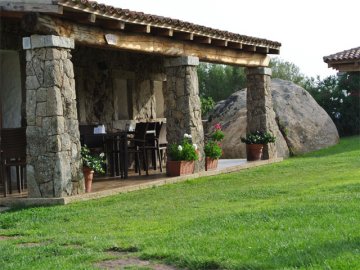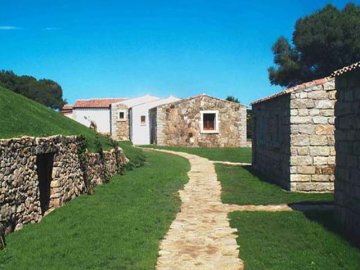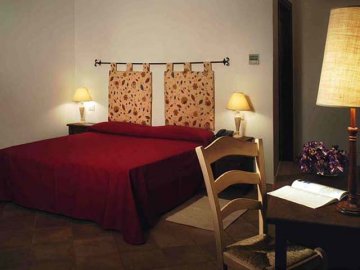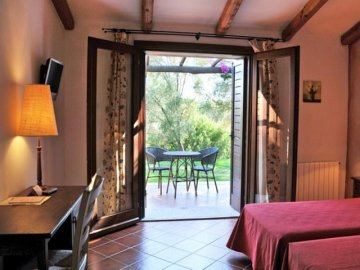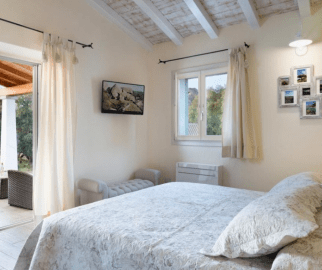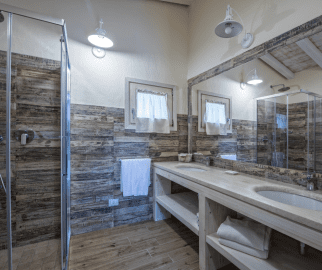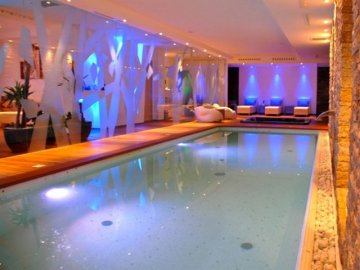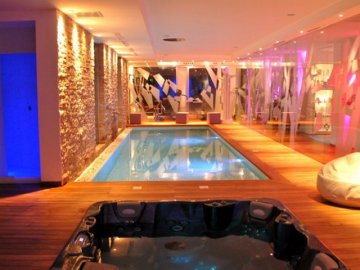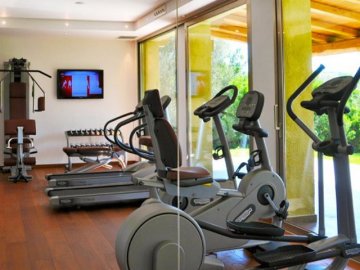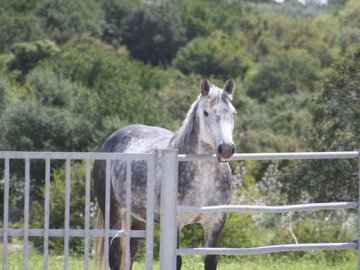 Country Resort Tenuta Pilastru
Arzachena
Arzachena is located in north-east Sardinia, at ca. 25 kilometres from Olbia, in the area known as the Gallura region. The territory of the commune of Arzachena stretches for a surface area of around 228 m², including a spectacular coastline of approximately 80 kilometres characterised by countless bays and beaches. When visiting this area, neighbouring the famous Costa Smeralda, you'll be surprised by the many impressive rock formations. The region was known by the Romans as "Turibulum", after a mushroom-shaped rock which nowadays is the symbol of the town.
The area is known for the presence of "stazzi", rectangular houses in Sardinian granite, consisting of 1 or 2 rooms, originally used by shepherds as a stopover or shelter on their journeys. Through the years most of them have been transformed into houses or agriturismi.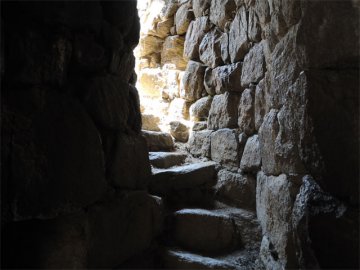 Discover the province of Olbia-Tempio in north Sardinia
Olbia-Tempio is one of the most popular holiday destinations in Sardinia. It's the perfect province for a relaxing beach holiday because of the countless bays and broad sandy beaches here. Its landscape is furthermore characterized by a lush Mediterranean vegetation and impressive rocks. The province is an international crossroads for numerous visitors, thanks to the international Olbia-Costa Smeralda Airport and Olbia's marina, where ferries from Genoa, Livorno, Piombino and Civitavecchia arrive daily.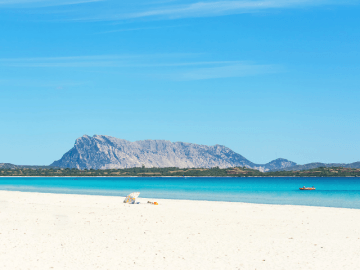 Lees meer
Prices
Rates are per person per night, breakfast included
Arrival: daily
Minimum stay: 1 night

Supplements:
• Half board: € 30 - € 35 per person

Discounts for children:
When staying with children we will apply the following discounts after having received your request:
• Children 0 - 2 years: cot € 15 (to be paid on site)
• Children 3 - 10 years: 50% discount


Country Resort Tenuta Pilastru
Ruime, goed verzorgde kamers. Heel vriendelijk personeel.
9,0
Anne en Frank
Rustig gelegen. Mooie kamer, sfeervolle entourage vriendelijk personeel. Fijn publiek.
10,0
Hella en Rowan
Prima resort om de rondreis te beginnen
8,0
Patricia
Prachtige resort, mooie kamers, veel te doen!
9,0
Ellen van Vliet
Fantastisch!
10,0
Kathelijne van der Zwaan
Hele fijne B&B, prima kamer (we hadden zelfs de keuze voor het hoofdgebouw of een kamer met zitje buiten). Lekker restaurant en prima ontbijt
9,0
Ellen van Vliet
Fraaie kamer, prima ontbijt, behulpzaam personeel
9,0
Ellen van Vliet
Ook een leuke plaats om te overnachten.
8,0
Frans & Hella
Nou dit was echt de kers op de taart!!
10.0
Marianne en Toin
Wel erg hard matras
9,0
Annelies
Prachtige Tenuta waar het goed vertoeven is.
8.0
Ellen Bijkerk-Jansink
Mooi resort, kleinschalig en rustig. Lekker ontbijt, vriendelijke receptie en mooi zwembad!
8.0
Mark Musters
Hele mooie plek, verzonken in het oude gesteente. Restaurant lekker.
8.0
Anoniem
Internet en wifi is een totale ramp
8,0
Anoniem
Zeer fijne accommodatie
9,0
Kati
Prachtige locatie, ideaal om tot rust te komen
9,0
Ada
Mooie accommodatie, maar mag eigenlijk geen agriturismo heten. Is gewoon een klein bungalowpark...
8.0
Gerben Hellinga
Super Nice place. Very pleasant stay. Nice restaurant with lovely terrace. Great view.
10,0
R. Versteeg
More of a resort than an agriturismo.
8,0
Anoniem
More of a resort than an agriturismo.
7,0
Rinke
More of a resort than an agriturismo.
9,0
Lien de Kruiff
Bevindingen van een senior echtpaar dat een rondreis maakte door Sardinië
8,5
Jan
We are unsatisfied about this hotel
3.0
Aernout
Bijzondere lokatie bij oude opgravingen
8,0
Anoniem
Mooie opzet wel erg grootschalig
7.0
Dick en Marianne
Zeer bijzondere en mooie agriturismo
8.0
Anoniem
Mooie agriturismo, jammer grootschaligheid
8.0
Hans Bosch
Very nice location, with swimming pool
9.0
Diana Cremers
Prettige plek en heerlijk restaurant
9.0
Anoniem
Erg mooi alleen het restaurant was al volgeboekt
9,0
Eric Hulman
Heel lekker eten, goede verblijven
10.0
Anoniem
Prachtige tuinaanleg, uitstekend ontbijt en diner
9.0
Anja Boesten-Simonis
Tenuta Pilastru was het leukste hotel om te verblijven
9.0
Carolien
Tenuta Pilastru was nice and we have eaten well. English could be better.
9.0
Wim
Extremely pleasant holiday, very beautiful nature and beaches and snorkeling is wonderful
9.0
Broere
Goede prijs kwaliteit verhouding, nabij centrum Alghero, vriendelijke gastheer
7.0
Patrick (BE)
Pleasant
8.0
Van Leeckwyck (BE)
Unforgettable Sardinian adventure, also for the dog! :)
10.0
Angelique Renard
Tenuta Pilastru is a wonderful location and Sardinia has already exceeded our expectations.
10.0
P Janssen (NL)
We have had a wonderful holiday!
9.0
Henk C. (NL)
Nice place to relax
8.0
S. Tol
Very suitable for couples of all ages or travellers without children
8.0
S. Verheijen
Lovely island for a holiday.
8.0
Apotheker (NL)
Quiet area, varied breakfast, neat rooms no further contact with owners
9.0
P de Clercq (BE)
Nice location and lots of activities.
8.0
Dhr. Hoekstra (NL)
Do something every day. Boat trips has to be booked in advance!
9.0
Suze & Robert (NL)
Well, Nice location in a rocky environment
7.0
J. van Oosten (NL)
Location was particularly and dinner was very special
9.0
Michiel Blistra (NL)
Pure luxury and also very friendly
10.0
Mw. Vanhimbeeck (BE)
We would have loved to stay one more day here during our Self-drive tour
9.0
Adrienne (NL)
Very nice, Dinner was very poor
8.0
Anoniem (NL)
Tidy farmhouse
9.0
Mw. Stok - Huijgen (NL)
Extremely beautiful surroundings and a lovely swimming pool
9.0
Dhr. den Dulk (NL)
Friendliness and good kitchen
10.0
Dhr. Willaert (NL)
Only a 7 because you have no menu choice
7.0
Dhr. C. Mulder (NL)
Dinner at a reasonable price (we remain Dutch!!)
8.0
R van der Geer (NL)
Heerlijk
8.0
Liesbeth en Jan (NL)
A small paradise, everything okay!
9.0
Mw. De Keijzer (NL)
Relaxed
8.0
Familie Lindeman (NL)
Less personal approach
8.0
Mw. Coenen (BE)
Erg goed. Mensen zijn heel gastvrij en alles is netjes en goed georganiseerd
8.0
Willem Arie en Annelies (NL)
Prachtig gelegen, Eten erg boers, Wat saai
8.0
Familie Reijnen (NL)
Uitstekende locatie
9.0
Familie Raalte (NL)
Fantastische plek voor vakantie. We hebben genoten!
9.0
EJ Bouwman (NL)
Rondreizen is een aanrader, alle accommodaties waren naar wens
8.0
P. Koenen (NL)
Antipasti, primo, secondi, dolce, wine, coffee, liqueur for only € 25!
8.0
R. Germanus (NL)
Eten in de hotels is aan te bevelen
8.5
G. de Coninck (BE)
Heerlijk gegeten en een fijne plek
8.5
Oege & Janneke (NL)
Busier than in both previous addresses, we love much silence
6.0
Veerle Beernaert (BE)
Bezoek ook zeker Capo Testa en Santa Teresa di Gallura!
7.0
de Vries (NL)
Wij komen zeker een keertje terug!
9.0
Mevr. Vermeulen (NL)
Vijf dagen per accomodatie vonden wij een mooie periode. Niet te lang niet te kort.
9.0
B. Heilen (NL)
Leuke en mooie reisbestemming
9.0
Mevr. Telka (BE)
Beautiful pool, Arzachena boring
7.0
Familie Daas (NL)
Maak zeker een boottrip bij de maddalena eilanden!
9.0
Familie Vintges (NL)
Goed en mooi!
9.0
R. van der Pluijm (NL)
Zeer leuk eiland met grote variatie in bezienswaardigheden. Vriendelijke mensen, heerlijk klimaat.
9.0
Dhr. Nieuwenhuizen (NL)
Een heerlijk resort waar we onze laatste dagen op Sardinië doorgebracht hebben.
8.0
Familie van 't Klooster (NL)
Een fijn terrasje dat direct aan de tuin ligt
9.0
Mw. Heij (NL)
Zeer goed
9.0
H. van der Drift (NL)
Prachtig
8.0
Peter en Els (NL)
Eiland om te reizen en veel te zien
9.0
R. Engelsma (NL)
Nice authentic place!
8.0
Mevr. Reilingh (NL)
The rooms are neat and the estate itself is a point of interest!
9.0
Dhr. van den Linden (NL)
Half board is a must, extensive menu choice with good price-quality
10.0
Patrick Rummens (BE)
Beautiful hotel with excellent service and a very good kitchen.
8.0
C. Zufang (NL)
Friendly staff. Not a great kitchen.
8.0
D. van Vendeloo-Schuur (NL)
Mooi maar jammer dat internet ontvangst slecht is
8.0
Mw. Nijland (NL)
Zeer vriendelijke mensen en goed verzorgd
9.0
van Bragt (NL)
In 1 word Perfect
9.0
M. Leeflang (NL)
Prachtig resort met levendige sfeer in een mooie omgeving.
9.0
Dhr. Santegoeds (NL)
Mooie plek om een paar dagen te vertoeven.
8.0
Marcel (NL)
You stay near beautiful beaches
8.0
Anoniem (NL)
Mooi en schoon. Wel jammer dat je niet buiten kunt eten.
8.0
Mevrouw de Greef (NL)
Avondeten tegen een redelijke prijs (we blijven Hollanders !!)
8.0
R van der Geer (NL)