Stazzo Lu Ciaccaru, Arzachena - Sardinia
Stazzo Lu Ciaccaru is the perfect accommodation in north Sardinia to relax completely while staying in authentic Sardinian houses immersed in a pristine nature, located close to archaeological sites and to the spectacular beaches of the Costa Smeralda.
Stazzo Lu Ciaccaru is a lovely hotel built in the typically Gallura style. This well-cared for complex is located in the pristine nature near the Costa Smeralda. Archaeological sites, cultural sights, white dreamy sandy beaches and vibrant seaside towns are all within easy driving distance. The former farm, dating back to 1850, consists of 2 completely renovated buildings. The 10 comfortable and spacious suites, the reception and the restaurant are housed in the former stables. The 32-hectare estate has a pool and 2 stunning villas (suited for 6 guests) as well.
A warm welcome is guaranteed in one of the rooms or villas of Stazzo Ciuccaru. The farm has 3 different types of rooms; the standard rooms, spacious junior rooms and suites. Both the junior rooms and suites are surrounded by lush green plants and olive trees that ensure the privacy of the guests. All spacious rooms are built with traditional materials such as wood, terracotta and stone. Each room has a private porch, bathroom with shower and hairdryer, air-conditioning/central heating, an LCD TV, phone, minibar and Wi-Fi.
Apart from the hotel rooms the estate houses 2 charming villas as well, perfect for large families or groups wanting to spend their holiday together but with the possibility to enjoy all the facilities a hotel has to offer.
Villa "Lo Stazzo" has a living room with fire place, a well equipped kitchen and 3 double rooms, each with a private bathroom. Guests staying here have a private swimming pool at their disposal.
Villa "Il Pagliaio" has a spacious living room with fire place, a well equipped kitchen and a double room with bathroom with a shower and Jacuzzi on the ground floor. Wrought iron stairs lead to the upper floor, where you'll find a double bedroom, a twin-bedded room and a bathroom with shower.

A perfect stay for those...
A stay at Stazzo Lu Ciaccaru is perfectly suited for travellers looking for a special and hospitable accommodation where you can enjoy tranquillity, nature, adventure and the local cuisine. Because of its strategic position in the province of Olbia-Tempo the popular Costa Smeralda, La Maddalena and countless beaches are all easily reached by car.
Facilities
Accommodation & facilities:
• Parking space
• Reception
• Restaurant w...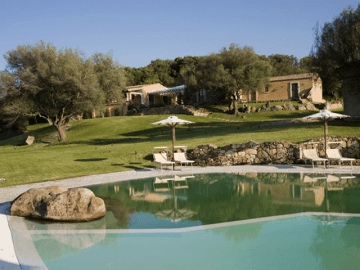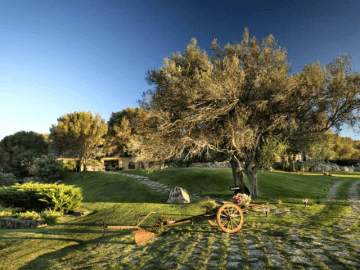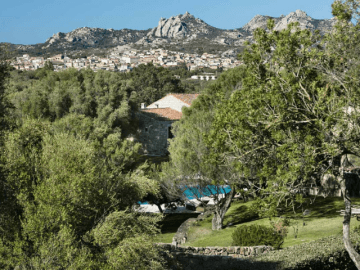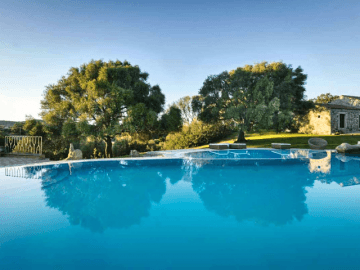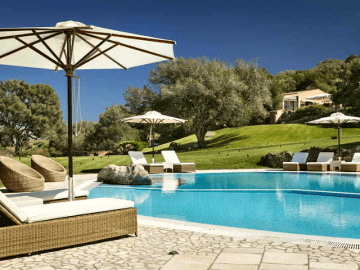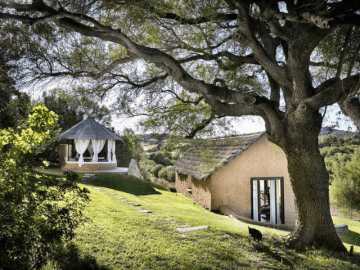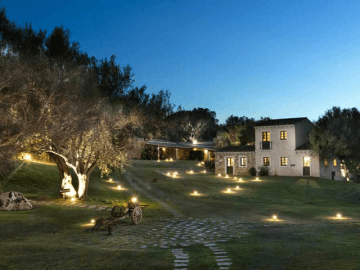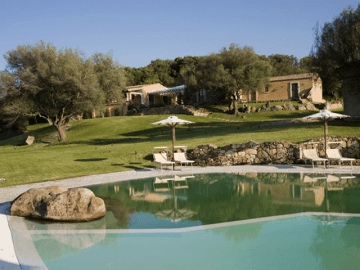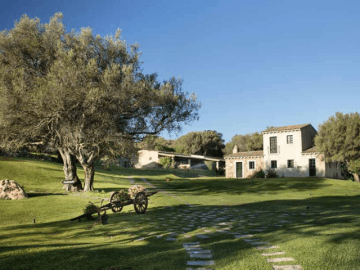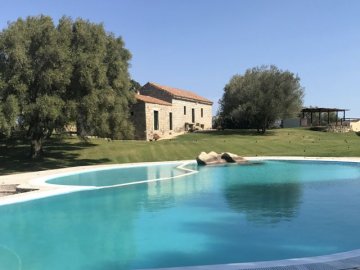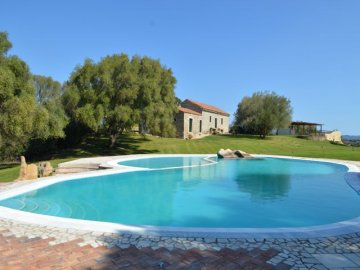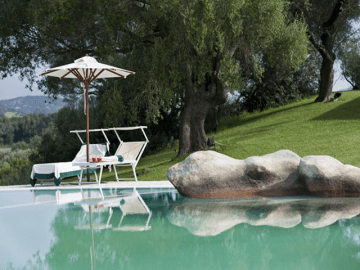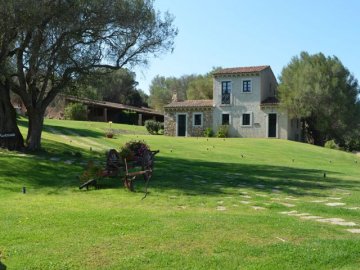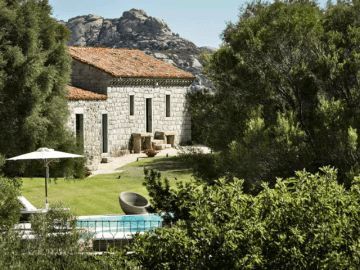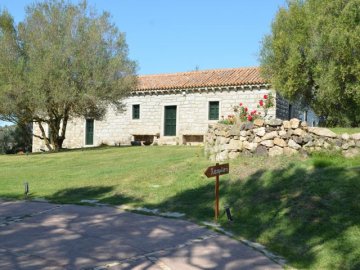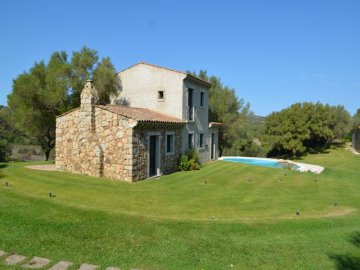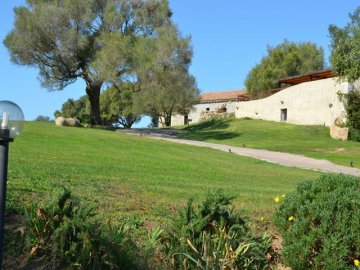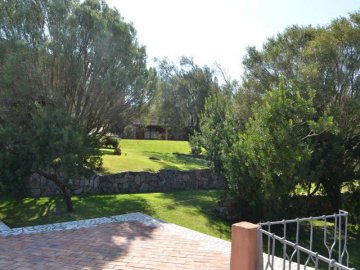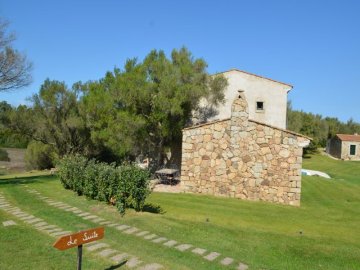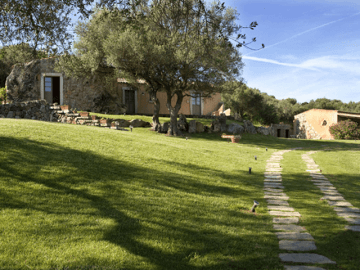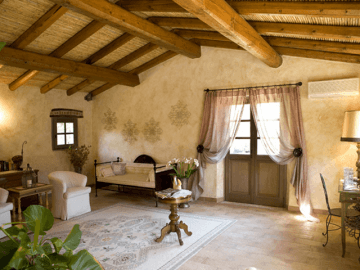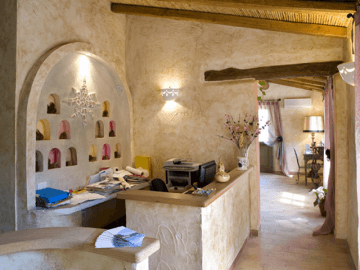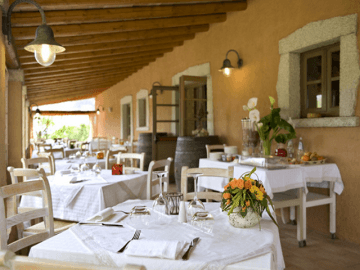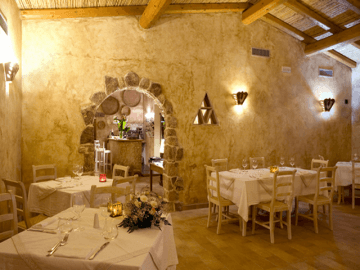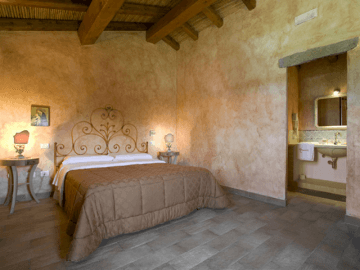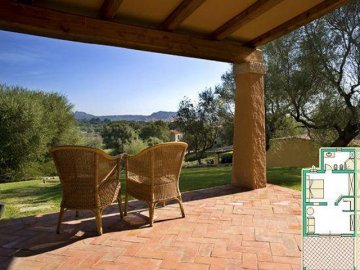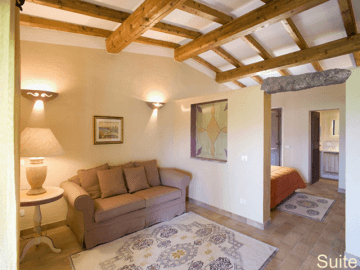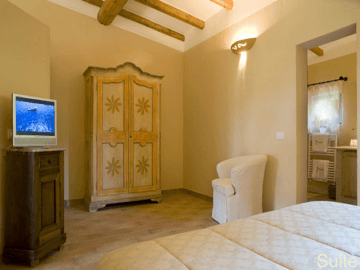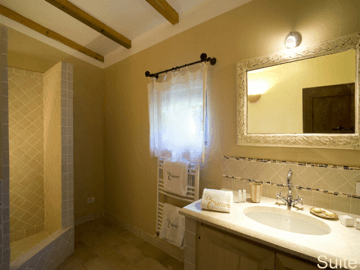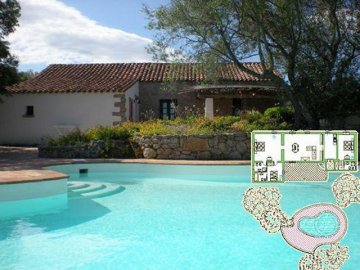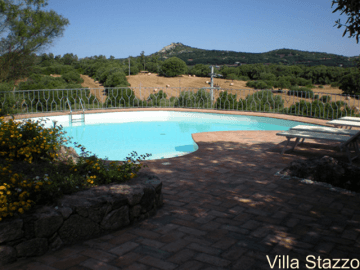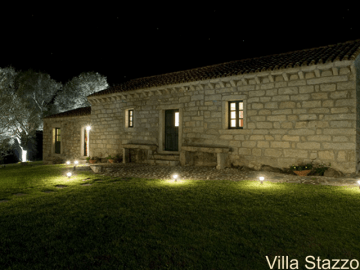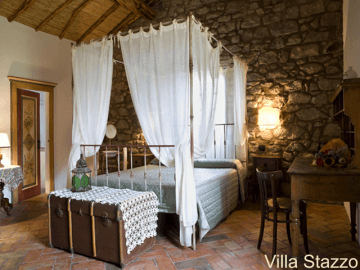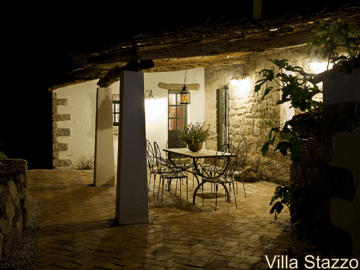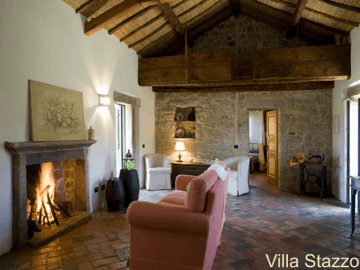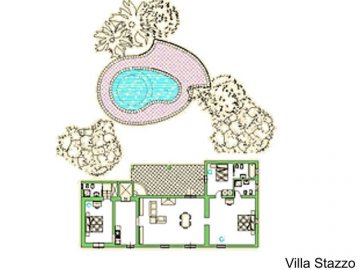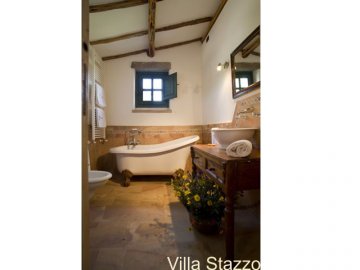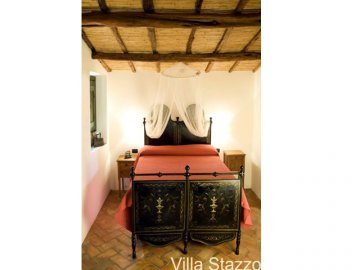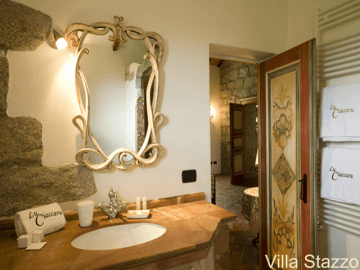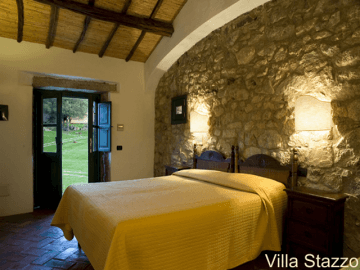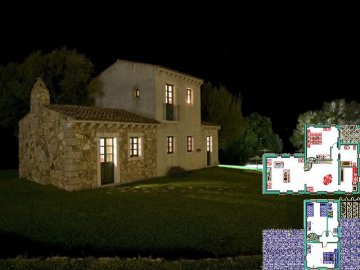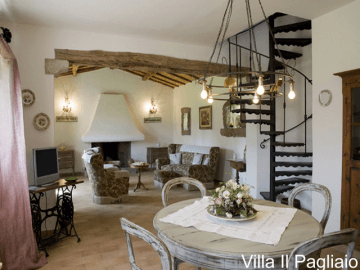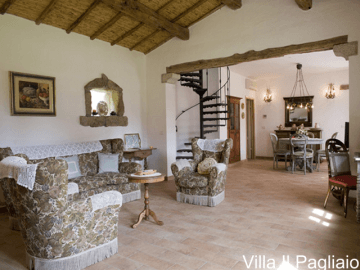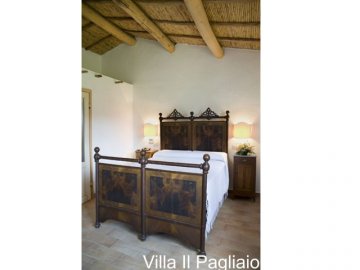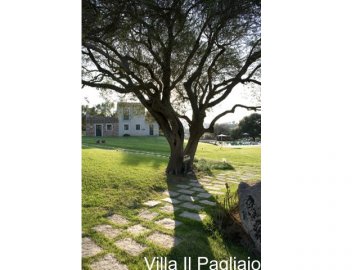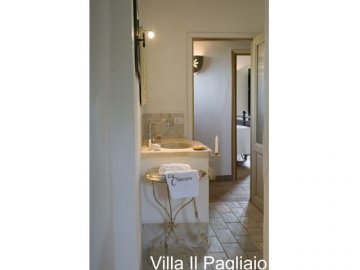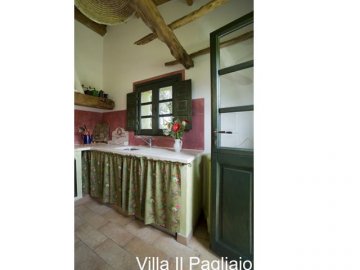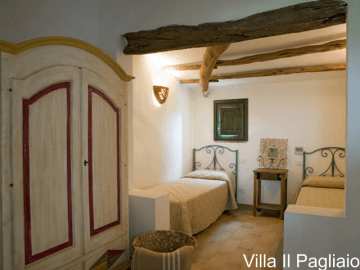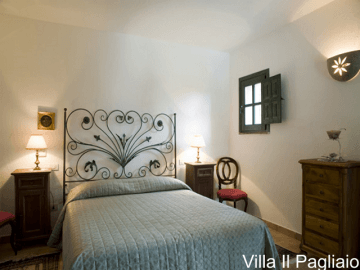 Stazzo Lu Ciaccaru
Arzachena
Arzachena is located in north-east Sardinia, at ca. 25 kilometres from Olbia, in the area known as the Gallura region. The territory of the commune of Arzachena stretches for a surface area of around 228 m², including a spectacular coastline of approximately 80 kilometres characterised by countless bays and beaches. When visiting this area, neighbouring the famous Costa Smeralda, you'll be surprised by the many impressive rock formations. The region was known by the Romans as "Turibulum", after a mushroom-shaped rock which nowadays is the symbol of the town.
The area is known for the presence of "stazzi", rectangular houses in Sardinian granite, consisting of 1 or 2 rooms, originally used by shepherds as a stopover or shelter on their journeys. Through the years most of them have been transformed into houses or agriturismi.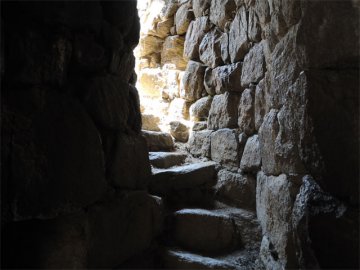 Discover the province of Olbia-Tempio in north Sardinia
Olbia-Tempio is one of the most popular holiday destinations in Sardinia. It's the perfect province for a relaxing beach holiday because of the countless bays and broad sandy beaches here. Its landscape is furthermore characterized by a lush Mediterranean vegetation and impressive rocks. The province is an international crossroads for numerous visitors, thanks to the international Olbia-Costa Smeralda Airport and Olbia's marina, where ferries from Genoa, Livorno, Piombino and Civitavecchia arrive daily.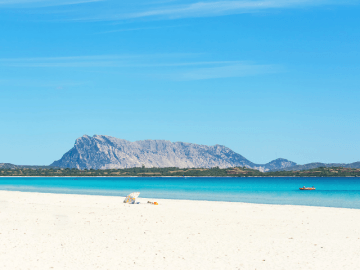 Lees meer
Prices
Hotel rooms:
Rates are per room per night, breakfast included
Arrival: daily
Minimum stay: 2 nights

Villas:
Rates are per villa per night, lodging only
Arrival: Saturday
Minimum stay: 7 nights
Change of bed linen and towels: once a week

Hotel - supplements (optional):
• Cot: € 10 per night

Villa - mandatory additional costs (to be paid on arrival):
• Final cleaning: € 150

Villa - supplements (optional):
• Breakfast: € 20 p.p.p.n.
• Cot: € 10 per night
• Extra bed: € 40 per week
Erg mooie locatie, erg goed hotel
9,0
Joan van Breukelen
Luxe hotel accommodatie
8,0
Hajo Zaaiman
Mooie locatie met prachtig zwembad
8.0
Van Gorp Leo
The restaurant in Stazzo Lu Ciaccaru is definitely recommended
10.0
Guy and Myriam (BE)
Nice hotel with great facilities and in the area enough to do
9.0
Chris en Bernadette (NL)
Excellent hotel in a beautiful region
8.0
A. van Rijnen (NL)