Arbatax is more than a harbor town on the east coast of Sardinia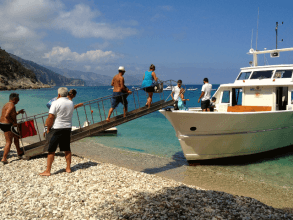 A "Must do" from Arbatax
From Arbatax it is certainly worthwhile to join a boat excursion along the coast of Orosei. You leave early in the morning from the port of Arbatax with a view of the Isola dell'Ogliastra. Before the harbor of Arbatax was built, this small red Porphyry stone island was the safest place to drop anchor. Along this unique coastline, you will sail past
Santa Maria Navarrese
the no less than 80 meters high rock "Perda Longa" and the enormous cape "Capo di Monte Santo".
Dream white beaches
Steep cliffs and paradisiacal bays alternate. A very nice example of a beautiful bay here is "Cala Goloritze". Surrounded by high cliffs, characterized by the pointed rock "Punta Caroddi" and surrounded by a turquoise shimmering sea. You can reach this beach via a 1,5 hour
walk
or if you take a dip from the excursion boat - which should stay at least 200 meters from shore - and swim to shore. A look at the beaches of Cala Mariolu and Cala Biriola is definitely worth it!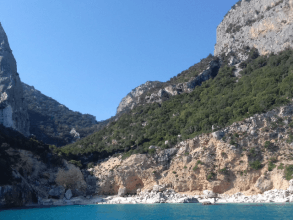 Imposing cliffs
Suddenly the mountains of the Supramonte appear with high gray walls that disappear straight into a clear blue sea - a real spectacle of nature. If you sail past the massif, the landscape changes completely. A green coastline with perhaps the most impressive beaches in Sardinia; the Golfo of Orosei.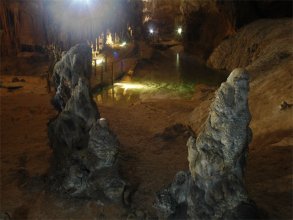 Hidden caves
If you have had enough of sunbathing and relaxing, visit cave Grotta del Fico. Don't forget to bring a sweater or jacket in the summer, it is cold in the cave! The visit of this cave - just a few meters above sea level and rich in stalagmites and stalactites - takes about an hour. Until the 1960s, the monk seal also lived in this cave. Because this cave was directly connected to the sea, it was also a safe place for the monk seal until the 1960s. Unfortunately, you will no longer find this sea predator from the seal family in Sardinia today. Approximately 445 meters from the cave can be visited.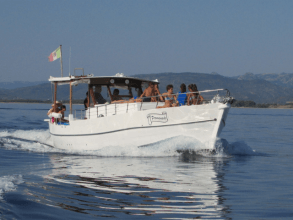 Book your boat trip before departure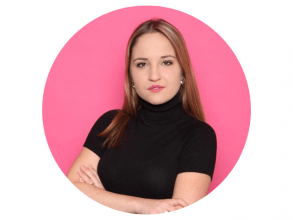 You might like this as well

Arbatax