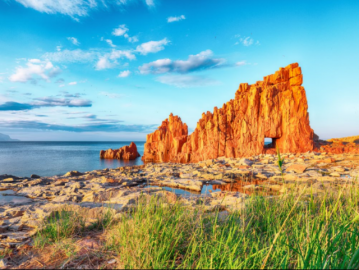 Arbatax
Arbatax belongs to the province of Ogliastra and is part of
Tortolì
, which is about 5 kilometers away. Arbatax is one of the most famous places on the Ogliastra coast. On the edge of the former fishing village of Capo Bellavista is one of the island's landmarks: the red rocks of Arbatax. To get to the impressive Prophyr cliffs, you have to turn right before the harbor entrance, where the impressive rocks protrude from the blue sea.
Arbatax is popular as a beach paradise and an ideal starting point for
motorcycle tours
. On the one hand there is the small but nice dream bay of Porto Frailis with bright blue water. The old 17th-century Torre di San Gemiliano sits on the long, narrow peninsula at the southern foothills of the beach. Spiaggia di San Gemiliano is the longest beach in Arbatax: the beach paradise with coarse sand is more than a kilometer long and turns into Basaura beach.
Apart from a Spanish tower on the harbor, which gave the place this exotic-sounding name, Arbatax doesn't have much to offer architecturally. The name of the place is derived from the Arabic arba at ashar, which means "fourteen" and probably refers to the number of towers on this coast. The huge vantage point, which still stands, is one of many defensive towers built by the Spaniards in the 15th century as a watchtower against the invading Saracens.
Arbatax is also the terminus of Trenino Verde, the small narrow gauge railway that leads from the port city on a dizzying winding route through the Barbagia Mountains to Mandas in the province of Cagliari. The train only runs in the season from mid-June to mid-September.
While you are on holiday in
Arbatax
, don't miss the nearby natural paradise Golfo di Orosei. A boat trip from Arbatax to the Gulf of Orosei is an absolute must and a wonderful way to enjoy the unique beauty of nature combined with chilling on board, swimming and a delicious lunch served on board.