Villa Antonina, Golfo Aranci - Sardinia
Are you looking for a holiday apartment in a small complex that is centrally located in the north of Sardinia and not far from small bays? Book a stay at Villa Antonina on the Golfo di Marinella! A great holiday destination with swimming pool situated between Golfo Aranci and Porto Rotondo and not far from Olbia Airport.
Villa Antonina- 9 holiday apartments - is located near Golfo Aranci on the north coast of Sardinia. The nearest airport and port is Olbia just a 20 minute drive. Golfo Aranci is also a good point to discover the north of the island with beautiful beaches such as Rena Bianca, Spiaggia del Principe and Capo Testa and enjoy the towns such as San Pantaleo, Palau and Baja Sardinia. Of course, the Maddalena Islands should not be skipped either. Would you rather stay a day near the Villa? In addition to relaxing at the property's swimming pool or participating in a yoga class that is given in the summer months, you can also visit one of the bays less than 400 meters away or the beautiful beach Marinella at 1 km. Nearby you will found also restaurants, bars and a supermarket.
The nine apartments in Villa Antonina are extremely comfortable. Air conditioning and Wi-Fi are standard in every apartment and you have a neat kitchen, a bathroom with shower and a furnished patio or balcony. The small studio apartments are suitable for two persons and consist of 1 room. The 2-room apartments have a double room and two additional sleeping places in the kitchen diner. The 3-room apartments offer a double bedroom and a bedroom with two single beds. 2 sunbeds and a parasol are reserved for each apartment at the pool.

A perfect stay for those...
A holiday in Villa Antonina is perfect for those who would like to spend their holidays in Sardinia in a small and centrally located 4-star superior complex with apartments close to the beach.
Accommodation & facilities:
• Reception (opening hours times: 09-13 and ...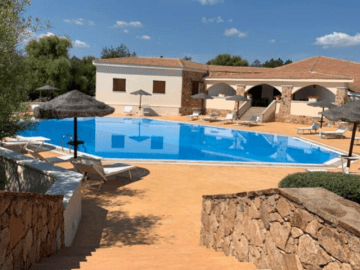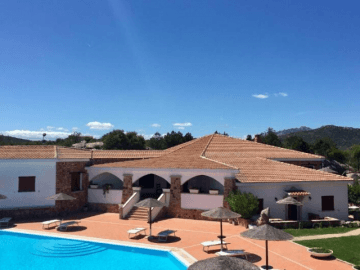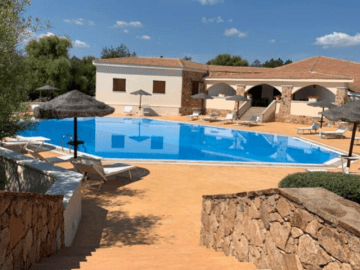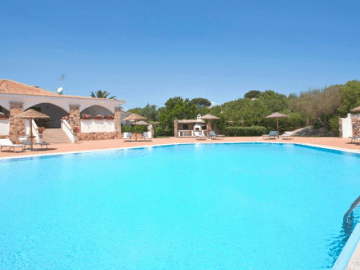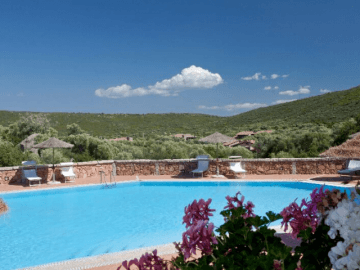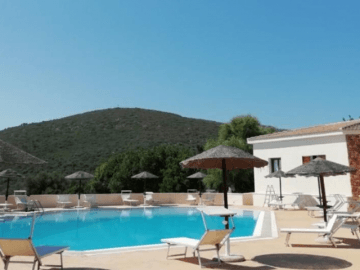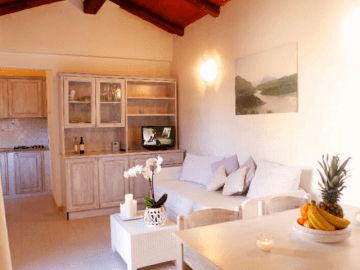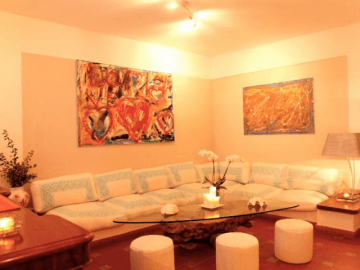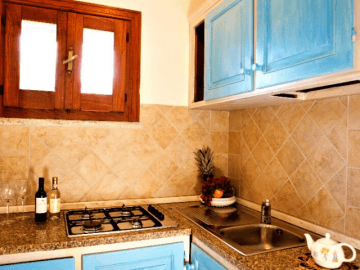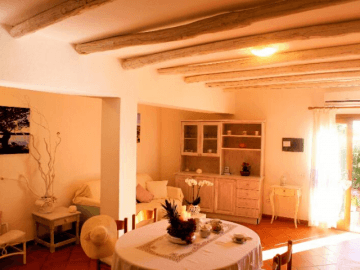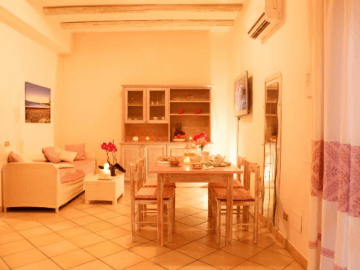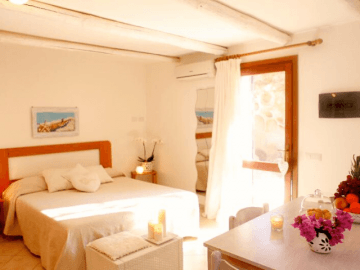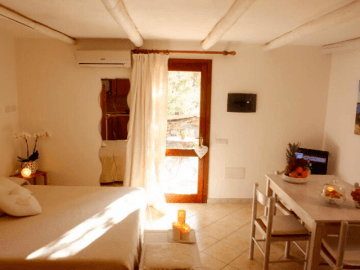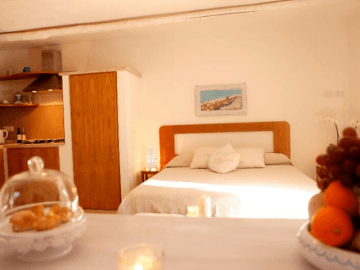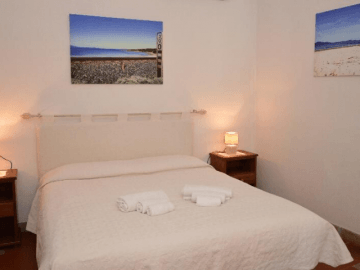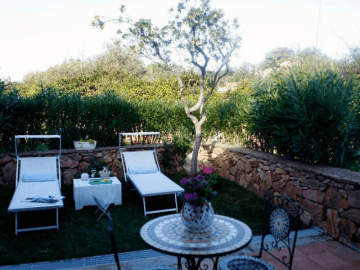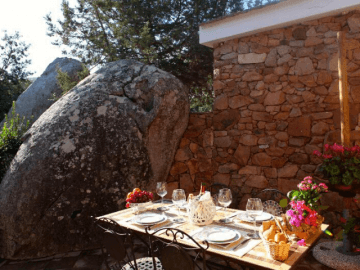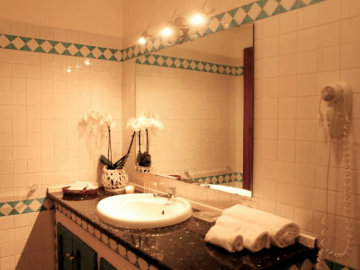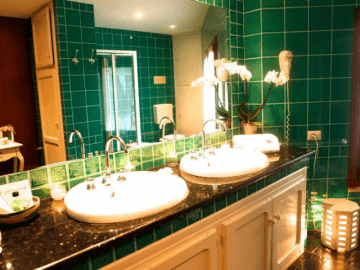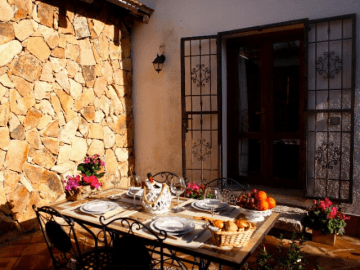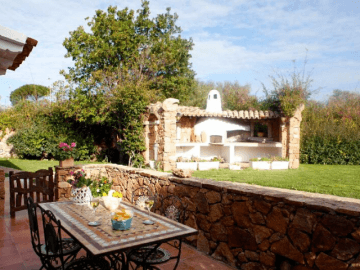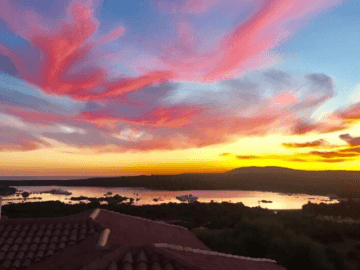 Villa Antonina
Golfo di Marinella
The Gulf of Marinella, located about 15 kilometers from Olbia, is located between Golfo Aranci and Porto Rotondo. The popular Marinella beach is known and loved for its wonderfully crystal clear waters, golden sand and lively beach life. The wide sandy beach, very popular in summer, is surrounded by houses, villas and scrubland. The Spiaggia di Marinella is ideal at Mistral-Wind and perfect for families with children and for water sports.

Very different is the rugged east side of the bay, which is called Marana and belongs to the community of Golfo Aranci. At the small marina Porto Marana Yachting Club you can watch the incoming and outgoing ships from the harbor restaurant and take a walk to the small church Chiesa di Marana "Regina della Pace". The style of the modern place of worship is modeled after medieval Spanish country churches and around the chic church square of Borgo Marana are a few small shops and a supermarket.
The small peninsula of Punta Marana stands out for its granite rocks that have been shaped and polished by wind and weather for millions of years.
On the Marana peninsula lies that small dreamlike sandy bay, which is largely occupied by a chic beach bar with lounge chairs and a restaurant. The Lido company of "Oasi Beach Marana" even has its own jetty, so that guests of yachts and sailing boats can enter the beach bar with dry feet.
It can only be a bit uncomfortable here when the mistral wind is blowing over the north of Sardinia. Numerous reefs and rocks protect against strong waves and snorkelling is a real pleasure here. The next bay is a stone's throw away: The Baja di Bahas with its shallow, crystal clear waters is primarily reserved for the residents of the surrounding, exclusive holiday complexes.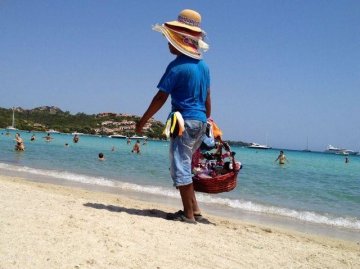 Discover the province of Olbia-Tempio in north Sardinia
Olbia-Tempio is one of the most popular holiday destinations in Sardinia. It's the perfect province for a relaxing beach holiday because of the countless bays and broad sandy beaches here. Its landscape is furthermore characterized by a lush Mediterranean vegetation and impressive rocks. The province is an international crossroads for numerous visitors, thanks to the international Olbia-Costa Smeralda Airport and Olbia's marina, where ferries from Genoa, Livorno, Piombino and Civitavecchia arrive daily.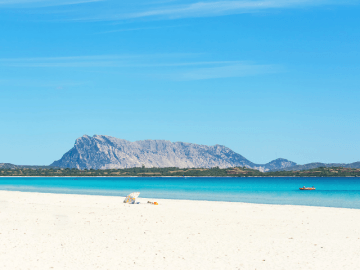 Lees meer
Prices
Rates are per apartment per night
Arrival: daily
Minimum stay: 5 nights in travelperiod 02.07 - 02.09, otherwise 3 nights

Book your holiday for 2022 with a discount!
• Until 31.01.2022: 25% discount on stays in the period 23.04 – 17.06 and 17.09 - 15.10.2022
• Until 31.01.2022: 15% discount on stays in the period 18.06 – 16.09.2022
• Until 28.02.2022: 20% discount on stays in the period 23.04 – 17.06 and 17.09 - 15.10.2022
• Until 28.02.2022: 15% discount on stays in the period 18.06 – 16.09.2022
• Until 31.05.2022: 15% discount on stays in the period 17.09 - 15.10.2022

Additional costs on site (mandatory):
• Only in the period 04.06 - 09.09: Gas, electricity, water, 1x towels and bed linen p.w., 1x beach towel: € 10 p.d. per adult, € 5 p.d. for children (3-11 y.)
• Final cleaning (excl. kitchen): Mono € 60, Bilo € 70, Trilo € 80
• Deposit: € 200

Optional costs (not mandatory):
• Extra towel package: € 10 per person
• Extra change of bed linen: € 10 per person per set
• Extra beach towel: € 5 per sheet
• Cot 0-2 years: € 35 per week (free if you bring your own)
• High chair: €14 per week
• Pet: €30 per stay
Von einer 4 Sterne Unterkunft hätten wir uns etwas mehr erhofft
7,0
Anoniem