Rey Beach Club, Costa Rei - Sardinia
The uniquely located Rey Beach Club with pool is located within walking distance of the beach. At night young and old alike can enjoy the entertainment program. A very nice accommodation for a holiday with your kids!

Residence Rey Beach Club is located on Sardinia's south-east coast, at 70 kilometres from Cagliari and just 300 metres from the broad sandy beach of Costa Rei. The reception, bar and restaurant are housed in the resort's main building. The accommodation has a pool with paddle pools, playground, sports park and an entertainment team.
The pastel coloured apartments of Rey Beach are housed on the ground or first floor of the residence's semi-detached cottages. Provided with private patio, each apartment can accommodate 2 – 6 guests.
The beach is just 300-500 metres from your apartment. Air-conditioning is available on request and for a small surcharge in several apartments.

The Rey Club Card, a mandatory card for all guests (4+ yr.), allows you to join the Mini and Young club's organised activities, such as tournaments, dancing classes and aerobics. At night you can enjoy a theatre or cabaret show. The card also ensures that there are 2 lounge chairs and 1 parasol waiting for you on the beach from the 3rd row upwards. For a small surcharge you can spend your day at the beach on a lounge chair on the 1st or 2nd row.
A perfect stay for those...
Rey Beach Club is perfectly suited for travellers looking for a well-cared for residence with various facilities for young and old alike to enjoy a relaxing Sardinian beach holiday.
Accommodation & facilities:
• Parking space
• Reception (9.00-13.00h an...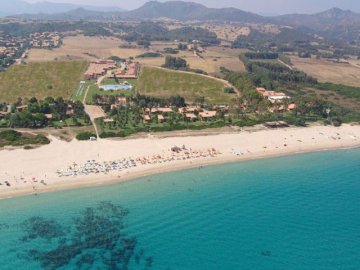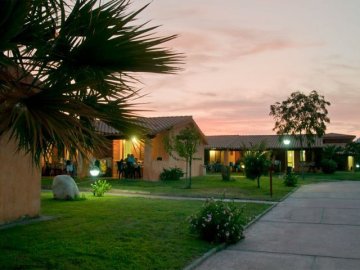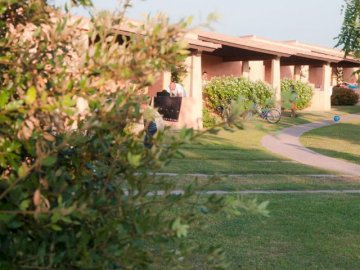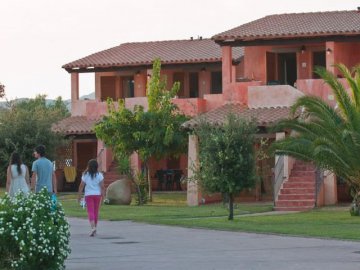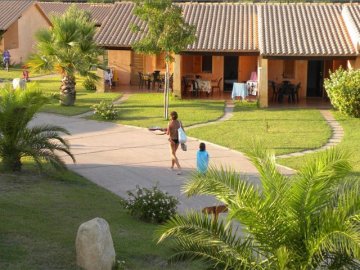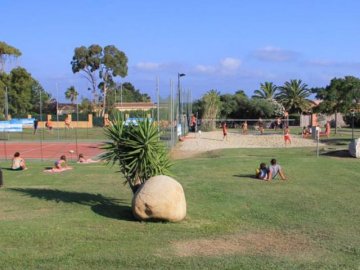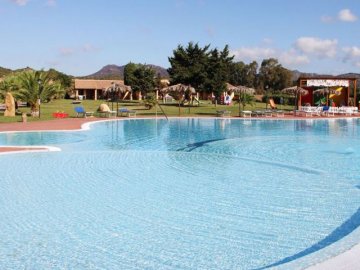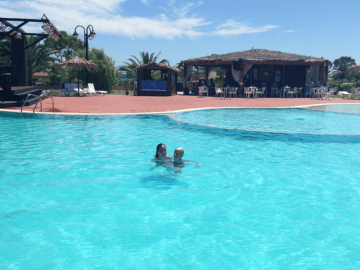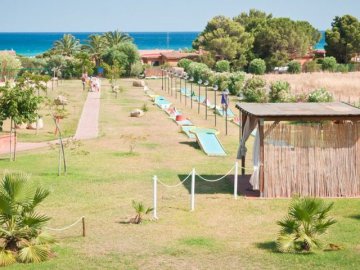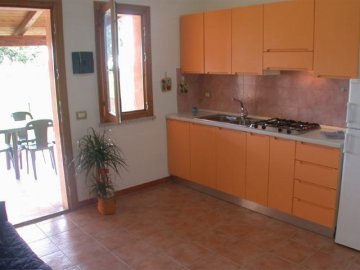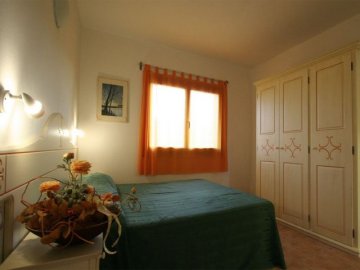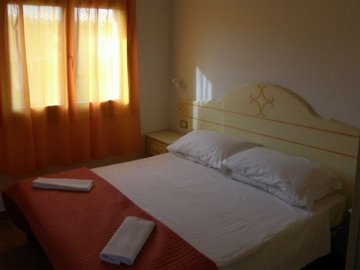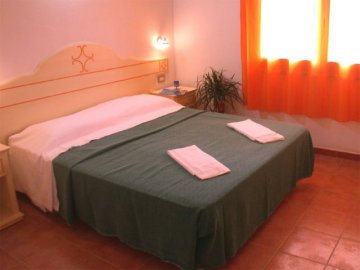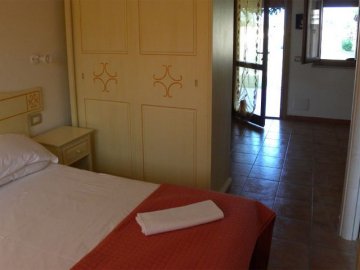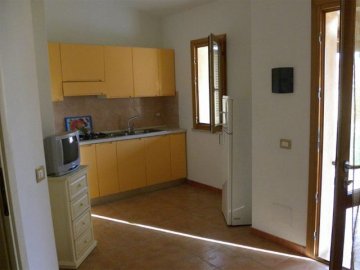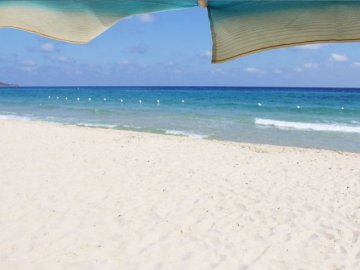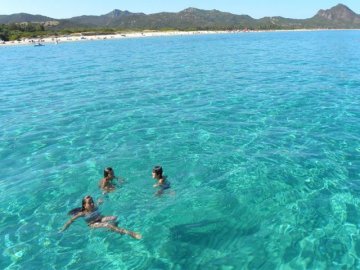 Rey Beach Club
Costa Rei
Costa Rei is a seaside resort on the south-east coast of Sardinia within the municipality of Muravera. The area stretches from Porto Pirastu to Cala Sinzias. The heart of the village is located at the foot of the mountain Monte Nai (200 m.). The area is popular among tourists because of the beautiful beaches with fine white sand and the sports facilities such as canoeing, sailing, surfing, diving and trekking.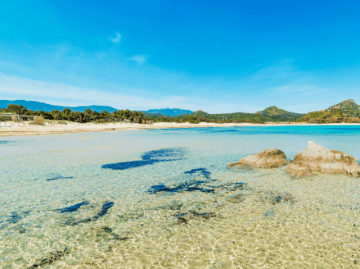 Discover the southern province of Cagliari
The province of Cagliari and its eponymous capital are located in south-west Sardinia. The daily ferries from Napels and Civitavecchia and large cruise liners sailing the Mediterranean moor in Cagliari's marina, which is situated right in front of the city centre, along the Via Roma. The city's own sandy beach Poetto (pronunciation: po-etto), stretching out for 8 kilometres, is very popular among the locals from April/May through the beginning of October. Located a few kilometres from the centre of Sardinia's capital, Cagliari-Elmas International Airport connects the capital to the main land.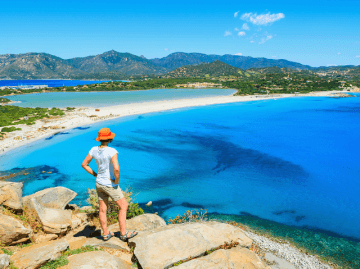 Lees meer
Prices
Rates are per apartment per night
Arrival: Saturday or Tuesday
Minimum stay: 7 nights*

* If you stay in this accommodation during the period of 6-20 August, you have to combine this week with the week before or after (in other words, a minimum stay of 2 weeks)

Book your holiday now and get a discount!
• Until 28/02/2022: 5% discount on stays of minimum 7 nights (not valid on stays in the period 06/08 - 20/08/2022)
• Until 15/06/2022: 5% discount on stays in the period 27/08 - 24/09/2022
• When staying 2 weeks in the period till 25/06 or after 27/08/2022: book now and get a discount of 50% on the 2nd week!

Mandatory additional costs (to be paid on arrival):
• Compulsory service package for the consumption of electricity, water, gas, bed linen and towels with weekly change € 43 per person. Children up to 4 years free but do not receive towels and bed linen.
• CLUB CARD: compulsory to be paid on site, per week, from 18/6 to 2/9 adults €39, children 4/12 years €24, children up to 4 years free. From 11/6 to 17/6 and from 2/9 to 10/9 €32 adults, children 4/12 years free
• Final cleaning (kitchen excl.): Mono and Bilo apartment € 56, Trilo € 64 (excl. kitchen)
• For each apartment: a parasol and two sun loungers, free of charge from the 4th row on the beach (from row 3, 2 and 1 for a fee)
• Deposit: € 150 per stay

Supplements (optional):
• Cot 0 - 3 years: € 35 per week
• Air-conditioning: € 40 per week
• Small pets: € 35 per week (not allowed in common areas)
• Extra change of bath and bed linen: € 18

Mooie club op een prima locatie, prachtig zwembad en strand
8,0
Jeroen de Roode
Geen goede huisjes
6,0
Familie Corijn
Goede en nette accommodatie met groot zwembad
9,0
Dhr. van het Veld
Een super vakantie in Costa Rei!
9,0
Familie Vogelaar (NL)
Niet georienteerd op Nederlanders
2,0
Fam. Van Wijk
Prima complex
7,0
Familie Ledda