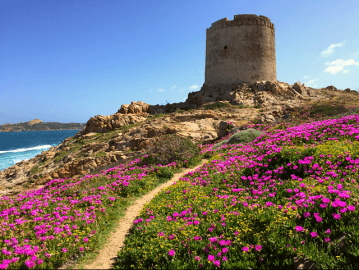 Isola Rossa
On a peninsula in front of the red rocky islands of Isola Rossa, a watchtower was built by the Spaniards in 1595, where some fishermen settled in the 19th century. It is wonderfully picturesque, rugged and wild here when winter storms in the north whip up the shores of
Sardinia
. Friendly and cozy in the summer - because in 1970 the tourist area was recognized and several hotels, holiday homes, shops and markets were built. Decades later, a modern marina was added. Today there are holiday homes, restaurants and shops around the old Saracen tower. It is particularly beautiful on the coastal promenade at sunset, when the red profit slopes shine even more red than during the day.
If you are on holiday in this quiet area, you will find the beautiful, wonderfully white
beach
of La Marinedda and the small beach section Spiaggia Longa - Rinagghiu near by the marina, so there is a sheltered spot by the sea in every direction. A few kilometers further, on the endlessly long dune beach of
Badesi
, which stretches to
Valledoria
is a lonely beach paradise where you can find a place all to yourself even in high season.
For those looking for more action, the Aquafantasy water park is located high above Isola Rossa and invites young and old to play, swim, sunbathe and relax.